In today's marketing world, the words on everyone's lips are 'sentiment analysis.'  As businesses strive to get ahead of the competition by earwigging on their customers – and potential customers – sentiment analysis is rapidly rising up the ranks to become the most important tool in a marketer's arsenal.  It's no wonder then that there are so many different tools out there as software companies race to get on board with this hot new trend.  Sieving through all of these tools can be time-consuming and frustrating when, having chosen the right one, you discover that it's outside of your budget.  Here are eight best sentiment analysis tools by range to allow you to choose the right tool.
The Freebies
We all love a freebie, and the sentiment analysis world is no different.  There are a few tools available that are free to use.  Although these may not be the most powerful or accurate on the market, they can be really helpful for those just starting out on tight budgets.
NCSU Tweet Sentiment Visualization App
For Twitter only, Dr. Christopher Healey's app is an impressive bit of kit for those just looking to monitor commentary in the Twitterverse.  Through the convenience of a web app, this tool is able to search by keyword to pull relevant Tweets from the past seven days (the range may be a little shorter for more popular topics). The Sentiment Visualization App will then offer colour coded results for the keyword in an easy-to-read map.  Users are able to scroll their mouse over bubbles in scatter graphs in order to view individual tweets from identified Twitter users. These graphs also show each Tweet's placement in terms of:
Pleasure shows how happy the tweeter is.
Activation shows how excited the tweeter is.
Dominance shows the extent to which this particular term dominates the overall sentiment of the section of text.
Benefits of NCSU Tweet Sentiment Visualization App
Free to use
Easy-to-read, at a glance results
Good accuracy
Good reliability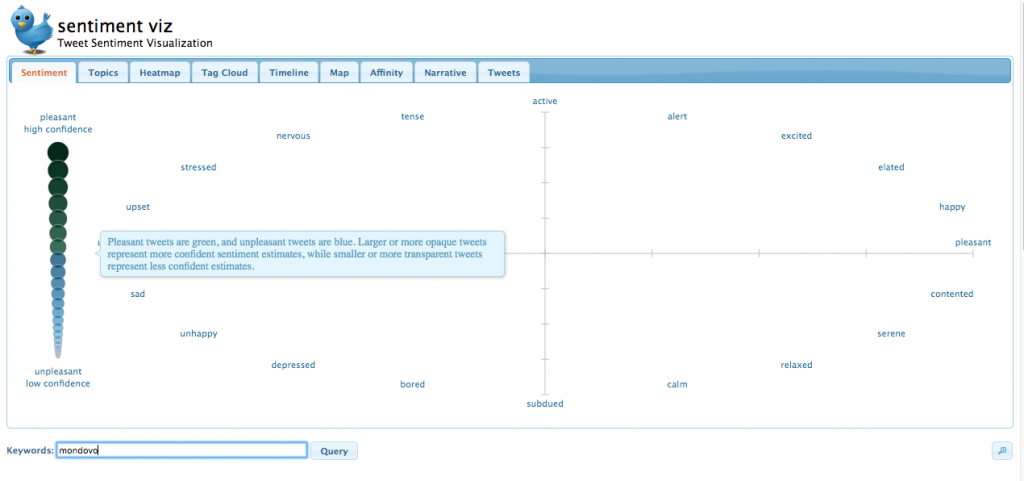 Meaning Cloud
A little more well known than Dr. Healey's app, Meaning Cloud is an increasingly popular tool for SMEs looking to keep costs down.  Free to use, Meaning Cloud features a number of handy tools including text classification, topic extraction, and section-of-speech tagging.  Unlike the Tweet Visualizer, Meaning Cloud works across a number of platforms, including Facebook, for extra flexibility.  In addition to straight-forward text classification, users can upload custom dictionaries to Meaning Cloud to improve results.  Meaning Cloud also offers a handy Excel add-in but, unfortunately, this is not compatible with Excel for Mac.
Benefits of Meaning Cloud
Free to use
Range of features
Excel add-in
Custom dictionary option
Accuracy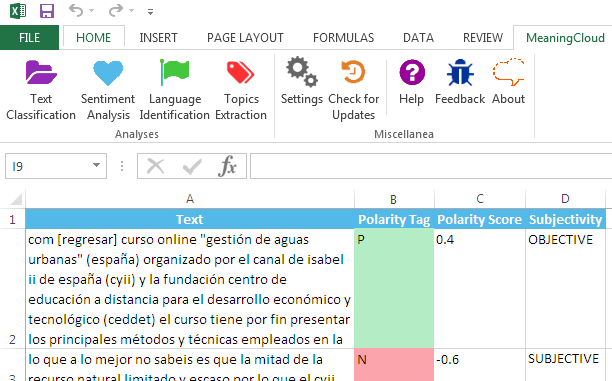 Budget Range Tools
For those feeling a little more flush, there's a great range of budget-priced sentiment analysis tools to be had – I take a look at some of our favourites:
Social Mention
As one of the more popular mid-range sentiment analysis tools, you may have heard this one 'mentioned' before.  Social Mention is a powerful search engine that whizzes through over 100 social media services to find mentions of your brand name.  It then hands the results to you in a single, simple list.  Users can set their search by keyword or phrase and then filter the results.  The engine then provides four key metrics designed to paint a picture of what's being said about you and the emotion behind the words.  Free to use, Social Mention quickly lets you know if the overall tone of what's being said is positive, neutral or negative.  Users can also, of course, check out their competitors while they're at it.
Benefits of Social Mention
Free to use
User-friendly interface
Scans most social media sites and blogs
Highly accurate
Social Bakers
For those looking for an affordable way to cook up a marketing storm, SocialBakers may be the one for you.  Socialbakers is a great way to fully automate the way your business analyses sentiment and brand engagement in an easy to use perception tool.  Social Bakers works across a range of platforms and forums to give a great, all-round sentiment analysis result.
Benefits of Social Bakers
Powerful search tool
Good value for medium-sized businesses
Works across a wide range of platforms
Very user-friendly
TIFY
The curiously named TIFY is a nifty tool for the serious marketer.  Quickly collecting information from social media posts, news sites, blogs, review sites, and video publishing websites, TIFY uses proprietary models to analyze that information.  One of the most user-friendly and eye-pleasing interfaces, TIFY uses intuitive visuals and infographics to display the results of each search.  These easy to read and understand results are perfect for figuring out what's going on with your brand online and how to fix any issues.
Benefits of TIFY
Affordable for the SME
Flexible pricing packages
Good accuracy
Great interface
Hey, Big Spender!
If your brand is a little larger than an SME or, you're just looking for a bit more 'oomph' with your sentiment analysis, it's time to bring out the big guns – just make sure you have a wallet that's up to the job.
Repustate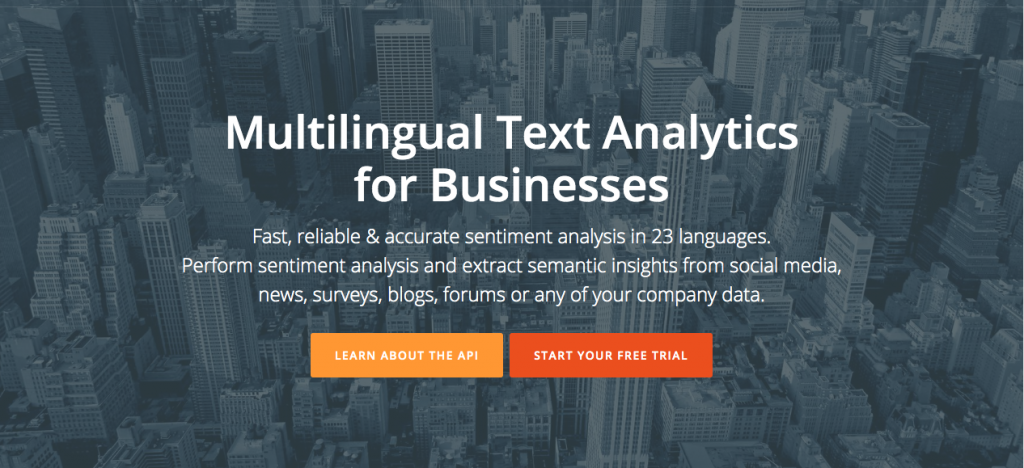 Hugely popular Repustate was founded in 2010 and now has in excess of 3000 customers over six continents.   Available in 23 languages, Repustate makes short work of extracting semantic insights from a broad range of online media and outlets.
Benefits of Repustate 
Hugely powerful search engine
23 different languages
Up to 100,000 documents searched
Highly accurate

UberVU 
UberVu is a rising star in the sentiment analysis world.  Working with giants such as Microsoft and Paypal, UberVu scans all the usual sites and social media platforms for mentions of your brand.  It then organizes its findings into an easy-to-read social intelligence dashboard in order to display results quickly and easily.  Web-based, UberVu looks great and excels in terms of accuracy.
Benefits of UberVU
High accuracy
Easy to use
Recognizes actionable information
Recognizes influencers
Notifications

Lionbridge AI
Boasting access to 500,000 contributors in 300 languages, Lionbridge AI offers a full service for brands looking for the best that sentiment analysis has to offer.  Services include text analysis, social listening and emotion analysis amongst others with a high rate of accuracy and reliability.  Prices for Lionbridge AI's services are available only on request but are said not to come cheap, by any means.
Benefits of Lionbridge AI
Artificial intelligence-powered
Highly accurate
Multilingual
Personal service

Conclusion
Although each of the tools in each of our categories has its merits, like so much in life, it is a case of 'you get what you pay for'.  Some of the cheaper tools (and freebies) are perfectly adequate for those just starting out with sentiment analysis.  For those looking for more power, accuracy, and features, you may need to splash out a little more.
The following two tabs change content below.
Milosz Krasiński
International SEO Consultant, speaker, blogger. Throughout his career, Milosz has been consulting and devising growth tactics for small and start-up businesses, particularly within financial services. His focus areas include link building, technical SEO, and overall digital strategies. Prior to the acquisition of Chilli Fruit Web Consulting, Milosz has been involved in growing Plus Guidance (an early-stage UK tech start-up, now acquired) and Sigma Digital Marketing Agency based in Oxfordshire. Find out more on his blog
Miloszkrasinski.com
Latest posts by Milosz Krasiński (see all)