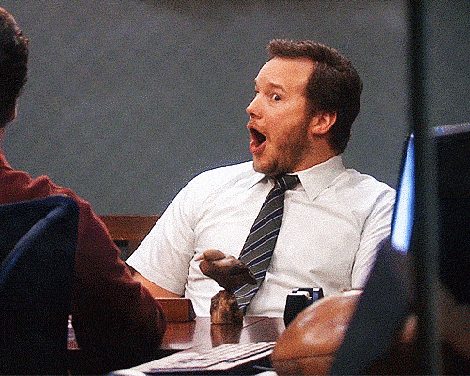 Consumers in 2019 are deadly.  They're skeptic, ask a lot of questions, and have a zero-tolerance policy for bullshit.
What's more, the competition is intense, so you'll have to go above and beyond to reach your target market.
Enter: Shockvertising, a creative marketing tactic that deliberately violates the norm to create a trendy "buzz" effect. The goal is to break the status quo and instead "shock" the target audience—but in the right way.
But this is easier said than done.
Shockvertising is a powerful marketing strategy, but leveraging controversial topics is no easy feat. That can go wrong than right (more on this later).
In this article, I share my insights on shock advertising and furthermore, talk about brands that have successfully shockvertised their target audience.
So, let's get started!
What is Shock Marketing?
Remember those anti-smoking advertisements?
Of course, you do. After all, there are very few advertisements that come even remotely as close in terms of over-exaggeration. Whether they work or not is another story, but they sure as hell are difficult to forget.
Here's an example –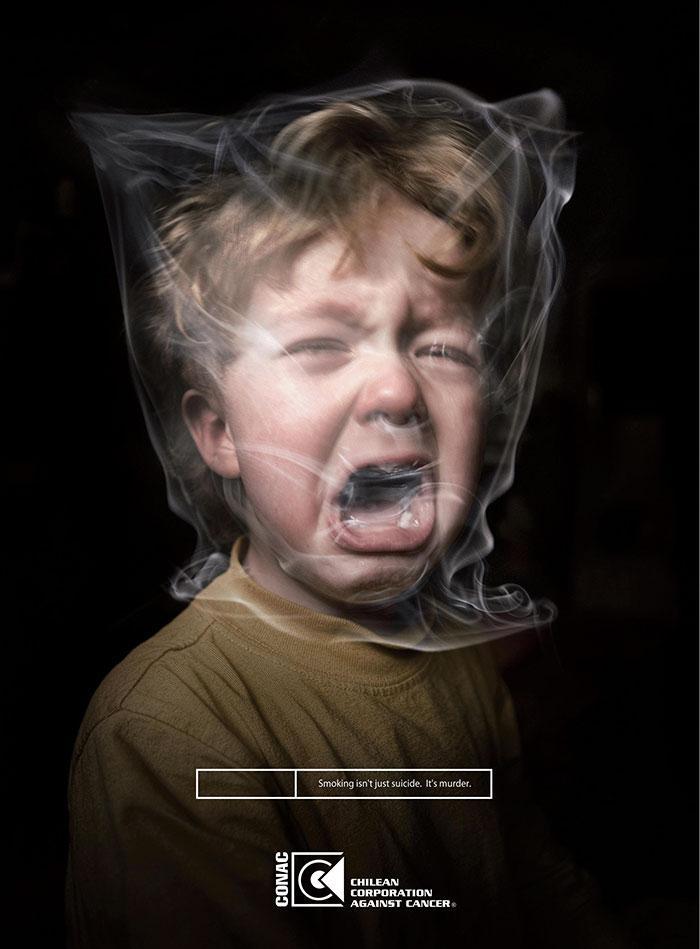 Do you see what I'm talking about?
Humans are emotional creatures, so they're most likely to remember an advertisement that "shocks" them over typical advertising.
The idea is to create "buzz" by advertising things that are against the norm. In fact, it's quite common to use controversial, disturbing and even provocative visuals in shock marketing.
The consumers of 2019 are exposed to a lot of brands—so marketers face a double challenge:
Getting their message to stand out
Getting that message to stick in consumer's minds.
So, trying something unusual, or even strange like shock marketing can be highly effective.
Which brings me to my next point…
Examples of Shock Marketing (Done Right)
Shock or awe advertising has been around for quite a bit. In fact, hugely successful brands Benetton and Calvin have been experimenting (and winning) with shock marketing campaigns way back in the 1980s with images unlike any seen before in mass-market advertising.
Over time, brands noticed their success and similarly launched successful shock marketing campaigns themselves.
Some of these cases have been highlighted below –
Case 1: Androids' "Friends Furever" Commercial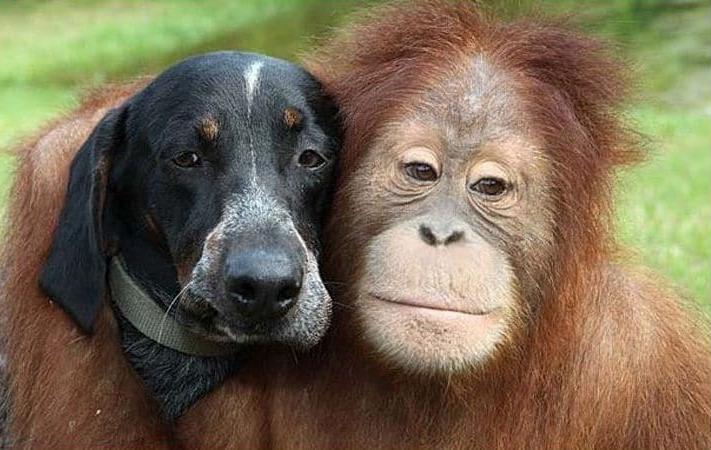 Shock marketing campaigns don't always have to be something explicit or negative. For instance, the "Friends Furever" commercial by Android is a strangely pleasant shock advertising example.
You'd have to be living under a rock not to remember this advertisement. And if you for some reason don't (or because you live under a rock) it's one of the most shared ads of 2015 and has attracted over 6 million social shares on Facebook, and blogosphere since its launch.
Talk about high engagement! Humans love for animals is a well-known fact, and
The genius of the advertisement is the decision of using Humans (majorly) love for animals (which I'm sure Google's vast treasure-trove helped in interpreting).
What's more, Android avoided branding until the last second, which helped in keeping the message pure and lovable. This is key as consumers of 2019 value brands hate being sold to and love stories.
Case 2: Burger King "Burns" Competitors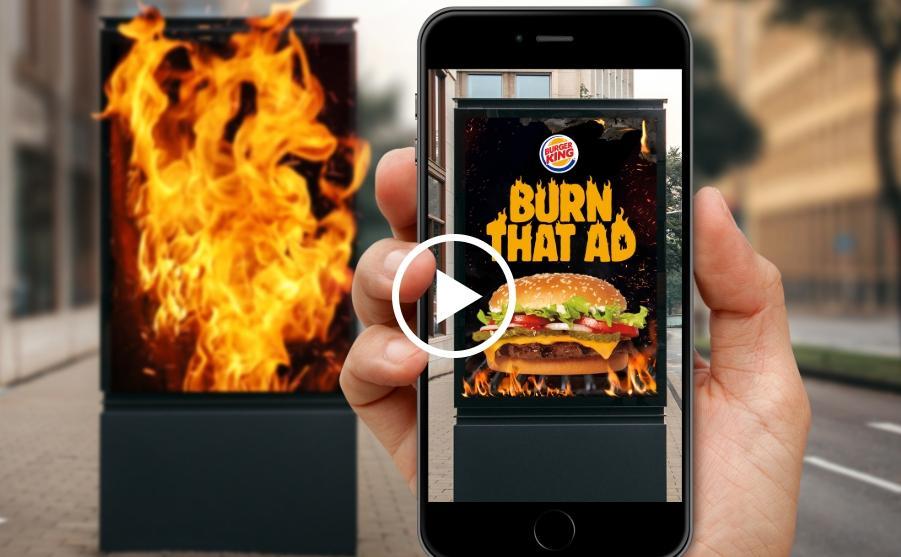 Burger King recently launched a killer campaign the literally "burns" its competitors! What's more, they've leveraged augmented reality to create an engaging feature in their burger king app. Basically, users had to scan the burger king app across competitor ads and burn them to get them a free whopper burger.
Burger King gains a ton of popularity (and burned a lot of competitors) with this ad campaign. Talk about the things people do for free food!
But more importantly, this campaign is a classic example of shock advertising done right, especially because this ad uses a unique angle that works for the (millennial) consumers of 2019.
"Real estate companies have also been using such tactile strategies in the augmented reality space to help sell homes," comments Ruban Selvanayagam of a leading UK homebuying firm.
Case 3: Nike's Colin Kaepernick's Billboard Ad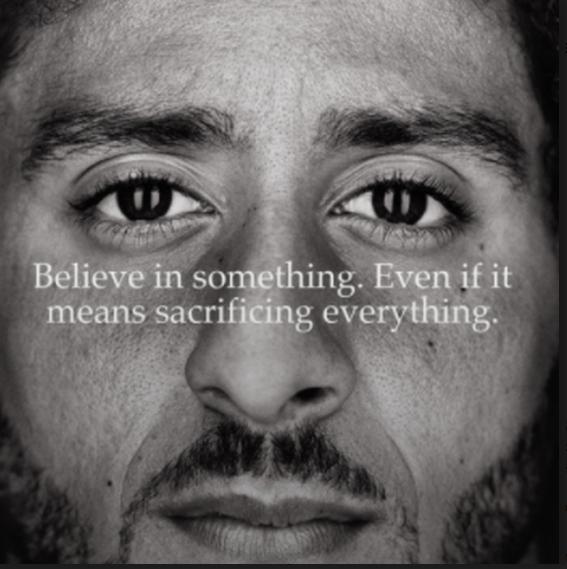 Many brands want to be Nike's of their industry. However, to be Nike, you have to go above and beyond everyone else and talk about "Sticky" topics like race and gender.
For instance, Nike starred Colin Kaepernick (NFL star) in their "Just Do it" campaign. But here's the real kicker – he was strategically chosen because his kneeling protests had widely gained popularity and divided the nation into two supporting groups.
You see, Nike took Collins's belief (read: support for people of color) and associate their brand. Yes, they did receive some backlash, but on the other hand, famous athletes like Serena Williams and Lebron James supported it and even took to Twitter to share their praises.
In fact, this ad was a vital sales driver of their massively successful labor day sale that reportedly made a whopping $6 billion dollars!
Case 2: BuzzFeed Today Newsletter
BuzzFeed is one of the most popular news blogs on the internet that's well-known for its catchy and compelling content. Over time they've built a massive email list that generates a majority of their traffic. What's more, they use creative shock marketing tactics to get the most out of their email subscribers.
Here's a snippet from their infamous BuzzFeed Today newsletter—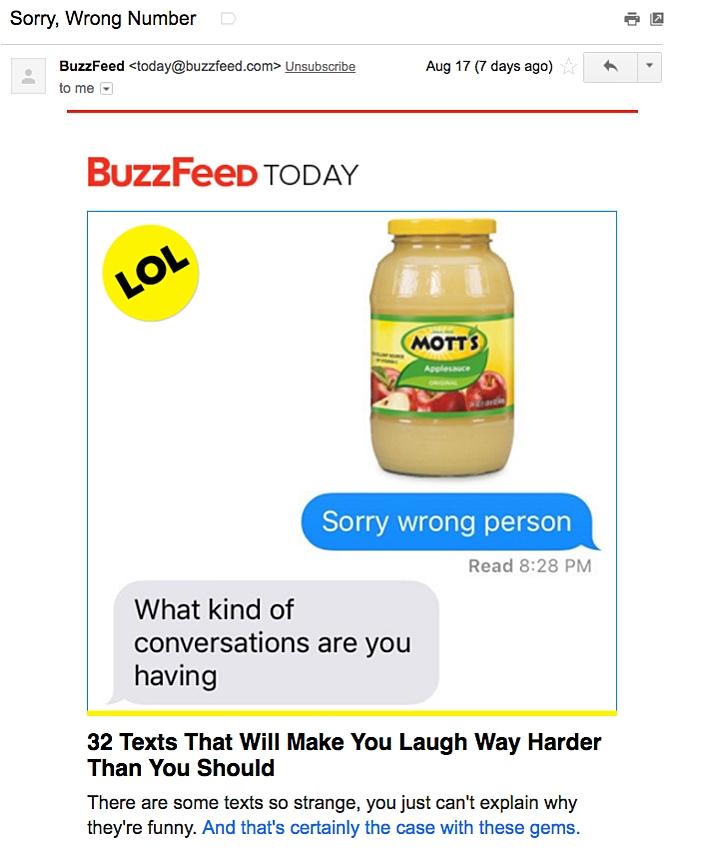 Key Takeaway? 
Shock marketing isn't limited to shocking users with things that are out of the norm. Simply using a compelling copy that draws out curiosity will work out great!
As you can see, Shock marketing has a ton of benefits – and its implementation has a broad scope that makes it compatible with most brands.
That being said, if done wrong, Shockvertising can lead to a negative impact on a brand, which brings me to my next point…
Examples of Awe Marketing Done Wrong!
Yes, awe marketing is a compelling marketing tactic, but if done wrong it can negatively impact the image of your brand –
Case 1: GoDaddy's "Journey Home" Super Bowl Ad
Super Bowl ads are the creme de la creme when it comes to TV adverts and generates an unreal amount of buzz. It's no surprise the top spots sell for over $5 million a pop! But if done wrong, a bad super bowl commercial can do more harm than good. One such example is GoDaddy, a leading website hosting company that's got a track record in shock marketing.
However, they took it too far with this 2015 super bowl ad –
The ad was an inspiration from Budweisers "Puppy love" (the fourth most shared super bowl ad of all time). But, GoDaddy ended the ad with the owner selling the puppy on a GoDaddy powered website.
This cold-hearted twist created a wave of backlash, especially among animal lovers that related this add to pup farms. In fact, the backlash was so significant that GoDaddy was forced to withdraw the multi-million-dollar ad campaign—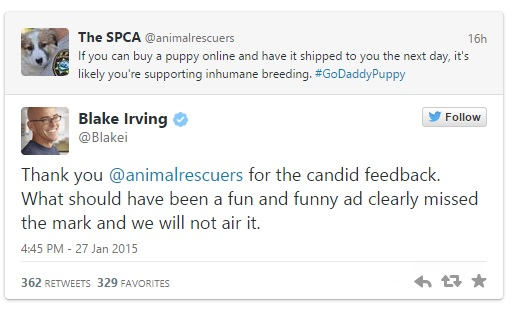 Case 2: Just's Liquid Hand Wash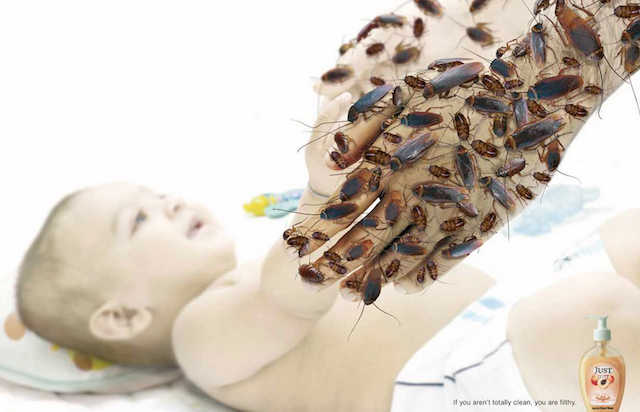 The image obviously depicts a clear and powerful message, but then there's this disgusting idea of putting babies and roaches together. Hmmmm…. That's just too negative!
In fact, it probably wants to make you wish you had never seen the ad (or the brand!).
Key Takeaway?
It's fine to be negative in shock advertising, but make sure you keep it in check so as to not scare your target audience away.
Winding Up on Shockvertising
Awe marketing is a great out of the box marketing strategy, especially when you're trying to stand out from the crowd and connect to the difficult consumers of 2019.
But be careful not to go overboard with it and get famous for the wrong reasons.
The following two tabs change content below.
Mark Quadros
Mark Quadros is a
SaaS writer
that produces rad content that not only drives traffic but also boosts user engagement. In his free time, he loves traveling the world and living a minimalist life from his backpack.
Latest posts by Mark Quadros (see all)