Quick question:
How many of your readers would say that they actually trust you?
Trust your opinions. Trust your knowledge. Trust your intentions.
Difficult question to answer, right?
A few years ago, I asked myself this same question.
I thought to myself "Why would anyone trust me and what I have to say? After all, I'm not well known and readers may favour tips from people with more experience, knowledge and authority."
Boy — was I wrong.
I learned that even though trust is a hard thing to gain, it's developed if you continuously work at it. And because I did, opportunities opened up.
I made several key connections. My blog is growing steadily. And people started to trust me — and more importantly, the advice I share about business growth and content marketing.
You can achieve the same thing.
My goal with this article is to provide you with proven strategies that'll put you on the express lane of getting your readers to trust you. And loving your content in the process.
Sounds like something you're interested in? Let's get to it!
1. Create Content That They'll Enjoy
The benefits of this should be clear, right?
I can't even stress enough how having your audience's best interest at heart from the start is key.
In fact, Mondovo did a great job of this when they wrote this post: The Most Asked Questions On Google.
And from that, they received 620 backlinks from 66 domains:

Definitely not bad.
They saw an opportunity to provide content that delivered extraordinary value — and took it. And you should do the same.
The content you create, the products/services you offer, even the auto responder emails you craft should ALL be (1) providing great value and (2) with your audience in mind.
Because that's the end goal, right?
You want to get them on board with your content.
Why?
Because your audience is your single greatest asset.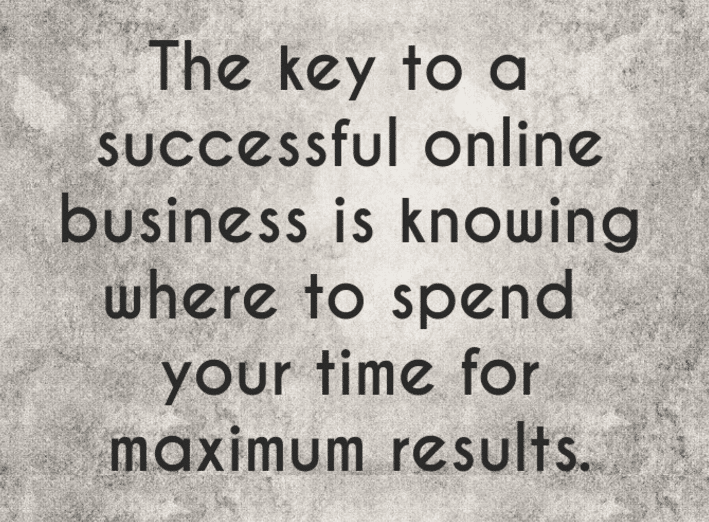 Because at the end of the day, everything you do is for them. And any success you achieve, it's because of them.
Bottom line: The type of content you create is extremely important. And when creating your content, you always want to keep in mind if it's something that (1) your readers want (2) will provide great value to them and (3) help your overall conversion rate.
2. Writing in a Conversational Tone
Can I be painfully honest with you right now?
If you're not writing in a conversational tone, you're making it excruciatingly difficult for your audience to trust you.
And I can almost guarantee they will NOT enjoy your content.
Because when you write in a conversational tone, you accelerate yourself in your audience's minds as someone who not only cares but understands as well.
And that goes a long way.
I mean, who doesn't enjoy a good conversation? And who wouldn't enjoy reading content as though the writer is right there, talking to them as a friend?
Everyone would enjoy it, right? Of course.
Nobody wants to read something from someone that's robotic and boring.
After all, you have conversations with your family. With your friends. So don't be afraid to do the same with your audience.
Bottom line: Infuse your personality and your voice in what you write. Doing this will help you build lasting customer relationships with your audience while showing them that you're human.
3. Display Transparency in Your Content
Can I be straight up with you?
The more transparent you are, the better it is for your brand.
In fact, if you want your audience to trust you, displaying transparency should be near the top of the list.
And trust is essentially how transparent you are. The more transparent you are, the more trust you can build.
Here's the thing:
Everybody's different as to how much, or how little, transparency you want to share. Buffer, for example, has no problem sharing where their money actually goes: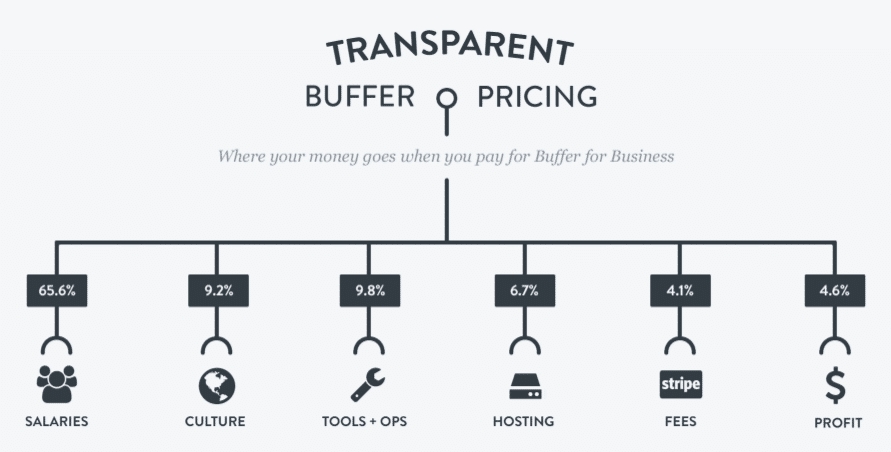 But even though a site like Buffer is sharing this information, being transparent and having success, it doesn't mean all businesses have to follow.
Bottom line: you don't want to be transparent for the wrong reasons.
But transparency is a great tool to have in your pocket. Just know and understand why you're doing it before you choose to harness it.
4. Having The Courage to Be Yourself … No Matter What
Look:
Transparency is one thing. But it won't be effective if you're not being yourself.
In the online world, people love to associate themselves with others that have the courage to be real. Or at least, appears to be.
And that's exactly why branding specialist, Andrea "Dre" Beltrami, is so successful. She pulls no punches about who she is and what her personality is all about. And has repeatedly said that if you don't like it, you're not the target audience she's after.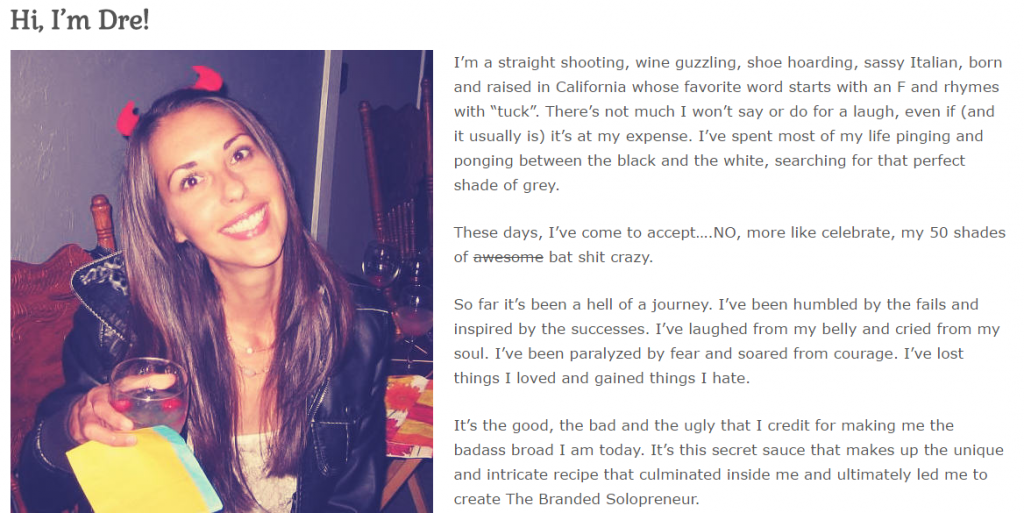 But you're probably wondering:
"How does this help audiences trust me more?"
Here's the thing:
A recent study found that 92% of millennials say trust plays a factor on who they're influenced by online.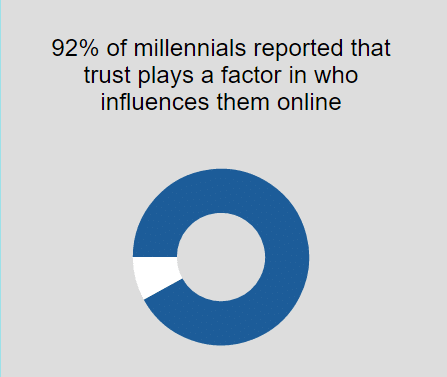 This is HUGE because the more you let your personality show through … the more transparent you are … the more you show your true self in every piece of content you create, then the more readers will flock towards you — and eventually, trust what you have to share.
Makes sense?
Bottom line: You want to let your audience into your life as much as possible. The more you do that, the more you build your credibility and they'll start to trust you. And once you achieve that, they'll be the spokesperson for your brand without you having to ask.
Are You Ready to Start Building Trust?
With creating content, promoting it and constantly building your list, you already know that there isn't a flash in the pan solution to build trust online.
It takes commitment and dedication.
But if it'll get readers to start trusting what you have to say, or even open up opportunities you never dreamed of, then why not put in the necessary effort needed to reap those rewards?
Sounds like a no-brainer to me.
Ready to get started?
The following two tabs change content below.
Andrew M. Warner
Andrew M. Warner is the content writing mastermind behind
ContentRanked
, a website that helps marketers and businesses create content on their site that converts customers. When he's not creating content, he's usually networking on Twitter.
Latest posts by Andrew M. Warner (see all)