Add New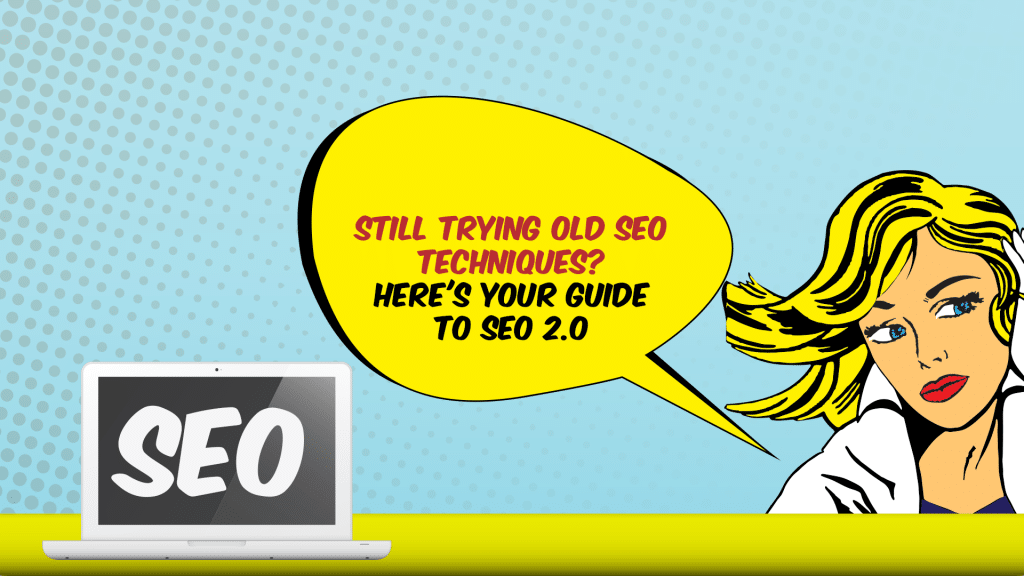 You will hardly find a business not doing Search Engine Optimization, or simply calling – SEO. In the last few years, search engines have changed their algorithms and users have changed their patterns of browsing content.
From 'SEO driven content', we have moved to an era of 'content driven SEO'. If you are still busy creating content that serves your SEO requirements, hold on. Take a breather and read this guide to know what 'Content-driven SEO' or SEO 2.0 as I call it, is all about.
*Did you know: Search engines are using AI & machine learning to deliver best search results. It's supremely important to deliver best content browsing experience to both robots & readers – if you want to be ranked higher.
SEO 2.0 Framework
The 3Cs of SEO 2.0 are: Content, Content & Content. Our SEO 2.0 framework revolves around it & why not! As digital marketers, our job is to spread content – through SEO, tweets, Facebook posts, videos or email – all that we do is spread the content.
If done right, your content will go miles… fetch millions of views for you & eventually rake in all the moolah. Here's how to do it right:
1. Content Research
Content research starts with understanding your audience. If you know what they care about & what they seek – creating content becomes easy. Start with a few basic questions such as:
Who are they? (Demographics, psychographics etc.)
What they seek? (What they search, from whom & what are relevant keywords)
Where do they seek it? (Search engines, social media, forums, wiki etc.)
What can you offer to them? (Value proposition)
By now, you'd know which of their needs you can meet with your expertise. This is where content research starts. Use tools such as Keyword planner, Google Trends, Quora etc. to find content gaps & spot opportunities.
2. Content Creation
Once you have defined your topics, do a little bit of homework to identify what's available on the web & what gap you can fill up. A smart content marketer will come up with unique content ideas by now is all set to start the creation process. Keep these in mind while preparing the content:
Objective: To answer unmet needs of your potential users.
Three elements of kick-ass content: Easy to consume. Valuable.
Format: Choose the best fit which meets the above-mentioned elements. Choose from Blog, Infographic, Video, GIF, Podcast or a simple image.
Content structure: Well defined. Create a relevant title, metadata & tags for your content.
If you've done this effectively, kudos. You've won half the battle!
3. Mastering On-page Parameters
Before you publish, it's time to go back to basics of SEO & make your content better by adding the right on-page parameters. Three unavoidable parameters are:
1. Title tag: This is the face of your content. Make SEO friendly, keyword rich title tag. Keep it within 50-60 characters and use the right keywords.
2. Header tag: use proper H1 & H2 tags to make content discovery effective.
3. Meta Description: This is a 'trailer' of your content. Keep it intriguing enough for users to click on it. A well-crafted description will drive actions from both robots & readers.
*Pro Tip: Don't overuse keywords. 2-4 instances of keyword per page is enough to drive attention of users & crawlers. Spread it across your content naturally.
4. Outreach
This is the most important & time-consuming part of the framework. Once your kick-ass content is out, move back to #1 where you figured out the frequent hangout places for your target audience.
Spread the word using the most relevant platforms as listed below:
Social media (Facebook, Twitter, Instagram, Google+, Linkedin etc.)
Article sharing platforms (like Medium, Quora etc.)
Social bookmarking platforms (Stumble Upon, Reddit, Digg etc.)
Guest posts, Collaboration & article submission
Forums / Q&A platforms
Wiki
5. Measure
The obvious part of a marketer's life. See how your content is performing. Are your readers showing a 'thumbs up' to your piece? How many of them have seen it & reacted?
Keep a tab on clicks, CTR & traffic sources. Figure out which sources are working the best. If needed, move back to #3 & optimize the on-page parameters.
Remember, perfection is a process of improving yourself every moment. So, keep bettering your efforts in achieving the epitome of SEO 2.0. Do share your creative content creation process in comments below.
The following two tabs change content below.
Tanmay Shanishchara
Tanmay Shanishchara is a web evangelist, who had realized the potential of online marketing way back in the years when digital used to be at the bottom of the marketing budget of companies. His interest & skills nudged him to be a first generation entrepreneur with an extensive experience of 5 years, harnessing digital marketing strategies of brands like, STAR News, Network 18, Nielsen & McKinsey. Tanmay currently runs digital marketing agency -
MeDigit
known for crafting unique digital marketing campaigns for its clients.
Latest posts by Tanmay Shanishchara (see all)