Consumers of today's age are more empowered than ever before.  They have tons of questions and zero tolerance for generic push marketing. In a nutshell, they absolutely hate being sold to. 
Enter: Storyteller marketing, an unconventional marketing strategy that weaves gripping narratives to help your audience think –
As Joe Lazauskas, an expert storyteller says, "Good stories surprise us. They make us think and feel. They stick in our minds and help us remember ideas and concepts in a way that a PowerPoint crammed with bar graphs never can." 
Now, while storytelling works, successfully implementing it in your marketing is no easy feat. In fact, successfully storytelling demands creativity, genuine vision, and an a-level consistency to connect with difficult consumers of 2019.
You cannot just improvise a boring story and use it as a sales pitch to attract customers. An impactful story must be emotionally engaging and focused on customers.
So in this article, I'll answer all the questions you've ever had regarding storyteller marketing and further share strategies to implement.
So let's dive in.
Why is Storytelling Important?
Benefit 1: A Story Makes Content More Exciting
A story doesn't just tell your target audience about your product or service, and it provides them with experience – an experience with personal colours that even makes the most boring and technical concepts interesting.
Storytelling is particularly useful in content marketing; it positions your content in perspective of the consumer and results in better engagement.
 If done right, storytelling content can have an impact to the extent that customers fear the risk of not being a part of that wonderful experience, and ultimately drive them to purchase right there and then.
Benefit 2: Helps You Build Relationships
The concept of storytelling is as old as time, and as they say old is gold. As a matter of fact, stories have been used to pass down knowledge, culture, values, and ideas for god knows how many generations.
That's the reason we feel so connected to our ancestors, although we've never met them.
Impactful tales bring about a sense of community between listeners and tellers.
Don't you think this exact principle applies to your business?
No matter what your motive is – brand awareness, selling a product/service, or educating through content. If it's in the form of a gripping narrative, you'll be able to establish a real human interaction with your customers.
Benefit 3: Storytelling Strengthens Brand Identity
Just to get this straight, if your target audience doesn't instantly recognize your brand among a pool of competitors, you're not marketing successfully, especially when you're trying to build a solid online presence.
However, the goal isn't to just differentiate your brand from its competitors. The real deal is to have the audience perceive your brand in a specific way.
This is where storytelling comes into play—and helps you position your brand in a crowded market to have a lasting impact on the consumer's mind. In other words, you develop a brand identity.
What's more, Brand identity is an important element of business development and helps give a better perspective to end-users.
Ultimately, they'll engage emotionally with your brand. A specific feeling pops up in their hearts whenever your brand's name crosses their path. That's exactly what we're looking for – that's brand identity.
Now, if you yourself aren't clear on how you aim to establish your brand in 'audience's minds'  how do you expect to build a fruitful brand story?
That's the reason you should always construct a 'brand positioning statement' before embarking on the journey of storytelling.
This statement is not for external use – its meant for you and your team. The aim is to state the unique value your brand offers, and the specific impression of the brand you wish to create in your customer's mind.
So, How Can You Tell Better Stories?
Method 1: Know Your Audience
Is it really so important to understand your target audience's behaviour? Yes, because after all, they'll be the ones experiencing your story.  You can't create a story out of thin air. A direction to weave the perfect tale is required, and it can only be defined once you know about the consumer's persona. 
If you have no insight about how they feel, behave, and respond towards certain things – how will you be able to trigger an emotional response towards your brand?
Here are a few ways to know your audience: 
Conduct customer surveys, interviews to learn more about your consumers.

Ask a lot of questions about user pain points, preferences, and try to learn as much from your consumers.

Finally, combine this information into buyer personas to inform better content at scale.
Case: Flywheel's Customer Stories
Flywheel is a WordPress hosting company that offers its services to different target markets—Freelancers and agencies. Interestingly, although they have the same offer, they tell a different story to their two consumer groups.  
Take a look at their story for individual freelancers: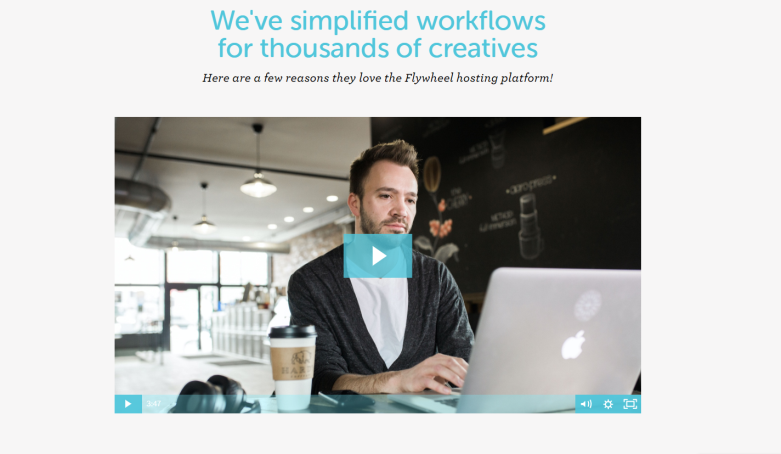 Now, have a look at their proposition for agencies: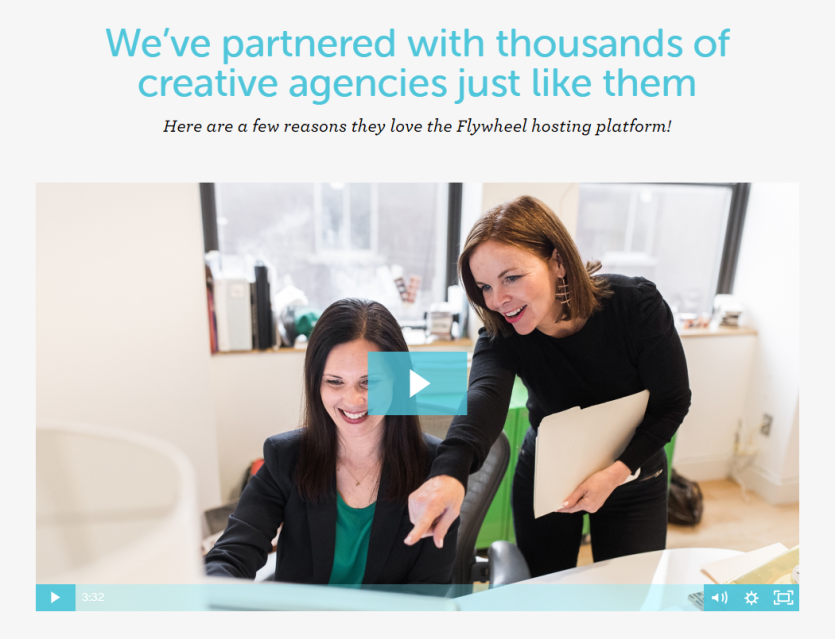 Although their service is the same, their target markets have different requirements and behaviours. What's more, they've even built their sales funnel by reiterating their customer stories.  
Storytelling for the win! ?
Method 2: Use Emotions To Create A Compelling Story
"I've learned that people will forget what you said, people will forget what you did, but people will never forget how you make them feel." Maya Angelou. 
That's one of the key reasons as to why 'triggering an emotional response' is such an essential part of storytelling. Emotions greatly impact and, in some cases, even specify our buying decisions. 
Involving emotions also increases the capacity of brands to influence their target audience. That's because purchasing decisions for a consumer are instigated emotionally within them.  
Here are a few ways to create stories that trigger emotions: 
Before creating a story, understand what your target wants (this is where knowing your audience helps).

Then position your story around these wants and desires.

Use formats (think: video, images, etc.) to create more compelling stories.
Case: Nike's Colin Kaepernick's Billboard Ad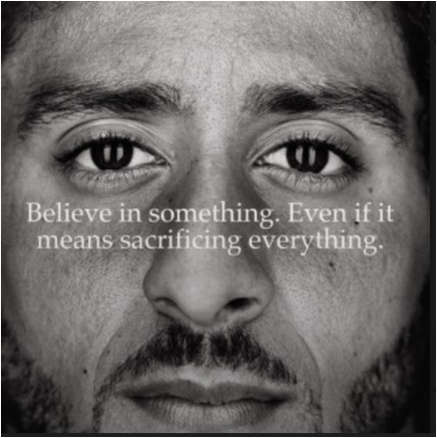 Colin Kaepernick (NFL star) was a popular name in 2017-18 because he chose not to stand during the pre-game national anthem to protest against the mistreatment of minorities.  
This created a media frenzy that divided the nations.  Nike saw this as a marketing opportunity and decided to feature Colin Kaepernick in their "Just Do It" campaign. 
Yes, they did receive some setback from people (think: burning Nike shoes), but on the other hand, Collin's supporters such as celebrity NBA player Lebron James took to Instagram to support Nike's campaign that resulted in massive sales uptick. 
The result? 
This ad went viral and was a vital sales driver of their massively successful labour day sale that reportedly made a whopping $6 billion dollars!
Method 3: Connect To Pain Points
Connecting to pain points of your audience provokes them to feel emotionally connected immediately. The name of the game is to craft a story that's about your audience – let them know how the product is all about helping them. This will awaken the sense of community and establish that emotional association.  
What's more, is that this strategy helps in creating a sense of urgency. Leveraging user pain points drives fear, and when the audience feels that 'fear of missing out,' it makes them act on impulse. 
Here are a few ways to create stories around pain points 
First, start with research.

Use tools such as answerthepublic, or even lurk around social media for research.

Once you have a firm understanding of your user's pain points, position your story around these pain points.

For instance, portray these pain points in your story by painting a picture.
Case: Acreage Cannabis' Superbowl Commercial
While the cannabis industry is one of the hottest industries, marketing cannabis is no easy feat. For this reason, Acreage Cannabis, top Marujana provider implements storytelling throughout its marketing campaign such as this compelling Super Bowl Ad:
Though rejected, this ad does an excellent job of positioning its offer over user pain points. They understand that their audience is tired of standard pharma medicines so strategically tell a story around it. 
The result?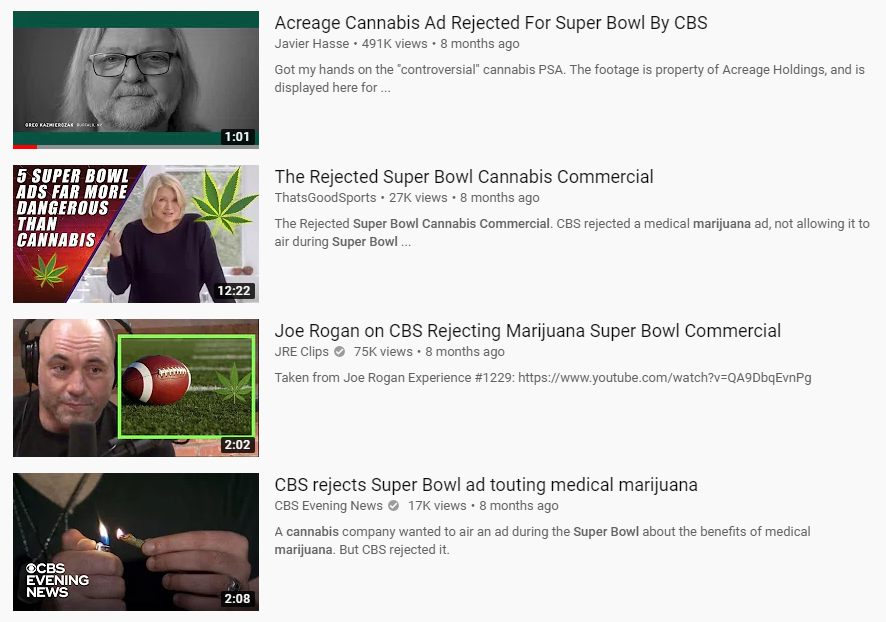 This ad went viral garnering attention from some of the biggest influencers including Joe Rogan, CBS news, etc. Similarly, if you want to create a story that connects, you first need to understand your user pain points and then position your story around it.
Sell Your Story, Not Your Product
There's a ton of benefits you can reap from storytelling. Customer retainment, higher conversion rates, and better brand positioning are just a few of them. However, it's not a child's play. Storytelling is a trial and error process, and you only achieve mastery in the long run. 
It has been a key component behind the success of many multi-million dollar marketing campaigns. Wanna be on the same page as these brands? Get your storytelling strategy right; you'll be unstoppable.
The following two tabs change content below.
Mark Quadros
Mark Quadros is a
SaaS writer
that produces rad content that not only drives traffic but also boosts user engagement. In his free time, he loves traveling the world and living a minimalist life from his backpack.
Latest posts by Mark Quadros (see all)