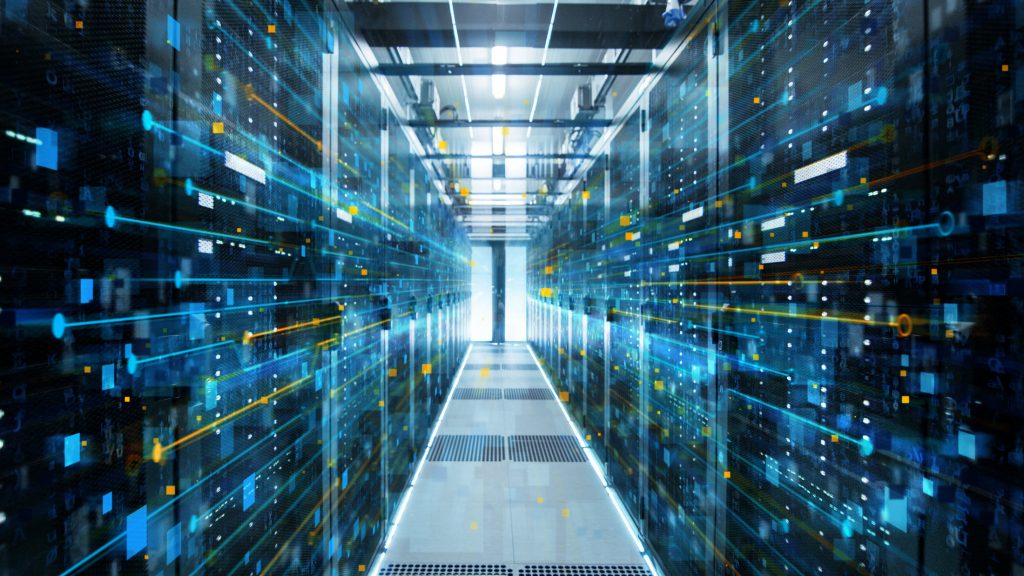 The unprecedented expansion of e-commerce has shown no signs of slowing down as it remains to be a burgeoning trillion dollar industry since breaching its first $1 trillion global sales in 2013.
By 2021, it is forecasted that 2.14 billion people worldwide will become digital buyers with global e-commerce stores raking in a whopping $4.8 trillion in sales.
So how do you get your share of this pie?
You need to up your digital marketing game. After all, online retailers that have a digital marketing plan stand to gain 2.8 more times in revenue. 
While the basics of a successful digital marketing strategy have remained the same—great products, relevant content, a strong brand, and a well-targeted audience, competition is steep. With technology constantly evolving and attention spans reducing, the only way to get ahead is to stay informed.
Read on to learn about marketing tech trends that defined the year that was, and what you can leverage for 2019.
Digital Marketing's Defining Moments in 2018
Digital MarTech Trends to Leverage on for 2019
#1. Chatbots are the New Mobile Apps
A chatbot is essential "a computer program designed to simulate conversations with human users, especially over the internet". Its widespread adoption has made waves in the e-commerce industry, especially in terms of providing 24/7 customer support, marketing, cart recovery, and manpower cost reduction.
Developed properly, chatbots can deliver a 15-60% click-through rate due to higher engagement and real-time exchange. Take, for example, American supermarket chain Whole Foods', Facebook messenger bot that provided users not only with customer support ('find a store') but also healthy cooking inspiration in the form of recipes.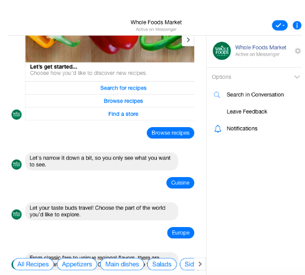 As well, in true human conversation mimicry, the bot has integrated the use of emojis for users to easily narrow down recipe requests.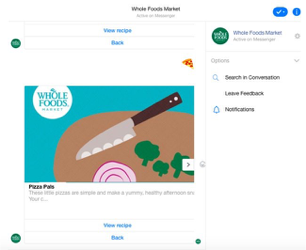 #2. Voice Search: Siri, Alexa, and Cortana are Here to Stay (and Dominate)
By 2020, it is predicted that 50% of all online queries will be accomplished via voice search and 30% of searches will be executed without a screen. As voice recognition technologies in the likes of Apple's Siri, Amazon Echo's Alexa, and Microsoft's Cortana are embedded into smart devices, conversing with these digital assistants in your car, office or home almost seems habitual. 
However, with the rise of speech-driven inquiries comes a fundamental shift in content creation voice search optimization. While typed searches are generally condensed phrases, voice searches are typically characterized by a full sentence usually beginning with who, what, where, when, why and how. How the query begins is indicative of where the user is in the conversion funnel—whether they are simply interested ("What are the top smart speakers in the market?") or ready to act ("How much is or where can I buy the Amazon Echo?) as shown in the image below.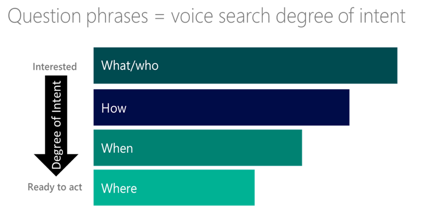 With these in mind, below are some tips to make sure your content is optimized for voice search:
#3. Artificial Intelligence is the Game Changer
Artificial intelligence isn't just some sci-fi movie concept anymore. It isn't as complex as those futuristic movies make it out to be either. AI is simply having computers "think like humans"—training them to follow an algorithm (a set of rules) to make a decision or perform tasks.
Without you knowing it, you actually regularly interact with AI-fueled solutions—it's the technology that powers your voice queries and the chatbot you've been talking to on Facebook Messenger. It's also the algorithm behind the recommended movies that come up on your Netflix home screen, and that automatic email you get from Amazon about suggested products. 
The applications of AI in e-commerce are endless. Depending on what your enterprise's priorities are, it can help you enhance customer experience, automate your mobile app's testing period and other business development processes, or help you better analyze big data sets that can provide more insight to your consumer's path to purchase.
With 61% of businesses jumping on the AI bandwagon last 2017 (a significant jump from the 38% that implemented the technology in the previous year), it is safe to say that industries have finally embraced artificial intelligence as a revolutionary solution that can 'enable them to obtain or sustain competitive advantage'. 
#4.  Programmatic Advertising is Still Growing
Despite the May 2018 implementation of the General Data Protection Regulation (GDPR) act that provided users with increased digital privacy safeguards (and caused initial turmoil in the digital marketing industry), advertisers are still inclined to spend 65% of their budget on programmatic advertising.
In a nutshell, programmatic advertising technology "automates the process of buying and selling ad inventory through an exchange, connecting advertisers and publishers." It's pretty much the online version of buying ad space on a newspaper—but in this instance, your audience is targeted and segmented better, thanks to AI-driven algorithms that analyze big data.
For 2019, programmatic adtech is forecasted to gain more traction in the following: 
#5. Blockchain is the Solution to Security Woes
84% of users will abandon an online purchase if they are dealing with an unsecured website. Hence, the rise of blockchain adoption increases transaction and user privacy security. Blockchain is essentially a public electronic ledger of transactions that are recorded and shared across a network. Whatever is recorded can only be built upon and not tampered with.
Blockchain's applications have been boundless—in finance (you must have heard of Bitcoin), logistics, healthcare, and even in political activities such as securing votes. For digital marketing, blockchain means protection from ad fraud, a higher level of transparency in programmatic ad spending and increased accuracy of data and analytics. 
Conclusion
Statistics and trends are only as good as the information they provide are taken into consideration whilst crafting your digital marketing plan. Keep in mind that these technologies are not sole strategies, but tools meant to optimize and personalize your customer's user experience—meeting them at whatever stage of the purchasing journey they're at to ultimately achieve conversion.
Now equipped with these new insights, get experimenting, and see what mix works best for a holistic strategy that will ensure your business doesn't get left behind. Make 2019 your best digital marketing year yet!
The following two tabs change content below.
Aaron Chichioco
Aaron Chichioco is a digital PR / business columnist. He has a vast experience in overseeing daily operations of several online businesses since 2011. He is currently employed with
grit.ph
. You can follow Aaron on Twitter.
Latest posts by Aaron Chichioco (see all)