SEO is essential if you want to grow your online presence and your business. But it's also complicated and multi-faceted. It's taken me years to get to the level of SEO expertise I have now, so if you're just starting out, I wouldn't be surprised if you're feeling a bit daunted. 
Perhaps you are brand new to SEO and want to avoid the common pitfalls and mistakes before they happen. Or perhaps you've been doing it for a while, but you haven't seen the results you want – or, worse, you've incurred a Google penalty! Either way, this article will help you. Read on to learn about the most commonly overlooked SEO problems and how you can fix them. 
Keyword cannibalization
Do you have multiple pages or posts on your site that are targeting the exact same keywords? It's amazing how often I identify this as a problem for my clients' websites.
"But Matt," you might be saying, "surely more content optimized for the same keywords means more chances to rank, no?" Yes, it's technically possible to rank twice in the same Search Engine Results Page (SERP) for the same keywords if you have two pages or posts targeting it. But more likely, you're hurting your SEO efforts rather than helping them.
This problem is called keyword cannibalization. In other words, two (or more) of your pages are directly competing for the same keywords. Why is it an issue? Because you want to be competing with your competitors, not with yourself. 
The easiest way to spot keyword cannibalization is using Google Search Console. Click on "Search Results", then click on a query. I'll use an example from a friend I helped out recently.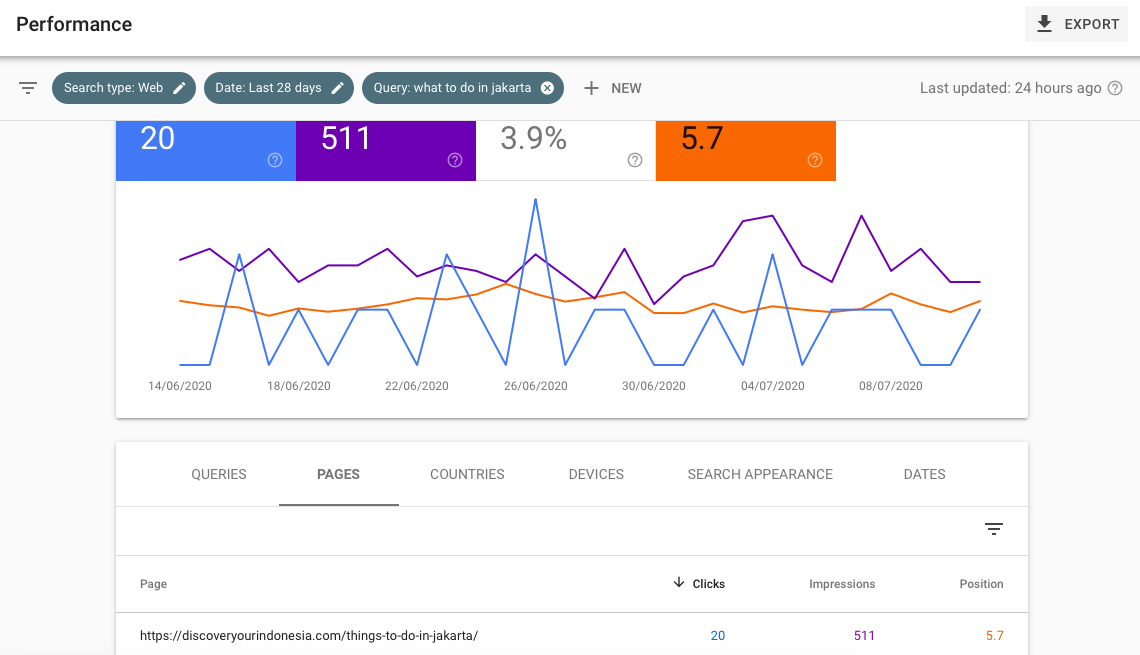 You will easily see if you have multiple pages competing for the same keywords. If this happens, you need to de-optimize one (or more) of them as much as you can. Go through the titles, headings, and content to ensure each page is unique. Alternatively, you might delete and redirect one of the pages, to the stronger page.
You should also check your internal and external links and anchor text. Make sure you're not sending links to the page you're trying to de-optimize using the cannibalized keywords as anchor text. Doing this tells Google you want the linked page to rank for those keywords, which is the opposite of what you're trying to do. 
Once you've de-optimized the problem page, you can re-optimize it for new keywords. Remember to focus on long-tail keywords and aim for those which are high-volume and low competition. When you've re-optimized the page, you might need to step up your content marketing efforts for a while to get it to rank again. 
Weak or non-existent offsite link building strategy
Your onsite SEO efforts are essential. However, if you want your content to rank highly, you need to develop a robust offsite link building strategy, too. Waiting for other websites to link to you organically is not enough. 
Besides not doing it at all, the two most common link building mistakes are:
Pushing to build too many links, too quickly.

Targeting the wrong sites.
There are several ways to build links organically, but by far the most effective is to implement a guest posting strategy. Guest posting means supplying a piece of content to another website in exchange for a link back to your own. If you need help with this, definitely hire 1stonthelist.com SEO services.
But before you rush out and target every site you can find, slow down and be strategic. Your ideal target site will be both relevant and authoritative. However, these are likely to be few and far between in most niches, so it's fine to aim for authority sites in related niches as long as you can provide relevant content for their audiences. I usually recommend aiming for those with a Domain Rating (DR) of 50+. You can check a Domain Rating using Ahref's free tool. 
When you've identified some sites you'd like to write for, send a friendly enquiry email to the editor and ask if they would consider a guest post. A few guest posts on high DR websites can go a long way. 
As you write your guest posts, make sure you pay attention to effectively optimizing your links' anchor text. Which brings us on to the next common SEO problem: 
Over-optimized anchor text
It might seem counterintuitive to say that you can optimize something too much, but hear me out. 
When you insert a link into a piece of content, the anchor text is the bit of text this is clickable. It's one of the ranking factors that Google and other search engines use to determine what your site is about. For example, if your website got lots of backlinks using the anchor text "running shoes," Google would reasonably come to the conclusion that your website was about running shoes. 
Penguin, a Google algorithm released in 2012, aims to weed out something called "backlink manipulation." In other words, if you have too many backlinks with the exact same target keywords, you'll end up getting a penalty. Which is the opposite to the effect you're looking for!
Therefore, as you build links, make sure a range of anchor text types are used. In between targeting your exact keywords, you should aim for a mixture of topical anchor text (related to the subject matter but not the exact target keywords,) branded anchor text (your brand name and related branded terms, and generic anchor text (phrases like "visit site" or "click here"). 
If you want to get more in-depth, you can work out an ideal anchor text ratio. This ratio will vary depending on your niche. Find one of the top-ranking sites in your niche, and use Ahrefs to download that site's anchor text data. Here's an example: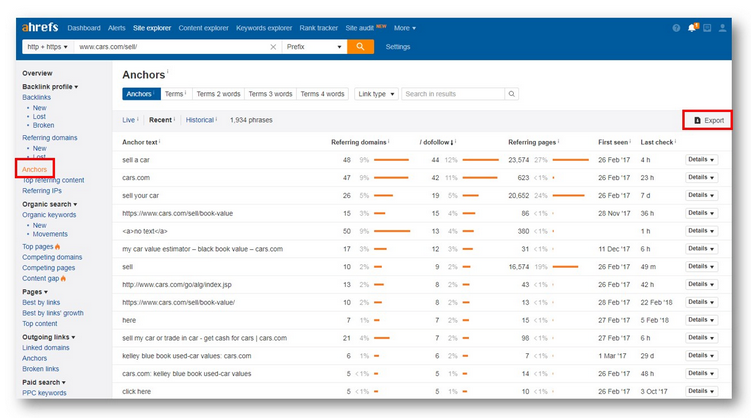 From there, you can analyze the distribution of the different types of anchor text. Here's the breakdown I got for the hypothetical example above: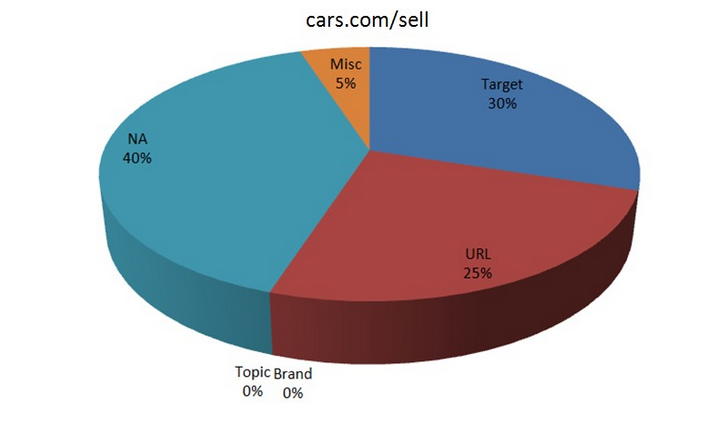 Repeat this process for several more of the top ranking sites in your niche, and you'll start seeing a pattern. Use this to calculate the ideal anchor text distribution for your backlinks. 
Page speed problems
Did you know that site and page load speed has a direct impact on your SERP ranking? Google has confirmed that it considers page speed a ranking factor in order to provide a better user experience. This is one area where milliseconds count. The difference between a 1 second load time and a 3 second load time increases the probability of bounce by 32%. 
Fortunately, there are a number of ways to optimize your site's speed:
Make sure you've chosen the right hosting provider and server. Switching to one with a faster response time might be a little more expensive, but you'll reap the rewards. 

Optimize your images. Image size should be no larger than 100kb and they should be in jpeg format. A plugin like

WPSmush

can optimize your images as you upload them. 

Get rid of any unused plugins or themes you have installed. 

Compress your HTML, JS and CSS code. There are tools online like

HTML Compress

that can help you to do this, or you can ask your web developer. Be careful if you're using a pre-built theme or you could accidentally break your site. 

Enable browser caching. Browser caching is a kind of temporary storage. It means that, if someone returns to your site more than once, their system does not have to re-download all the various elements. A plugin like

W3 Total Cache

makes this process easy. 

Use a Content Delivery Network (CDN.) A CDN is a global server network. When a user visits your site, the request is sent to whichever server is geographically closest, reducing response time.

Cloudflare

is a great CDN service: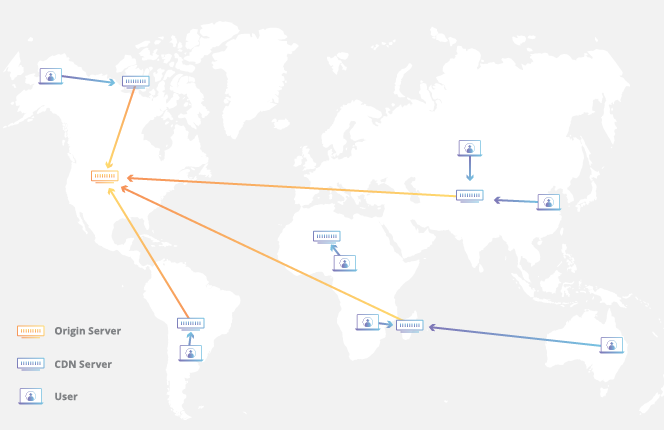 Optimizing your page speed boosts your SEO and improves the user experience at the same time. As a rule of thumb, anything below two seconds is an acceptable load speed – but the faster the better! 
Internal redirects
A permanent internal redirect, also called a 301 redirect, is what happens when a user tries to visit a page that has been permanently moved. The redirect instructs the server to send the user to a different URL. 
Too many 301 redirects slow your website down and have a negative impact on the user experience. Therefore, it's a good idea to remove as many as possible. Keep them only if they are absolutely essential. 
A 302 redirect has a similar effect but is used when the page has only moved temporarily. With a 302 redirect, Google will continue to index the old URL, while with a 301 redirect it will index the new one. 
If you must use internal redirects, make sure you're using the correct kind. 
Easily overlooked SEO issues
If you've overlooked any of these SEO issues or made any of the common mistakes I've listed, you will be missing out on valuable traffic to your website. Fortunately, with a bit of time and know-how, none of them are too difficult to fix. 
In our increasingly competitive and digitized world, you cannot afford to ignore SEO or do it half-heartedly. So if you're not getting the results you want, hire a local SEO agency in Mesa to provide you the right solutions.  
Good luck! 
Bio
Matt Diggity is a search engine optimisation expert focused on affiliate marketing, client ranking, lead generation, and SEO services. He is the founder and CEO of Diggity Marketing, The Search Initiative, Authority Builders, LeadSpring LLC, and host of the Chiang Mai SEO Conference.
The following two tabs change content below.
Accomplished sales expert and a creative digital marketing strategist with a proven record of success in design and product development/lifecycle, from conception to end-user.
Latest posts by Bala Ayya (see all)