Did you know that only 4% of people believe that backlinks can barely influence your rankings?
That means a whopping 96% disagrees with them. These people believe that link building is one of the best ways of making a mark on the top of the SERPs.
But if you think that acquiring just any type of link can get you there, you've got another thing coming.
While some links can catapult you to the summit, others go the opposite direction. So, rather than pursue every backlink opportunity that comes your way, you need to distinguish the good from the bad.
In this post, let's look at this one SEO factor that can make or break your rankings: the quality of your link profile.
Let's get the ball rolling.
What are the links?
Links can either be internal or external.  First, let's cover internal links. These are links that connect to internal pages of the same domain.
Here's an example from Mondovo's blog post on SEO content writing.

When you click the link, you'll be sent to another page on the same blog.
Simple, right?
Internal links matter because it passes on traffic and PageRank to other pages in your site. Search engine crawlers will also have an easier time discovering them.
If you have a high number of internal links that point to a specific page, you're sending Google a signal. You're telling them that your page is important.
As long as you created this link naturally, Google will give that page a nod. Meanwhile, external links are links that point you to a place outside a domain.
If these links point you outside of your site, you can refer to them as outbound links. And if they are pointing to you from another site, you can refer to them as inbound links or backlinks.
Link building: What it is and why is it so important?
Link building is just what the term suggests – it's the process of building links. You make it happen by promoting your site to other site owners to achieve an ultimate goal: secure a link on their site.
Think of it as a way for you to build your reputation. It's how you establish your credibility. The more links you have, the better your reputation is. So if you're being linked to often, you're on people's minds often, too!
You see, it's like this: you are asking a bunch of people for recommendations on a light-hearted TV show to watch. A few people are buzzing about Friends From College. The majority, on the other hand, is recommending Lucifer.
So, between the two recommendations, it's highly likely that you'll go with what the majority recommends. After all, there are more people who are leaning toward this option.
Now, let's go back to link building.
If the number of site-owners that link to you is high, it just means that these "high numbers" of people feel confident about recommending you to others.
Quality vs. Quantity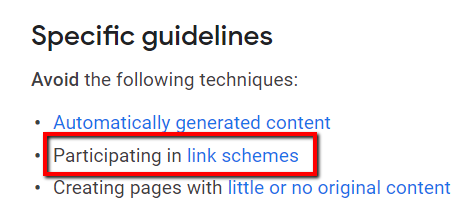 On the flip side, this doesn't always mean you're in good shape if you've acquired lots of backlinks. As implied in the introduction, some links can do more harm than good. And Google can penalize you for them!
Wondering what these kinds of links are?
Here you go:
Purchased links.

Fiverr and other cheap link building services can present you with plenty of links for a small price. But Google's algorithm frowns upon them. After all, it can easily identify the footprints that these services leave behind.

PR links.

Creating a press release and then syndicating it to low-quality PR distribution sites will reward you. But unless they're from legitimate, high-profile PR sites, these links are easy to acquire and manipulate. As such, Google dislikes them.

Directory submissions.

Again, unless it's a high-quality directory, you should turn the other way and run. The right way to go is to submit your link to relevant and targeted networks for a natural link building approach.

They can tank your website and have it lose organic traffic. While some of them can't be spotted easily, you can rest assured Google will find out soon about their existence.
While the idea is to acquire links, getting your hands on low-quality backlinks defeats the purpose of link building. The process is supposed to help increase the value of your site — not the other way around.
With all that said, you should be mindful of your link profile. Remember, it's an assessment of your site's value in terms of the links it earned.
What makes a healthy link profile?
It's not rocket science: no healthy link profile, no high rankings.
If you want to know how you can get your website de-indexed, go ahead and disregard the importance of maintaining a healthy link profile. Spam backlinks away on bad sources, like the ones mentioned above.
Otherwise, you need to work on improving your website's backlink profile.
What you need to do is tell search engines that you're on their side.
Since you care about user experience, your top priority is developing quality content, which in turn will amass quality backlinks naturally.
To help you keep up the "good behavior", here are some things you need to remember:
Backlinks must come from authoritative sources.

Say NO to fake news sites and other shady sources. Otherwise, you'll be building an unreliable reputation for yourself.

You must earn your links.

Avoid taking shortcuts by buying them. And instead, focus on creating brilliant content and a well-planned link building campaign.

Be newsworthy.

A reliable way to attract attention is to discuss current trends in your blog content. Promote them on social media and let other people spread it like wildfire.

Anchor texts should be descriptive.

In your link building campaign, your anchor texts should be informative and relevant. They should tell users and search engines what your content is about.

Must come from topically similar sites.

If your site is about digital marketing, links from blogs that review cars will not help you increase your rankings. You also won't attract quality leads since there's a mismatch between their interests and your site.
How to check a site's backlink profile
Now that you know what makes a healthy link profile, it's time to perform a quick assessment of your website.
Plenty of digital marketing tools like Mondovo are equipped with a backlink analysis feature. It dissects your website's backlink profile by identifying referring domains, anchor text suggestions, and more.
It's how you can find strong and weak links, filter links, and identify linking opportunities!

As an all-around tool, it comes with a plethora of other SEO, social media, and analytics features as well. This includes Website Audit, Keyword Research, and On-Page Analyzer.
And if you want to take your game to another level, you can also use Mondovo to spy on your competitors. It helps you unveil their backlink sources, understand their content strategy, and reveal their target keywords.
In other words, you can do a complete evaluation of their backlink profile to gain SEO insights that will push you ahead.
How to bolster your backlink profile (starting with email outreach)
What good will analyzing your backlink profile do if you can't turn insights into actionable plans?
True, site owners may eventually discover your content. With luck, they may even reward your site with a well-earned backlink. 
That, however, doesn't give you an excuse to lay back and slack off.  You need to start with an outreach campaign to get the ball rolling through guest posting.
Basically, guest posting is the practice of contributing content to other websites. In exchange for your efforts, you get the opportunity to insert links into your guest posts or author bio page.
Running an Email Outreach Campaign
Long story short, email outreach will springboard any link building campaign.
To make sure your emails reel in high-quality prospects for link building, take note of the following tips:
#1. Focus on Value
To understand this point, allow me to talk about Robert Cialdini's principle of reciprocity.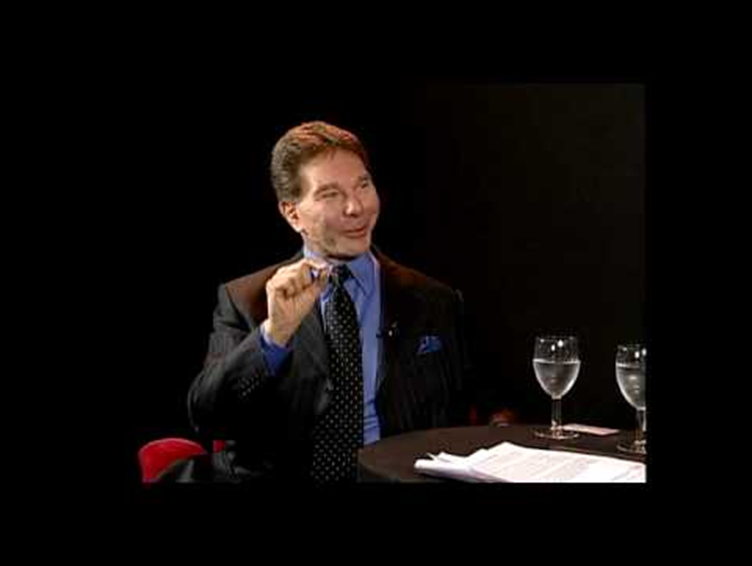 In a nutshell, if you do someone a favor, they will be drawn to do something for you in return.

Here's how you can take advantage of this:

Look for broken links.

With a tool like Mondovo, you can detect broken backlinks on a prospective link source. Inform them in case you find any and offer an alternative link — one that points to your site!

Build resource pages.

Find outdated statistics on a prospect website? Quickly craft a new post with the updated data and let them know!

Create unique content.

Put simply, your content must be visually-striking, can elicit the strongest emotions, and answer a timely need. Publish loads of stellar content on your website and you should find link building a whole lot easier.
#2. Build a Relationship Early
Before you send your first email, take the time to build a meaningful connection by actively engaging their brand. You can do this by leaving comments, reacting to their social media posts, or introducing yourself via email.
Make them feel comfortable talking to you. You can address them by their first name or consider asking a question about their work. Just don't bring up your backlink proposition until you're confident in your relationship!
This may seem like a lot of work for a single link, which it is. That's why it should be reserved only for your top-tier prospects.
#3. Keep Your Email Simple
For the actual email, the first rule of thumb is to be concise. Get straight to the point and elaborate on how they'll benefit from your proposition. The idea is to capture their interest — not bore them.
Whatever you do, don't put them off with a thick wall of text as your email introduction. You can also build their confidence by providing links to your previous guest posts.
For your reference, here is a sneak peek at how I write outreach emails: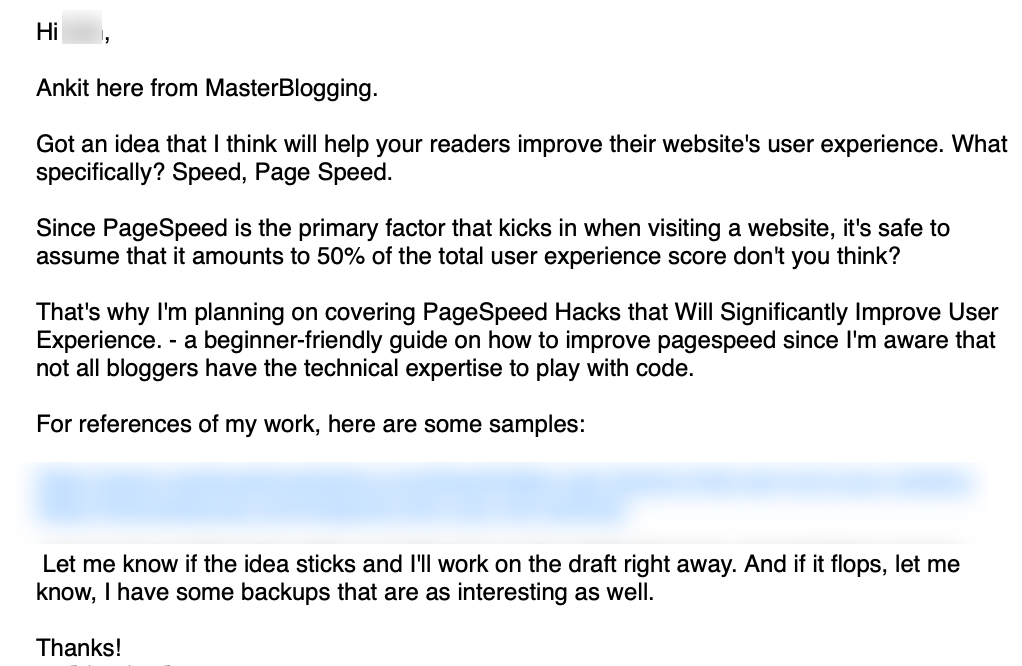 Just remember that guest posting is only one of the ways to build backlinks to your website. More elaborate strategies include publishing an expert roundup post, using link exchange arrangements, link reclamation, and broken link building.
Conclusion
Link building isn't always easy. You can't just expect to publish one excellent piece of content and then have site owners lining up to link to you. Your job is to assure them that you're a trustworthy source. For that, you need to build and solidify an authoritative reputation. And that takes time! But despite the challenging nature of link building, it's definitely worth it once your site starts generating heaps of organic traffic.
Won't you agree that the most rewarding things in life rarely come easy?
The following two tabs change content below.
Ankit S
Ankit is a professional blogger, affiliate marketer, consultant, trainer, public speaker and founder of
MasterBlogging
, where he is passionate about helping people generate a full-time income with blogging.