Keywords are the foundation of every SEO campaign and are used to drive targeted traffic to your website. To select the most appropriate keywords for your business you will need to understand how your clients think to generate ideas and options best suited to your business.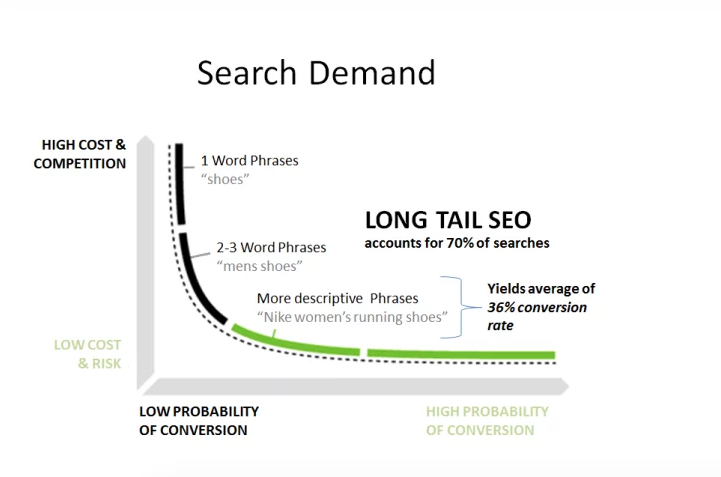 Head Keywords
These are keywords that consist of one word and represent large categories. One-word searches like "cars" or "bugs" are searched millions of times a month.  
The search intent behind these words can mean just about anything, so they are typically phrases that are not pursued because the conversion rates are extremely low. 
Chunky Middle Keywords
Keywords that consist of two or three words are considered to be in the chunky middle. With two or three words it's possible to accurately describe a product or service; but in general, there is still a mixed range of search intent with many websites competing for those phrases.  
Chunky middle keywords are also considered seed keywords in which you can include in a long-tail keyword as a long-term win in the SERPs.
Long-Tail Keywords
Key phrases that consist of four or more words are generally considered long-tail keywords. Long-tail keywords will tend to be the highest converting keywords due to the specificity that a longer phrase indicates.  
If your company sells tennis attire and you're optimized for "aquamarine silk tennis shorts", the chances of you converting someone who types in that exact phrase is extremely higher than general traffic that simply types in "tennis shorts". For this reason, companies pursue long-tail keywords to drive hyper-focused traffic that converts well. 
Long-tail keywords make up over 70% of the total searches on Google. Voice assistants have contributed to the growing frequency of searches made in a conversational tone.  
In fact, Google has stated that somewhere between 18%-20% of total searches are completely unique and have never been used before in a search query. 
Due to the nature of long-tail keywords, they are ideal targets for brand new websites or for any website competing for top positions in a competitive search environment.  
Long-tail keywords are ideal for targeting voice search and featured snippets. According to a voice search study performed by SEMrush, 60% of all voice assistant results are extracted from featured snippets. 
Choosing a long-tail keyword may drive less traffic to your site but because they convert at a higher rate, they improve on-site metrics such as dwell time, click-through rate and bounce rate, which contribute to stronger search visibility. 
Traffic is not the end goal; it is the means of more sales and new clients. Long-tail keywords filter the traffic driven to your site to provide you with visitors who are a better match for your company.
Identify Search Intent
Before you go any further, it's important to understand how search intent impacts the way your site is ranked for a specific keyword. Search engines use keywords as clues to identify the true intent behind the search and then present the websites that provide the best solutions to that query. 
There are many versions and variations of keywords that have the same search intent. Selecting the best keywords for your business requires you to choose keywords in which you are able to satisfy the search intent of the visitors that land on your website to the point there is no need for them to click further. 
For example, if the phrase "basketball" is typed into a search, search engines don't know whether the user wants to know about the history of the sport, the next NBA game, how to play, or where to buy a basketball.  
The results that are displayed would include a variety of results that cover a wide range of possibilities due to the broad nature of the search. 
If the search were more specific such as "how to play basketball" that narrows down the possibilities. The results would then focus on websites that have published the rules, local gyms that offer basketball lessons, videos that provide a tutorial, sports stores, etc. Understanding search intent is identifying the potential solutions to a query that leaves the user satisfied. 
This is the reason that a sports store might offer an in-depth article on how to play basketball. They know that someone interested in learning will also be interested in buying a basketball.  
Connecting the verticals to your business solutions is what will make your keyword ideas creative and truly relevant to your content and the visitors on your site.
Assess the Search Landscape
The first page of results can produce a variety of different SERP features that Google displays. It's absolutely necessary to survey the first page of results for the keywords you're considering for your website.  
There are some scary statistics that are trending in favor of Google products that must be taken into consideration such as the fact that 60% of the total searches on mobile devices are "zero-click" searches (Zednet). 
The impact on the number of clicks to the organic results is a huge factor to account for when determining the value of your keyword. Desktop search generates approximately 34.4% zero click searches. Keep in mind that only 40% of total searches are currently performed from desktop computers.
Featured Snippets
Otherwise known as position zero, this area on the first page is considered the top position because it's the first thing that users see when it is displayed in a search result.
Featured snippets were first rolled out in 2013 and appeared in 2% of search results. Currently, featured snippets appear in approximately 40% of searches (Hubspot).
Local Listings
Google My Business displays the top three local websites based primarily on proximity to a search or whenever a geo modifying term is used within a search. Local listings are a contributing factor to zero-click searches and push the organic listings further down the page reducing the likelihood of clicks to the organic results.
Carousels
The moving boxes that contain images of products or videos are carousels that are occupying a percentage of pixels above the fold. Depending on the search intent of the keyword, this SERP feature absorbs a percentage of clicks from the total search volume.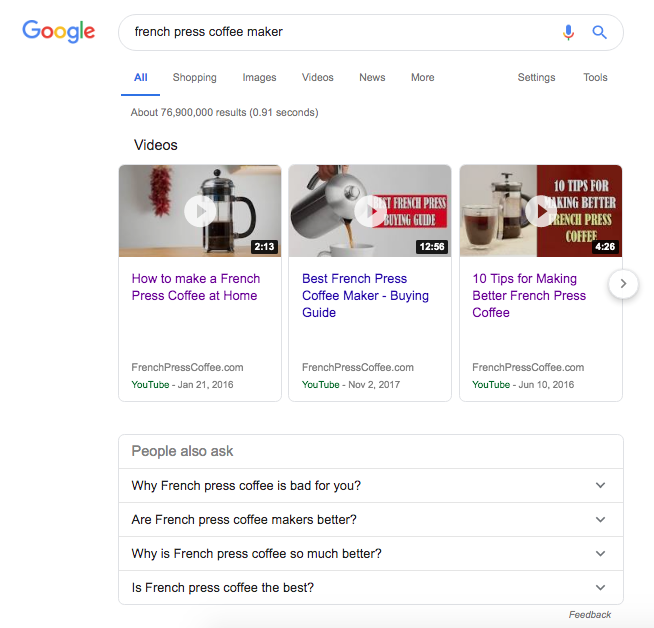 People Also Ask
The "people also ask" box is full of questions that are commonly asked that are related to the keyword search. This is another feature that will keep organic results beneath the fold.
Google Ads
Historically, Google kept the ads in a highlighted box to mark the difference between advertisements and organic results. Today Google Ads are disguised to look like organic results.  
The only difference is the tiny green "ad" marked at the bottom right corner. Some keywords produce more ads than others so it's important to see how far down the ads are being listed for the search term you are considering. 
The bottom line with identifying the Google SERP features displayed from your keyword search is to:
1) estimate the organic traffic that will actually be available and
2) determine the type of content to optimize since each of these features requires a different type of SEO in order to rank your site in the top position.
How to Choose the Best Keywords for SEO
The first step to accurately comparing your keyword options is to create a list of options together on a spreadsheet. Get inside the mind of your client and describe the product or service that you offer. This list should be made up of seed keywords that you can plug into a keyword tool.
Brainstorming Ideas
Google's trend is a tool that allows you to get an idea of whether there is a declining or rising interest in your keyword.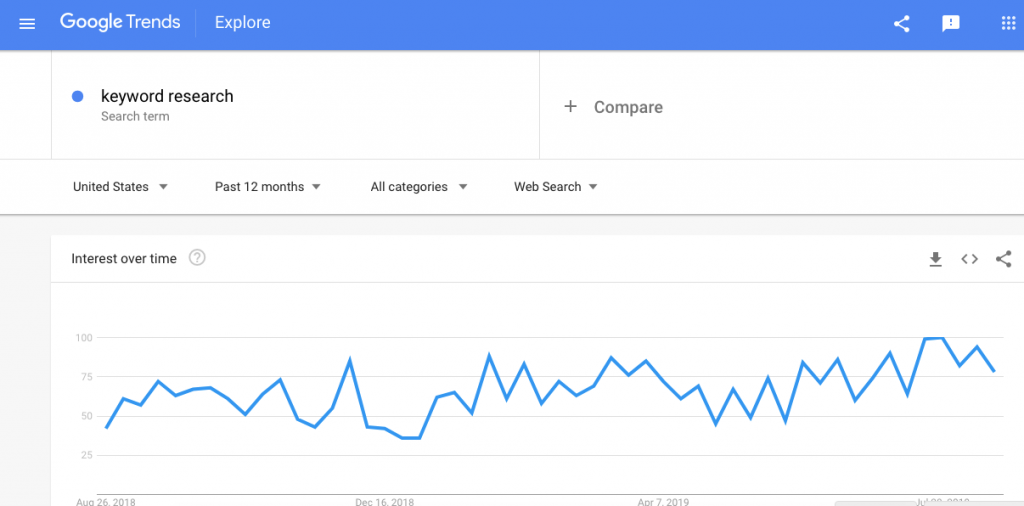 The report also lists a number of related topics, related queries and the percentage of interest gained or lost over a period of time.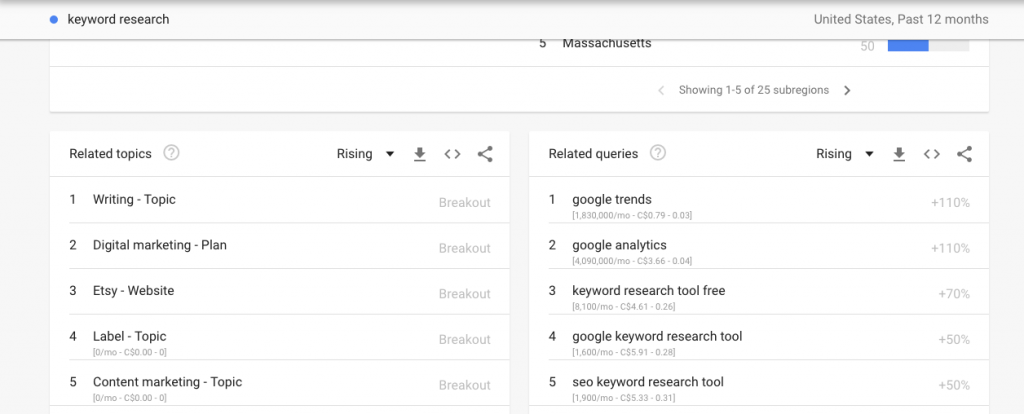 Scout the Competition
There's no shame in scouting the competition to see what keywords their websites are ranking for. Use the competitor's keyword tab on the Mondovo dashboard to get a list of keywords that may prove beneficial to your business. To go beyond this, explore variations by removing or adding certain keywords. For example, sites like Solitaire Bliss get organic traffic from keywords like "solitaire."
Generate a Keyword Report
Keyword tools are essential for making comparisons and uncovering keywords words you may not have thought of using. Using your top seed keywords should produce a report of related keywords that provide the necessary values to make an informed decision on your best options.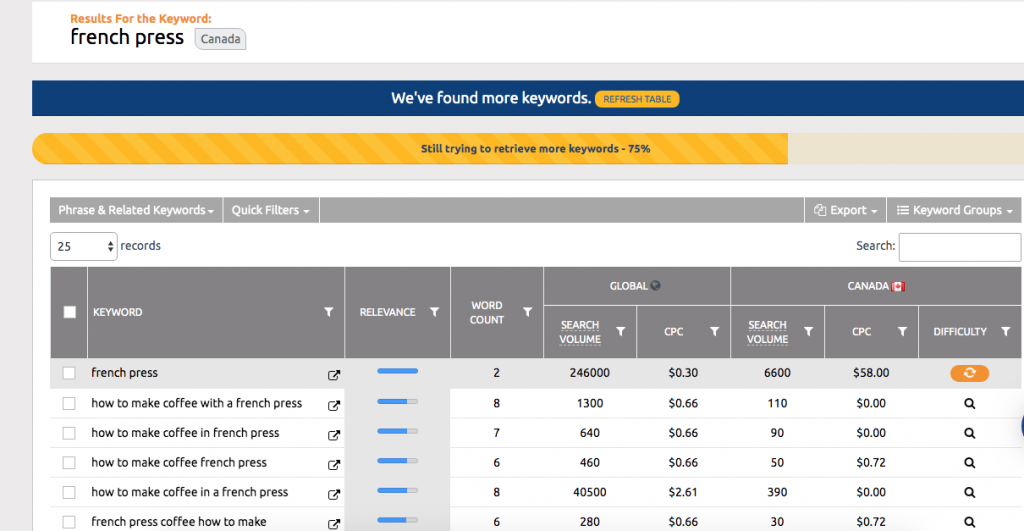 Keyword Difficulty
This is one of the first areas that you can filter out the keywords that are out of reach because the level of competition is too fierce. Keyword difficulty refers to how difficult the top ten domains are to outrank for your keyword.  
This value is based on the strength of the backlink profile the top-ranking domains have so it's not a completely accurate method of assessing difficulty. The on-page factors are another very large part of the ranking criteria used so use the value for keyword difficulty as an influencing factor for your decision.  
Assess whether it would be possible to compete with the number and quality of backlinks each of the domains have. If you're a brand-new website, pass on keywords that display major authority sites on the first page of results. You can sort the results according to keyword difficulty and eliminate the keywords that are out of reach.
Monthly Search Volume
The largest volume of searches isn't the goal; it's a bonus to choosing a keyword that will drive visitors with buyer intent. There may be a minimum number of searches that you need to draw the line on to achieve a specific company goal.  
Filter out the keywords that don't make your monthly minimum value.
Commercial Intent
Every keyword is assigned a cost per click, which represents what people are paying to show up on a paid advertisement. This value indicates the commercial value of your keyword because if people are willing to pay for the traffic it means they are making money from the traffic.  
The higher the bids the more commercial value that keyword represents.
Choose the Best Match for Your Business
The most important qualities of a keyword are that it represents the content on your website and it drives visitors who need what your company offers. Finding a balance between the various values and considerations can be organized as a chart to help put values into perspective. 
Create a long-tail version of your ideal seed keyword to account for achieving short-term goals as well as long-term wins. You can get ideas from Google's predictive search by typing in your keyword to see what phrases are generated in the drop-down and in the box "People also search"

Get a more extensive list of long-tail keyword ideas by typing your keyword into the search bar on Answer the Public. The report lists common combinations of topics and questions you could use to form your long-tail keyword.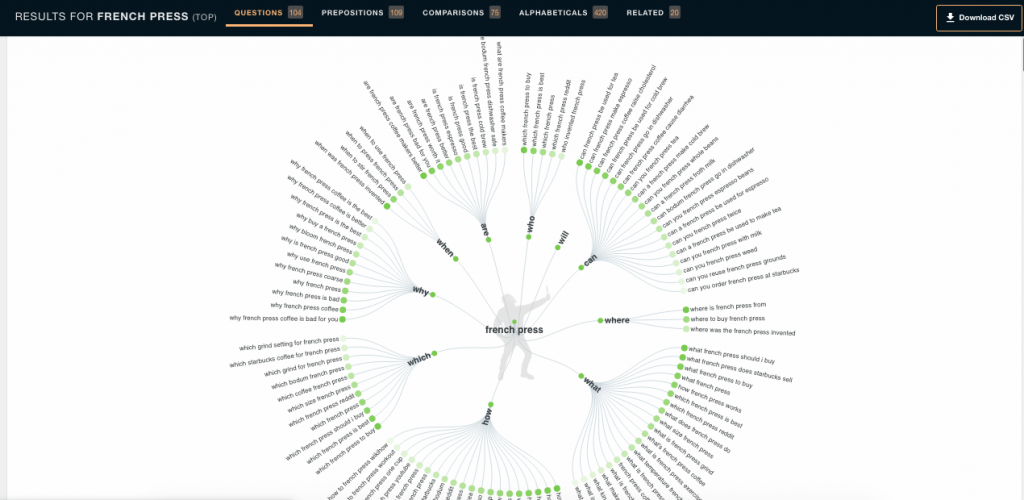 Use a spreadsheet to compare your top choices. The values to look at will be the search volume, cost per click, keyword difficulty and the various Google SERP features that will attract a percentage of the total traffic.

Prioritize your choices making the top choice the keyword that would bring in the highest volume of traffic that converts.
The following two tabs change content below.
Christian Carere
Christian Carere is a search engine optimization expert and the founder of
Digital Ducats Inc
. Christian works primarily with SMB's offering SEO services to improve the quality of leads to produce new clients.
Latest posts by Christian Carere (see all)