Social media is huge as it has grown faster than the internet itself.
Social media giants such as Facebook and Instagram have millions of users worldwide and they are growing with every passing second. The data suggests that the number of active Facebook users was at a whopping 2.38 billion in 2018 whereas the active user-base of Instagram has also touched the mark of 1 billion in June 2018.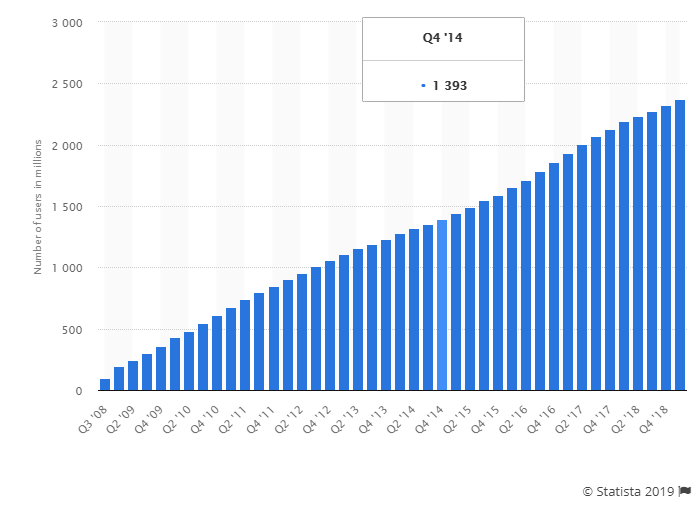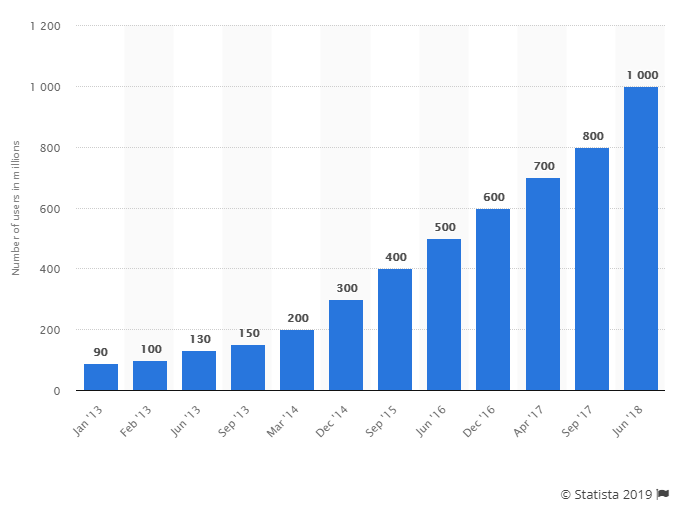 The data shows huge numbers in favor of both the platforms but we have to understand that all the active users are not just individuals who like to post details about their daily activities.
Many profiles on social media platforms are self-employed professionals, part-time/full-time bloggers, and business organizations. Social media platforms are presenting good business opportunities by extending their reach and marketing their products and services.
Since almost every business has its presence on social media, it is vital for businesses to keep themselves relevant by consistently updating the audience about their marketing campaigns, CSR activities, and other corporate initiatives.
However, posting content on social media can be frustrating as it is not easy to create different types of content for diverse platforms and facing a creative block is considered normal.
This is probably not the reason you are reading this post. Don't worry! Even experienced marketers need some encouragement for consistently producing original posts for social media. This post contains a vast number of ideas that can cover a very type of social network. Let's begin!
Before I start with the post ideas for your preferred social media network, you should understand and try to overcome the challenges that occur quite frequently in front of marketers and social media writers.
Many times, you may feel a bit unenthusiastic or you may be in a shortage of ideas.
Some marketers or writers do not find original content for sharing on a daily basis which in turn discourages them.
Or you may also be in a situation where existing social media content is not getting results and you need new ideas and a new type of content for enhanced engagement and results.
Understanding the Uniqueness and Purpose of Each Social Media Platform:
You need to appear and engage on every social media platform differently for managing your social media accounts and getting results from all of those.
For instance, Facebook is a casual platform but it sends more website referral traffic than any other platform. People share both news and entertainment here and the content you are posting here should convey your message and engage people while maintaining the image of business at the same time.
On the other hand, LinkedIn is a professional platform that focuses on industry-related news, hiring trends and other similar information. Here, your content should echo your knowledge about the industry and you should equally be able to convey it in a crisp and concise manner.
Using means such as Social Media Calendar and Social Media Management Tools will help you plan your social media campaign ahead of time and avoid last-minute hassles for content creation. Also, you can plan content and promotion at one place without having to switch tabs for following your publishing schedule.
If you are a social media manager here's a bonus Social Media Management Contract that you can use to send to your clients.
Planning and Scheduling Campaigns:
Building a campaign that is cohesive and serves its purpose by delivering the message precisely to the right audience. Brands often struggle in following their campaign schedule because of writing posts at the eleventh hour.
Therefore, campaigns should be aimed towards promoting events, promoting single content through a series of posts, and branded posts that carry a consistent message. In addition, you can write ad-hoc posts that are not connected to a specific campaign.
However, you have to ensure that such posts endorse your campaign and add flexibility to your schedule for spontaneous posts.
Social media content is different and it brings unlimited possibilities for creativity and diverse content. You should take a look at the following content ideas and check if these align with your Social Media Marketing (SMM) campaign and target audience.
#1. Company Blog: If you do not have a company blog then create it right away. Start from the basics such as A Quick Guide on How to Write a Blog!
Start planning your frequency of posts, type of content, and the message you want to convey to your audience. 
#2. Company Achievements: Tell everyone about your achievements such as record sales, an award that your company received or your CSR achievements. Verifiable data always attracts people and builds your goodwill.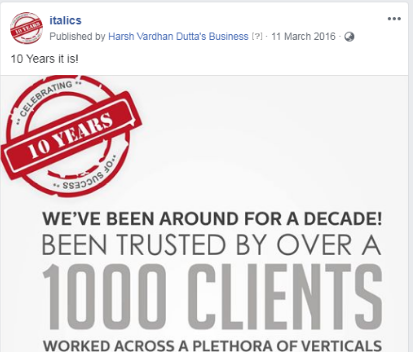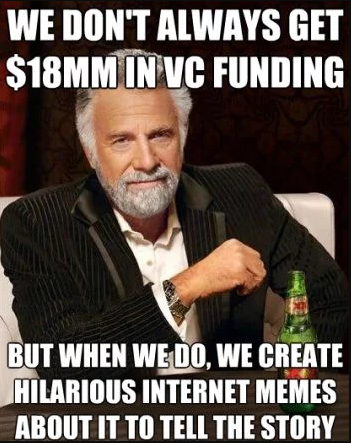 #3. Thank You Posts: Thank your audience for their support on the right occasions. Whenever you reach a set subscriber/follower mark, do not forget to appreciate the efforts of your audience.
#4. Culture/Event Posts: Your organizational culture should be a part of your social media campaign. You can show how your organization does something or some behind the scenes images of your employees participating in an office event or just gossiping.
Secondly, your posts may feature specific company events that present your organization in a multidimensional light.
#5. Interactive/Conversational/Questions Posts: Share your ideas with your audience and take their views. Continuous interaction with your audience creates a positive image of your business that shows that you care about your potential and existing customers' views. Facebook features polling in the status update whereas Instagram has a polling feature within stories along with a Twitter poll.
Bloggers often ask visitors about their next topic as it gives the right about the interest of their audience.
#6. Company/Industry News: In an organic way, news articles or posts are shared more than any other type of articles or posts. Businesses are also focusing on long-form content rather than news bites. You need to line-up your industry news sources on Twitter and Facebook and follow, share and re-tweet them whenever they share something interesting.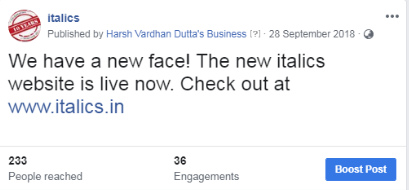 You could do the same with company news as you can keep updating your audience about the latest developments in your organizations such as the deployment of a new high-end production facility or incorporating RPA in your organization.
#7. Testimonial Posts: Testimonies may not seem like much but genuine testimonies that come from your clients/audience can help you build and improve your company's image in the industry and in the eyes of your end-users as well.
Every brand/company has some dedicated fans! Communicate with them, engage them and let them tell their experiences and make sure to include their names and social media handles in the article.
#8. Memes: Memes are great! They are based on facts and people relate with them. Post memes that connect to everyday stuff from your industry or your target audience's everyday problems and see the response for yourself.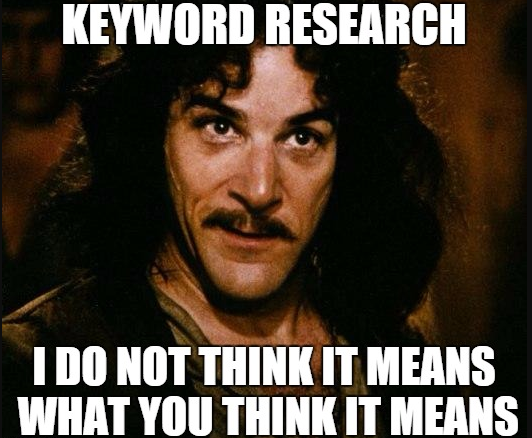 #9. Quick Tips: Provide quick tips that can play a key role in problem-solving at the workplace. Choose tips that you think are important and do not require in-depth insights.

#10. Festivals/Holiday Posts: Holidays are a big deal in every part of the world and do not hesitate while congratulating your audience in the festivals or holidays that are popular in their respective regions. Make them feel that your organization constitutes real people and they are also excited about festivals and holidays like everyone else.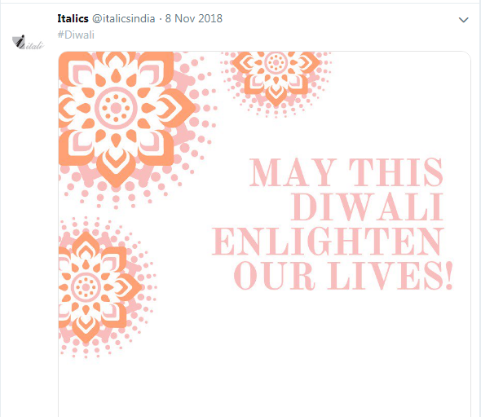 #11. Free Resources: People love free stuff! All the free resources such as eBooks, white papers and downloadable content can be made available to the audiences through your company's social media accounts for references.
#12. Job Listings/Hiring Announcements: Let people know about your expansion plans! Maybe there are some followers who have watched your company grow and waited for a chance to join your team. Opportunities are everywhere! You just have to check out every possible avenue for maximization.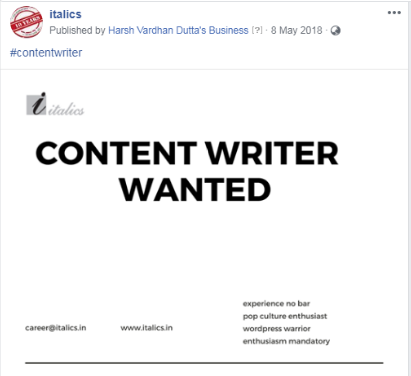 Once you find the right candidate, do not falter in showing them off to your audience. Tell people that you are excited to have them on board.
#13. Promotion/How-To/Reviews: Don't worry about perfection and start promoting your product and services through how-to tutorials and reviews. You can post free online how-to tutorials, product reviews, promotions, and more using Pinterest and other engagement platforms.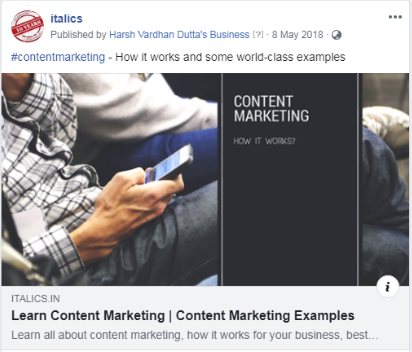 #14. Use Video Marketing: Today, YouTube is not the only video sharing platform. Marketers aggressively use Facebook and Instagram for sharing promotional videos. You should also incorporate Video Marketing in your social media campaign for sharing content that is crisp and precisely targeted to your audience.
#15. User-Generated Content: Some businesses have ardent fans that upload shopping posts and leave incredible reviews. Share their posts and encourage others to do the same as well. You can also send free merchandise to the followers who often talk about your social media and build an additional customer-base by engaging their followers on different platforms.
#16. Surveys: Share case studies or surveys that can show the growth of your business in a short period of time or impress the audience through your brand's status. You can also conduct short surveys that require short 1-click answers so your audience does not get frustrated.
#17. Partner Promotion: Promoting your partners induces positivity in your campaign. Show your audience the people/companies you work with and also tell them the reasons for doing the same.
#18. Promote/Preview/Review a Product/Event: There are certain products/tools that compliment or aid your campaign or business processes. Do not forget to promote those as long as it does not competitively affect your business.
#19. Free Give Away: Everyone likes free stuff and there is no harm in giving people a few things once in a while. You can promote your products and perform strong engagement really fast with these.
I tried to include all the possible ideas for social media posts that you can incorporate in your social media strategy. However, this is not everything that you can do to materialize your social media campaign as there can be even better ideas that resonate with your industry and style of work. Nonetheless, these are some sure shot ways that can get you concrete results in no time.
The following two tabs change content below.
Harsh
Harsh is a digital marketer, professional copywriter, and entrepreneur at
Italics