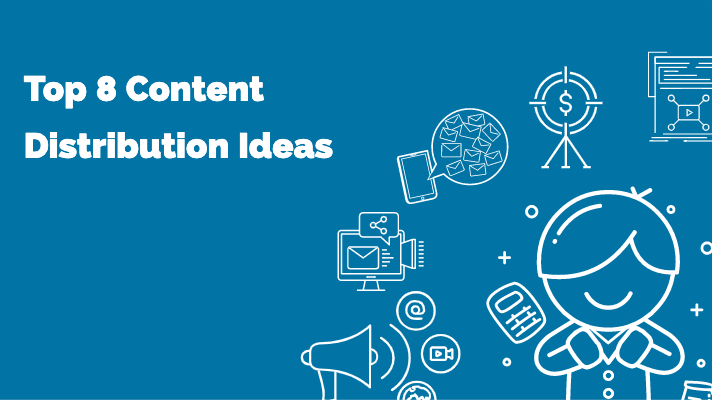 You are doing everything right, but still, your content is not having the impact you had envisioned. There is a massive amount of content- articles, videos, photos, etc posted on the Internet and social media every second. That is a lot of noise and you need to be heard above the din to be effective. 
Consider this: according to BuzzSumo's Content Trends Report 2018, a majority of the content gets zero backlinks. Only authoritative research gets more links over time. An analysis of 100 million posts published in 2017 revealed that social sharing has decreased by half since 2015.  
What's more, here are the number of blogs posted at the time of writing this article. The screenshot is taken from Worldometers.info and gives you a fair idea of the huge amount of content that is daily generated on the internet and the competition you are dealing with.

While creating quality content still matters, it will not get you the required traction without proper distribution. So, if your content marketing is not delivering on its promise – the reason may be because you are not distributing your content effectively. 
Just posting doesn't make your content effective no matter how well written and informative it may be. What matters is the exposure it gets and this is only possible if you have a good content distribution strategy in place.  
In this article, we have discussed some content distribution ideas which can help you to create an effective plan for content distribution for your business.
8 Effective Content Distribution Ideas
Besides posting your content on social media, there are other ways to attract the relevant audience to your content. Here are some of the content distribution ideas which are most effective. 
#Idea 1. Guest Blogging on Relevant Websites in Your Niche
For the uninitiated, guest blogging is the process of posting blogs and other content on websites other than your own. It is an effective way to plug into a new audience and is one of the top three content distribution strategies used to create brand awareness, create backlinks and get referral traffic which can boost your ROI immensely. 
When guest blogging, make sure you pick out authoritative websites that are relevant to your industry or brand because it is here that you will find the relevant audience who will be interested in what you are saying and can also help in generating leads. Finding the right guest post targets, looking for their blogging guidelines and sending across suitable topic ideas accordingly are some of the important steps, to begin with for guest blogging.  
For example, one way we find guest post targets is by typing a "keyword related to our industry" guest post.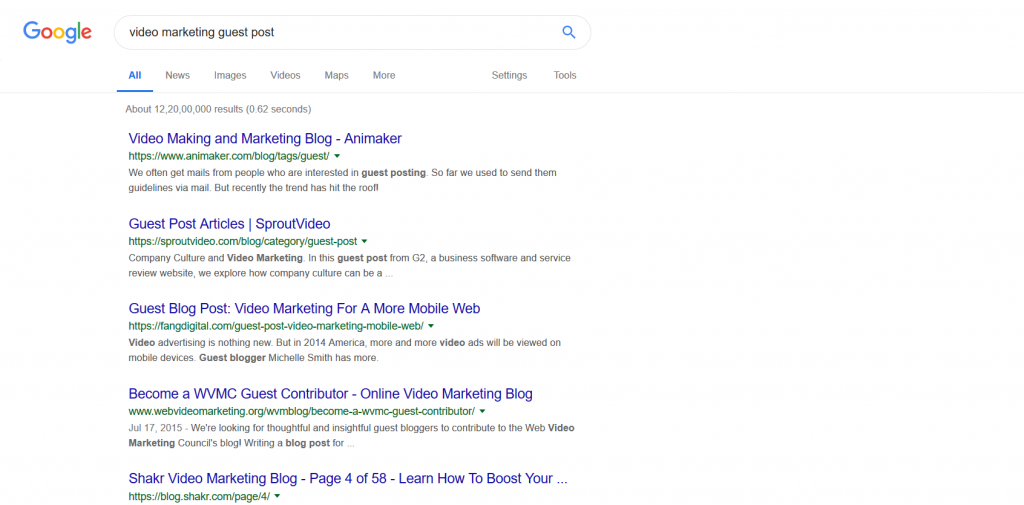 Here is a great article that will tell you everything you need to know about guest blogging.  
#Idea 2. Reach Out to Authoritative Websites That Publish Syndicated Content
Just uploading a great article on your blog or as a guest post is not the end of the lifecycle of your blog. Make the best of your hard work by leveraging the most out of it. There are several sites that publish syndicated content. In simple terms, they publish content that has already been published elsewhere. 
Syndication helps to disseminate your content to a greater and more diverse audience than your own blog. Like guest posting, it also helps to build links and attract traffic to your own website. There are several sites that post syndicated content two of these, where you can start, are Inc.com and Medium. Looking to learn more about content syndication? Here is a good article to begin with. 
#Idea 3. Engage Your Subscribers with Email Campaigns
Cold emailing is a very effective way to reach a specific audience. Segregate your mailing list according to the audience you wish to approach and share your blogs, videos and any other content. Then, customize and personalize the emails that you send to this specific list of people.  
It has been discovered that click-through-rate of personalized emails is 14% higher and a higher conversion rate better of 10%. Ensure that the content is relevant, engaging, and informative. Avoid a hard sales pitch; people do not like it and it makes your emails unwelcome.
If you find creating customized and personalized emails a daunting task there are tools available that can help you to personalize certain parts of any email. A few such tools are Mailshake and MailChimp, which makes the work of creating and sending customized emails easy. 
For example, we send out email campaigns weekly to our email list with our latest blog and vlog content.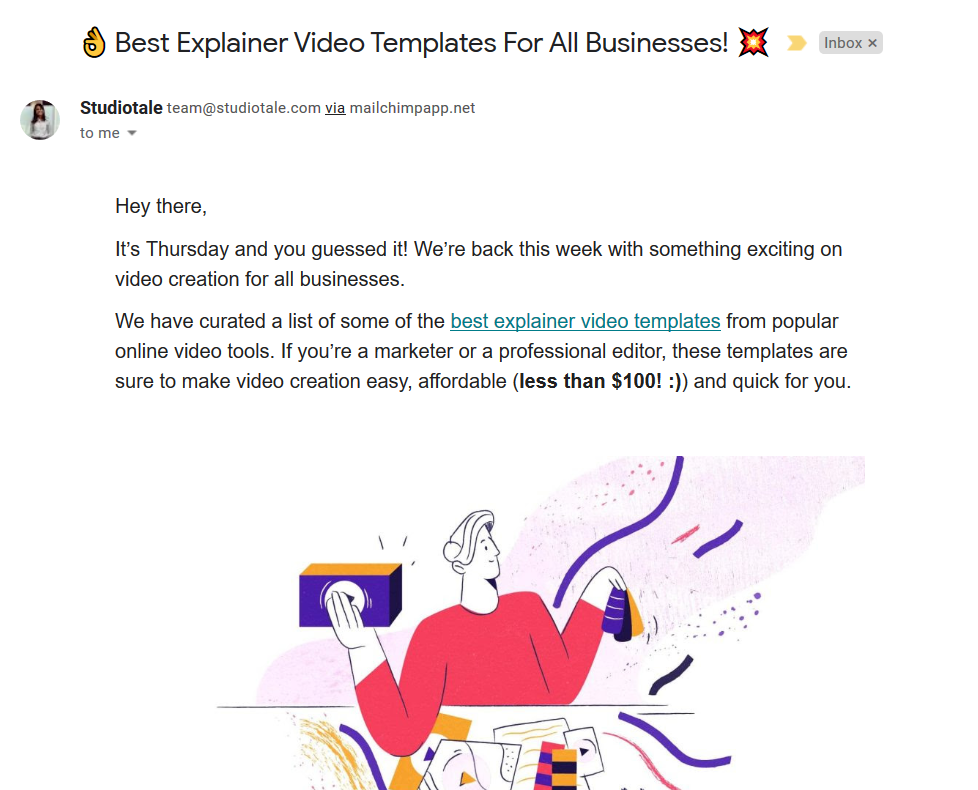 #Idea 4. Repurpose Existing Blogs, E-Books, and Case Studies
Each piece of content that you generate takes a lot of time and effort to create. It is counterproductive to use it only once. Your content can be repurposed and reused to create new content. Visual content like infographics and videos can be converted into blog posts or articles for guest posting or syndicating content.
Similarly, blogs and eBooks can be converted into infographics, and videos to be posted on social media or on your own website. 
Repurposing the content improves its exposure and gets it in front of new audiences. It also means that you spend lesser time creating content and more time distributing it.
For example, we repurposed our article on the 8 types of videos that will help your business grow in 2019 into a 5-minute video.
#Idea 5. Add Links in Your Email Signatures
Another great way to get more eyes on your content is by making use of your email signature to add relevant links. Considering that the average business sends out literally hundreds of emails a day, it is a very effective and easy way to distribute your content. Encourage all the employees to use your content links in their emails to maximize the reach.
That is exactly what we did with our video blogs. We added links to our latest video blogs in the email signature.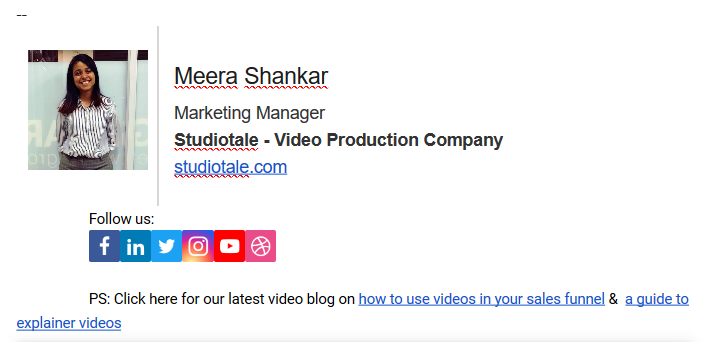 The email signature links will reach all your business associates and consumers alike creating a large audience base that is relevant to your business. Now if you are wondering the amount of time you will spend editing your email signature every day, there are some great tools available to create signatures with links to your latest content. 
Wisestamp is just such a tool for creating and generating email signatures that allow you to insert links to your latest content. 
#Idea 6. Share Your Content on Social Bookmarking Sites
Social bookmarking sites like Reddit, GrowthHackers, Quora, Pinterest, StumbleUpon, etc. can generate a huge amount of traffic in a relatively short period of time if you do it right. These sites allow users to save links to interesting content on the internet so they can get back to it later. However, the reach of the bookmarked content is not limited to the user, but can also be accessed by other users.
These bookmarks can be shared across the internet reaching new audiences. Another plus about using the Social Bookmarking sites is that Search engines also list results from these sites, thus improving your SEO. 
#Idea 7. Share Your Content on Relevant Groups on Facebook & Linkedin
Make the best use of your social media networks. Social platforms like Facebook and LinkedIn have special interest groups. Find the group relevant to your niche and share content with these groups for targeted exposure to a select audience that is interested in your niche. Make sure that the content is sharable so it can be shared by the viewers with others within their network.
#Idea 8. Collaborate with Influencers
Identify influencers within your niche and reach out to them with your content. The most useful influencers are those who have authority over the niche and can give you good advice to make your content work for you.
Influencer outreach works well when it is reciprocated. So be ready to share their content on your website or social media to give them the exposure they need. Plugging into an influential and knowledgeable influencer's network can have a lot of advantages to your content marketing efforts. 
BuzzSumo is a great tool for you to find the right influencers in your niche and reach out to them to promote your content. To find influencers who already share content, you could look for the top content related to your industry and look at the people who have shared the article.

Wrapping Up
Most content marketers talk about the 80/20 rule where you spend 80% of the time in distributing the content and 20% in creating it.
That rule does hold true as content posted on your website or your blog alone is not going to be of much use no matter how useful it may be. It needs to be pushed and disseminated to serve its purpose. Before you start on your content marketing journey, use these content distribution ideas to create the perfect content distribution plan.
The following two tabs change content below.
Koushik Marka
Koushik Marka is the founder and CEO of
Studiotale
, a video production company. He is passionate about helping brands grow with video and has expertise in video marketing, 2D animation, and vector illustration. When he is not working, he loves playing video games and traveling.
Latest posts by Koushik Marka (see all)