Ever wondered what are the most asked questions on Google?
Being marketers, don't we constantly seek to leverage the data in our possession to attract traffic, generate leads and drive sales volumes?
I tried to do something similar with the 1.6 Billion Keywords we had in our database at Mondovo, and the results surprised me, to say the least.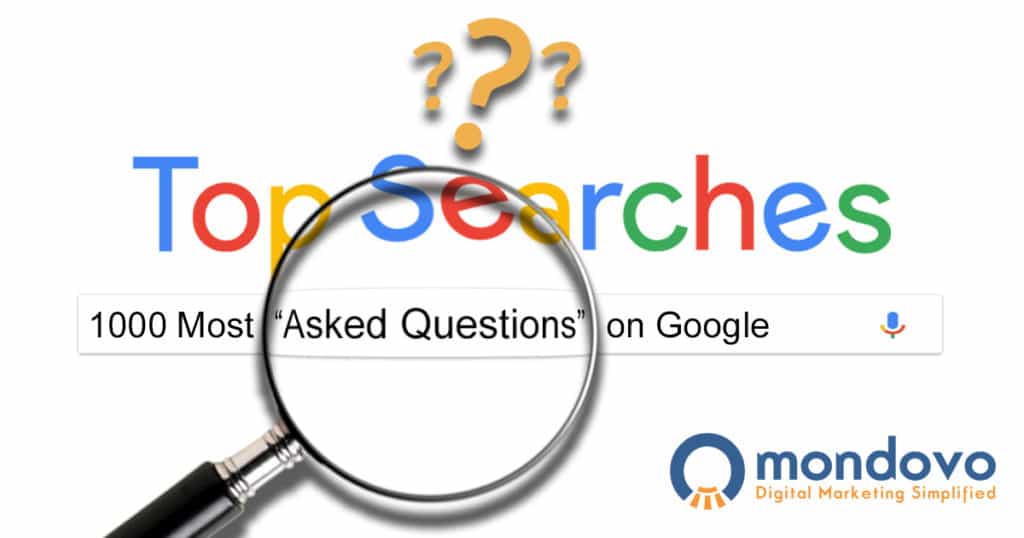 One fine day—driven by curiosity—I just slacked our data scientist and asked if he could get me a list of the top asked questions on Google—that is, all those keywords that begin with Why, What, How, When, Do, Does, Is, Are, Was, Has, Can, Shall, Will, etc. (You get my point.)
Minutes later, our data science guy replied. And to my utter surprise, I found myself staring at over a million question keywords.
I was fascinated, and a little overwhelmed too. For, it was a huge load of data to work with.
So, I decided to filter and narrow down my really long list of keywords to those keywords that are most popular with the masses.
How did I do it? I simply sorted the search volume data in a descending order.
For the uninitiated, search volume refers to the average number of searches people are carrying out on Google. It is an indicator of the popularity of a keyword. The cost-per-click [CPC] data, on the other hand,  gives you an insight into the amounts advertisers spend for that keyword.
After having sorted the data, I got a comprehensive list of the most asked questions on Google along with their search volume and CPC data, which I'm pleased to share with you.
Here I've included only the top 10 most asked questions on Google.
You may access the entire list by simply clicking here to view the 1000 most asked questions on Google .

Embed code:

Click here to view the entire list of  Top 1000 most asked questions on Google .
And if you found this list of the top 10 questions interesting, then you might also be interested in The Most Searched Words on Google.
In addition, we have curated lists of the most popular keywords and search terms across various categories. Explore them.
Once you have explored the list(s), we would love to hear about your observations—the keywords that startled you the most, ones you expected, and ones that don't make sense at all—in the comment section below.
Liked this article? Share it in Slack using the below icon.
The following two tabs change content below.
Accomplished sales expert and a creative digital marketing strategist with a proven record of success in design and product development/lifecycle, from conception to end-user.
Latest posts by Bala Ayya (see all)