Your website is the face of your business. It reflects how you want the world to view your brand. Strong website security communicates professionalism. It establishes trust between a website and its visitors. More than that, though, search engines like Google favor secure websites.
So, implementing website security strategies could give you a nice search engine boost. According to a SiteLock report, cyberattacks cost SMBs around the world roughly $25K every year.
Therefore, implementing simple security strategies is easier – and cheaper – than removing malware or trying to recover a hacked account.
The screenshot below shows statistics from SiteLock's cybersecurity report. You will notice the recent explosion of security incidents. I.e., the volume of threats doubled in 2022 compared to 2021.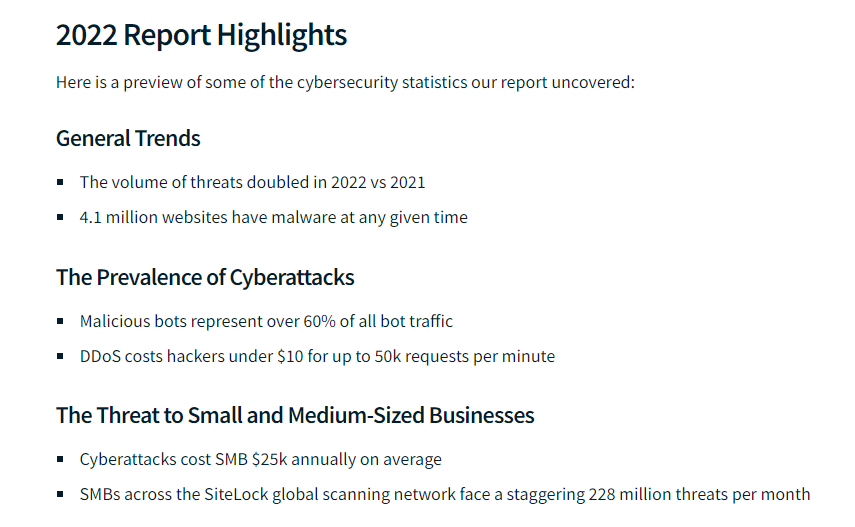 With that in mind, here are five strategies that brands can follow to improve website security.
1. Choose the Best Web Hosting Service
Web hosting services can be a minefield, especially if you're new to managing a website. When browsing a web hosting website, you will see services like WordPress hosting, VPS hosting, dedicated servers, and plain old web hosting. These all vary in cost, bandwidth, and storage. When you choose your hosting plan, security features are some of the most essential aspects to consider. You will likely find that many hosts offer decent security measures as standard, protecting their customers against common attacks. Paying a little more gets you extra security.
Look out for things like:
A backup solution
DDoS (distributed denial of service) attacks protection
IP blockers, which block requests from hosts with specific IP addresses
Complement these with a tech team that carries out a strong cybersecurity strategy and your website should be fine.
Additionally, some hosting types are naturally more secure than others. VPS (Virtual Private Server) and dedicated hosting, for example, tend to provide more effective website security than shared hosting.
VPS and dedicated hosting gives users their own hosting environment. Shared hosting, on the other hand, involves sharing server space with other websites. This can cause servers to overload and crash, which can lead to cyberattacks.
The screenshot below is taken from GoDaddy. You will notice it has three hosting categories. There are also two types of hosting plans under each of these categories, each with their own features and perks.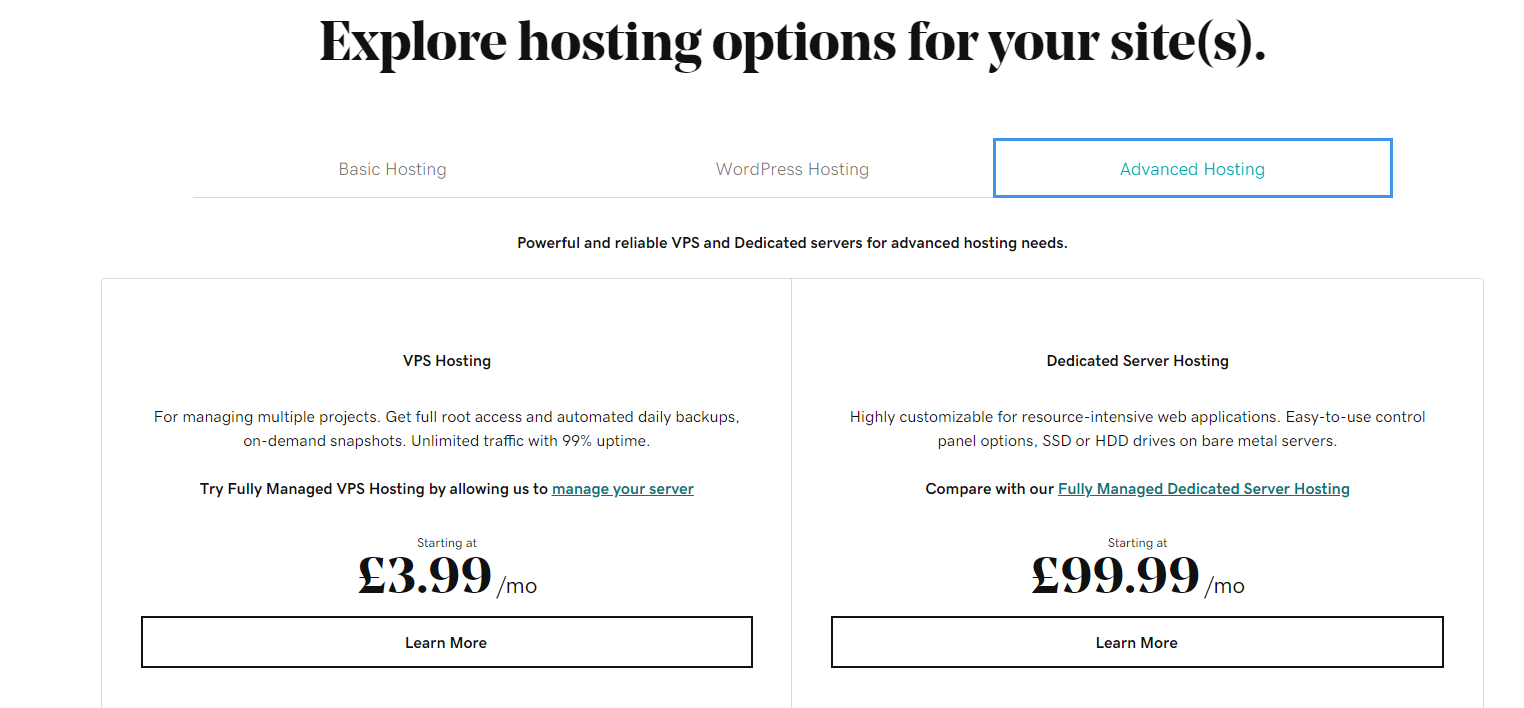 Unless you have a tech team behind you, managed hosting services are normally the better option. With managed hosting, your host will take care of many aspects of managing and maintaining your website. This includes updating, configuring, and optimizing.
Managed hosting tends to enhance website security too. You will normally receive much better support from your host, should you fall victim to malicious activity.
2. Use SSL Certificate
Often included in hosting plans, an SSL certificate is now a must-have security measure for websites. SSL stands for Secure Sockets Layer. When you have one installed on your website, the URL will change from HTTP to HTTPS.
For platforms like Twicsy, a website that focuses on helping users get more followers on the Instagram platform, having an SSL certificate is essential. It not only provides a layer of security for user data but also adds credibility to the platform. Visitors will see a small padlock in the address bar, signaling that the site is secure and trustworthy.

An SSL certificate essentially encrypts information between your website's server and your site visitor's browser. This makes sure that information passed back and forth is private. Having an SSL certificate also verifies that you own the website. It prevents security issues like hackers making fake websites identical to yours.
According to a report by Akamai, 80% of attacks relating to financial services target the customers, rather than the organization.
There are three types of SSL certificates:
EV (Extended Validation) SSL – The most thorough validation process of the three and is therefore the most secure and trusted. It validates the legitimacy and legality of your business.
OV (Organization Validated) SSL – Also confirms the legality of a business but has few validation processes than an EV.
DV (Domain Validated) SSL – A standard certificate that only requires someone to validate domain ownership. They are the quickest and cheapest to obtain.
In a bid to become a search engine people can trust, Google now considers SSL certificates to be essential. If you don't have one, Google will flag your website and penalize you in searches. If your website isn't protected by an SSL certificate, Google will warn incoming traffic that your site might be dangerous. This will inevitably harm your reputation and reduce legitimate traffic.
3. Update Software Regularly
Extensions, plugins, and applications are fantastic for adding functionality to websites. However, the more plugins are installed on your website, the more chance there is of major security incidents occurring. The security of a plugin relies on well-built code. A plugin that contains vulnerable code is more susceptible to malicious activity.
It's not just plugins and apps that can cause security issues, though. Website software and themes can contain vulnerable code, too.
To maximize your website's security, you need to ensure that all software associated with your website is regularly updated. Updates often fix patches and vulnerable code that programmers and users have identified as weak.
HubSpot CMS is a particularly good CMS option for robust security measures. For example, it regularly performs automatic security updates. Furthermore, HubSpot CMS conducts penetration testing several times per year to identify any weak spots in its software.
In other cases, you will receive a notification on your CMS when an update is available. Additionally, you can set your essential plugins, themes, and website software to update automatically when one becomes available. Check your default settings and security settings to do this.
4. Use a Web Application Firewall (WAF)
A firewall is your first line of defense against application security risks. It scans incoming traffic coming into your network to identify and block bad traffic.
Why do you need to block these? Malicious traffic can lead to cybersecurity issues. Besides, it can lead to downtime that affects user experience. We all know that user experience affects SEO as well.
WAFs can be cloud-based, host-based, or network-based. Cloud-based WAFs are the easiest to integrate into your website. Network-based, on the other hand, are the most secure type of WAF.
You might find that your hosting plan comes complete with critical web application security measures like a WAF. SiteGround, for instance, is a popular hosting provider that offers WAF among its security features.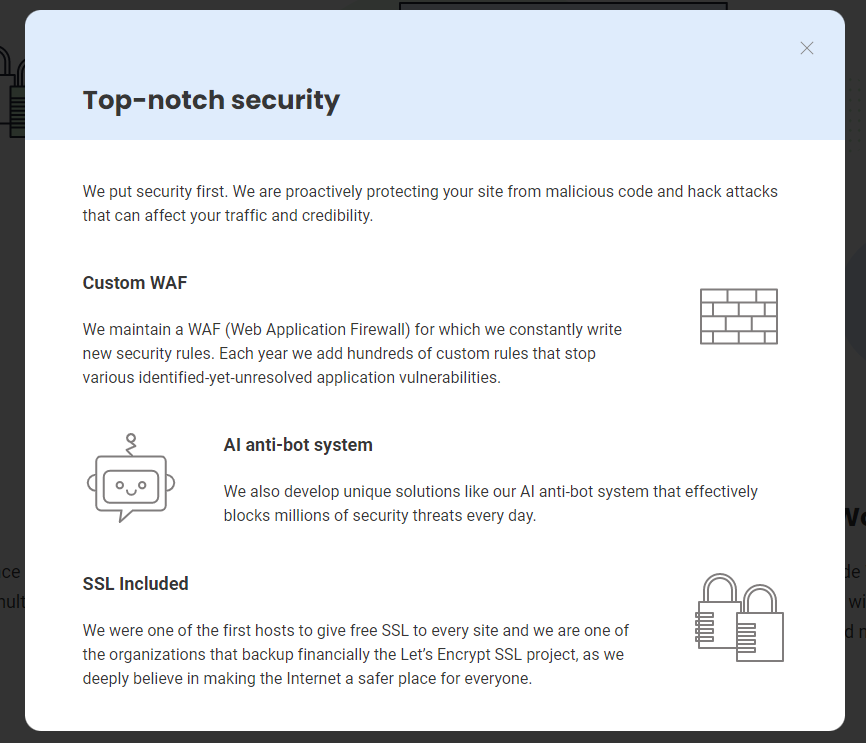 If you have a WordPress website, there are critical web application security plugins, like WAFs, available to install. These vary in cost and level of security. Securi, for example, is a robust WAF option and costs $199.99/year. Be sure to check reviews and reputation before you install a security plugin.
5. Do Regular Security Audits
A security audit should be on your website post-launch checklist. It is a security analysis of your website. This involves checking all elements of your site that could pose a major security threat to you, your site, or your visitors. Its purpose is to identify vulnerabilities and strengthen security.
If you are not a security analysis website whiz, you might be more inclined to hire a professional to carry out security audits on your website. A professional will perform a series of complex tests that require a lot of technical knowledge. As you can imagine, this can be rather costly.
If your business is still young, you might feel like tackling the job yourself. Here are some simple security audit must-dos to get you started:
Change passwords – It's good practice to change passwords regularly. This minimizes the chances of falling victim to cyber threats like Brute Force Attacks.
Use strong passwords – Compromised passwords can be a major security threat. Strong passwords have a mix of uppercase and lowercase letters. They also include numbers and symbols. Stay away from common passwords like names and birthdays.
Update everything – As above, ensure all plugins, themes, and software is up-to-date to minimize vulnerable code. Your audit is your dedicated time to check updates thoroughly.
Remove what you don't use – This includes plugins, user permissions, file permissions, and comments that you haven't authorized to be on your blog. Every user permission on your website, for instance, poses an increased risk to website security. Keep everything minimum to avoid common security threats.
Check your IP address and domain are clean – Use online tools to ensure your IP address and domain are not blacklisted. If you find you are on a blacklist, contact the source to see if they can remove you.
Do a security scan – Finally, use a tool to scan your website for malicious code, malicious activity, and critical vulnerabilities. Many security scan software and tools will also remove any threats they find.
Thorough security audits should be carried out at least twice per year. They should also be done if you spot any signs that your website has been hacked or compromised. Signs include your website being slower to load than normal and your emails being sent to spam.
In Closing
Keeping your website secure will stand you in good stead for the future. It will help to build your reputation as a reliable business who cares about its customers' safety.
Attacks against websites are common. However, the steps outlined above will help you protect your site against them. If you get stuck at any point, you can always contact your host for advice.
Good luck!
The following two tabs change content below.
Latest posts by Sameer Panjwani (see all)