3 core details for every marketer to know about Twitter in 2018: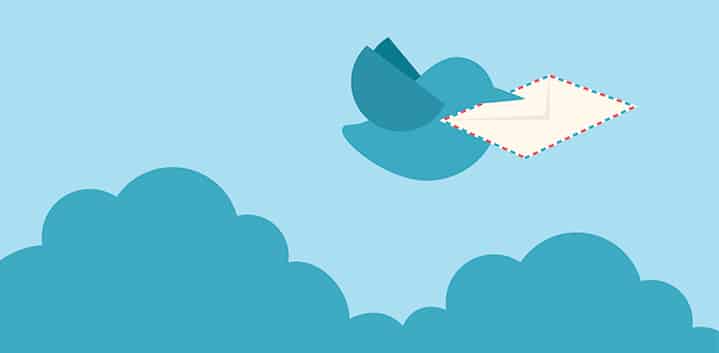 With all that said, what can you do to stand out in Twitter users' constantly updating feeds? How to overtake competitors and engage comments, retweets, and follows with your Twitter messages?
Write them right.
Easier say than do, huh? In this article, you'll find the list of key points to consider for crafting engaging tweets your audience will love.
1) How to Write Tweets
Let's face it:
Social networks are jam-packed with images, live streams, and videos to hook consumers. Nevertheless, we still need words (texts) to communicate marketing messages to the target audience and influence their decisions. In the case of Twitter, you have no room to swing a cat:
With 280 characters available, some users still hit the limit.
Taking into account this detail, together with the fact that 80% of Twitter users access the network on mobile and have a short attention span, a word-oriented part of your tweets needs to match several criteria.
Play With Words
Research says, shorter tweets generate more engagement. Given that you need to hook users and motivate them to do something after reading your tweet, it appears quite challenging to write a short but meaty message.
How to keep it concise?
1. Focus at the very beginning.
2. Use active verbs calling users to action.
3. Ask questions to engage them in communication.
4. Stay original, and don't paraphrase other influencers on Twitter.
As we know, people don't read but scan information online in search of worthy content that would answer questions and solve their problems. So the first words of your tweet need to hit the spot. It's what Jay Baer's tweets do: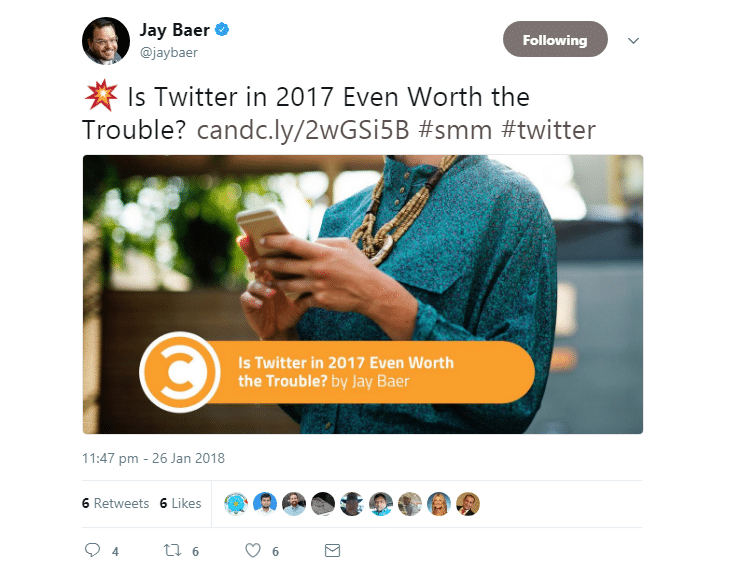 Let's see:
powerful words (Twitter, worth, trouble),
a number (people love numbers, and that's among reasons why most engage with listicles and click a title with numbers in it),
a question to engage and invite to a conversation,
it's short
it has only two hashtags (keep on reading to learn why).
Another one is from Adam Singer: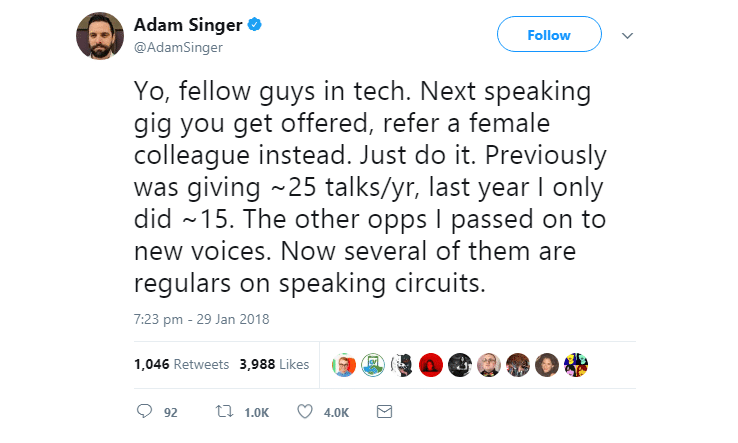 It engages with a tone of voice, it sounds like everyday talk, it's about personal experience, and it evokes emotions. This is a higher level of Twitter communication: you go beyond bare facts and appeal to psychological tricks influencing users' perception.
Remember:
Twitter serves more than two billion search queries per day. So, choose keywords and hashtags carefully but don't overdo: use two, three maximum, per tweet. Speaking about questions, consider open-ended ones or polls: they allow you to understand opinions, interact with the audience, and engage them in conversation. Here's an example from Rand Fishkin: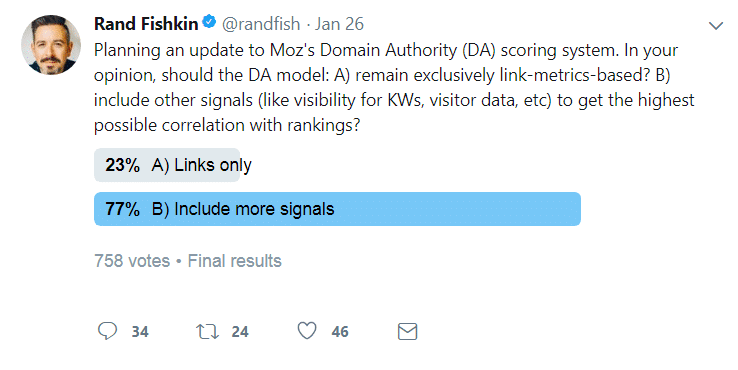 Go With Links
In the past, we all shortened links to save more space for words in tweets. This trick had run its course after Twitter introduced T.co, its own shortener altering all links to 23 characters.
The catch is that even if your link is fewer than 23 characters, Twitter will still count it as 23. Given that, is it time to say farewell to link-shorteners?
Not quite.
When using them, you can take advantage of statistical data they keep on your shortened URLs: number of clicks, geographic locations of those clicking the link, and more. So if you need additional data for marketing needs, feel free to shorten links; however, keep in mind that length of your link has no influence on engagement rate of your tweets.
Thus, Steve Rayson shortens the links of his tweets,…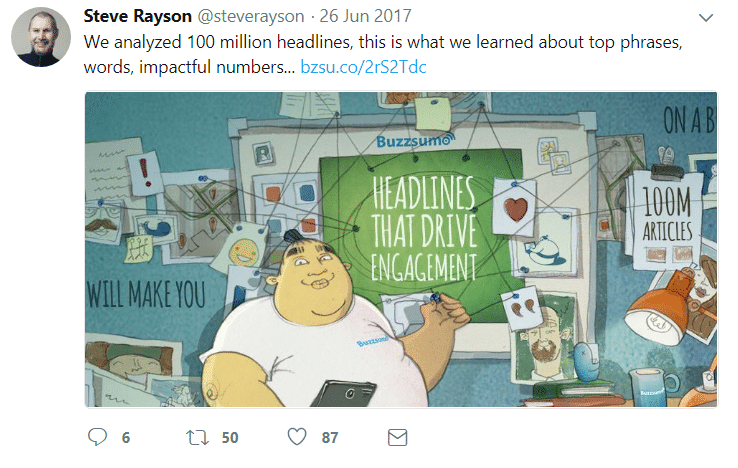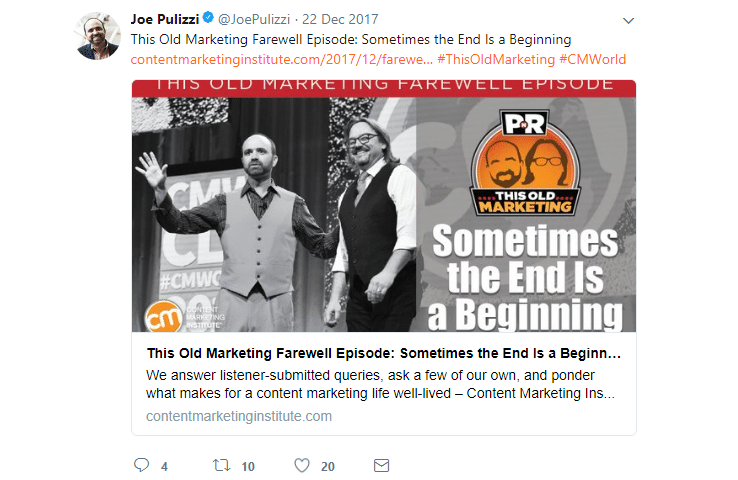 Both tweets are engaging anyway. Again, pay attention to their structure: both are short and concise, both include hook phrases and active verbs. Two hashtags go to Joe's tweet, while Steve uses numbers to wow readers.
Another question some marketers ask:
"Where shall I add a link: in the middle or at the end of my tweet?"
When pulled apart, your tweets lose readability and, therefore, engagement. Users start reading a tweet, stumble upon a link which is a kinda interruption for them, and get a choice: to click this link, to jump it and finish reading, or go to another tweet.
And here's the catch:
The more alternatives you give, the more difficult it becomes for users to choose from. So, follow the rule "one tweet – one point" and remember that 74% of Twitter users come to this network for news. Give it to them, engaging with a word-oriented part of your tweet, and support it with a link so they could learn more.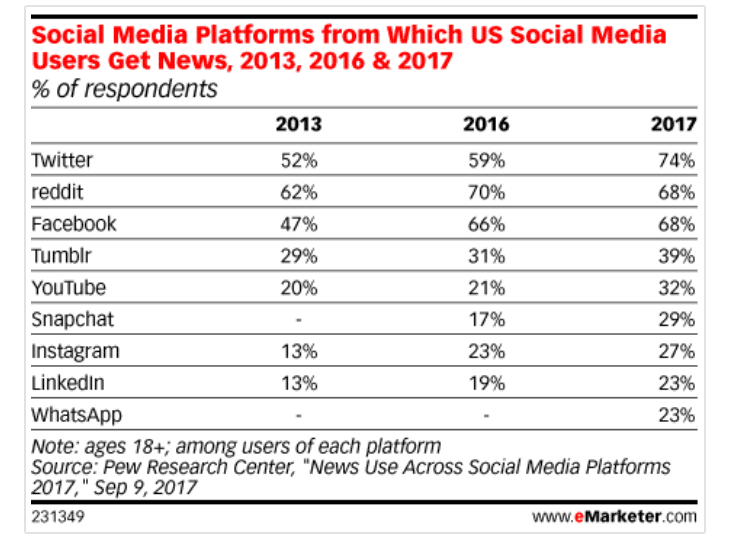 Also, you can follow the lead of Joel Gascoigne and use quotes as previews to links. The secret of quotes popularity is simple: they add authority and trust to tweets. Just don't forget quotation marks and attribution.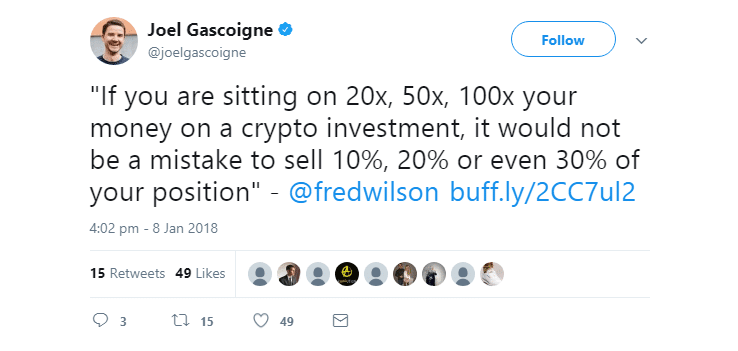 Consider Content Types
The most popular types of content on Twitter are news, GIFs, and blog posts as well as curated content. With that in mind, do your best to balance them for better engagement.
70% – informative tweets (news, blog posts)
20% – promotional tweets (news on your product/service launch)
10% – entertaining content (GIFs, inspiring quotes, your thoughts on trendy hashtags)
Sam Hurley does it best, and his tweets are a combination of content types users seek when coming to this social network. Here's the example of a promotional tweet: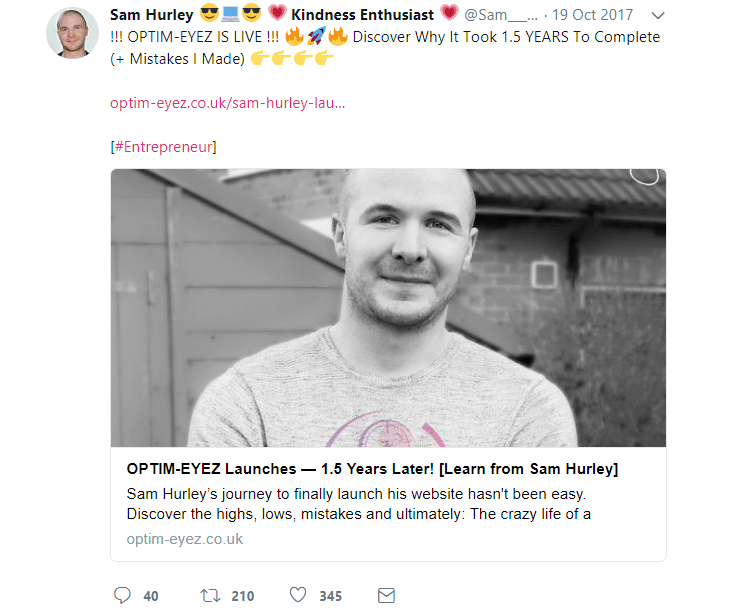 And now, I can almost hear you thinking:
"How often shall I tweet for better engagement?"
Nathan Ellering from CoSchedule examined research from 14 studies to conclude that 15 tweets per day are an optimal number. Plus, it would be nice to retweet about seven tweets per day to support your account active.
Whom to retweet?
Make a list of people and brands that match your style and focus on similar topics. Also, it would be a good practice to schedule retweets in order to avoid flooding followers in a non-systematic fashion.
It appears that you need to tweet something every hour. (Remember that Twitter audience reach their maximum between 3 to 6 pm.) With a content plan ready and tools for scheduling tweets installed, it doesn't seem a big challenge, does it?
To increase engagement, mention trendy hashtags whenever appropriate and do your best to tap into key moments. The social marketing team of Oreo has done it right during the Super Bowl 2013 when the lights went out for 34 minutes; that's why many web writers appeal to their case when sharing the tips on Twitter promotion: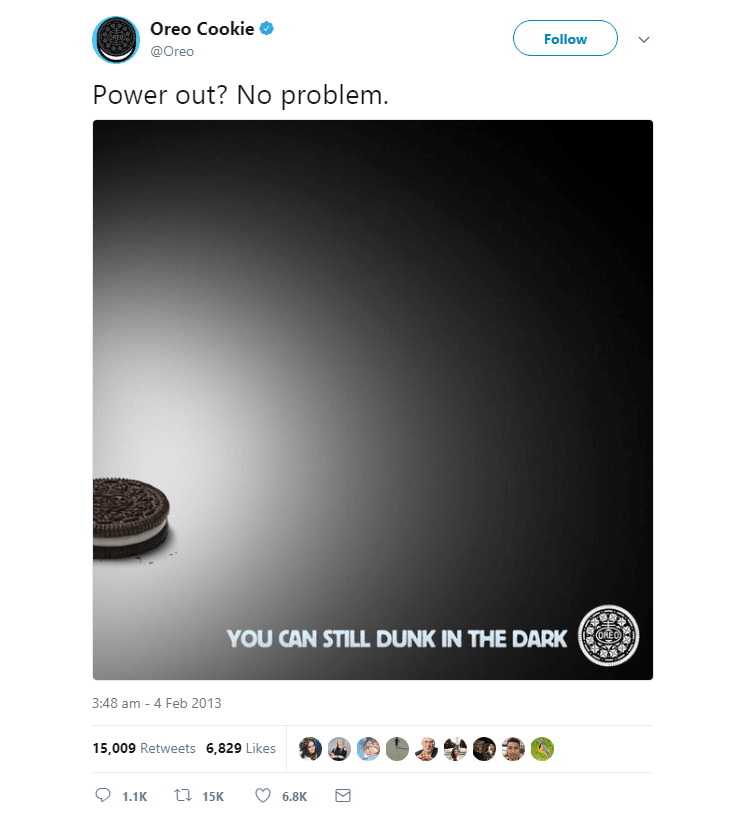 2) How to Design Tweets
About 80% of Twitter users are millennials. To engage them and communicate your marketing message in a way they would "hear" it, go visual and consider the "show, don't tell" tactics.
Sparkle With Images
Captain Obvious goes first:
Inline images to your tweets to drive up to 150% more retweets; but for your images to work, make sure to do this: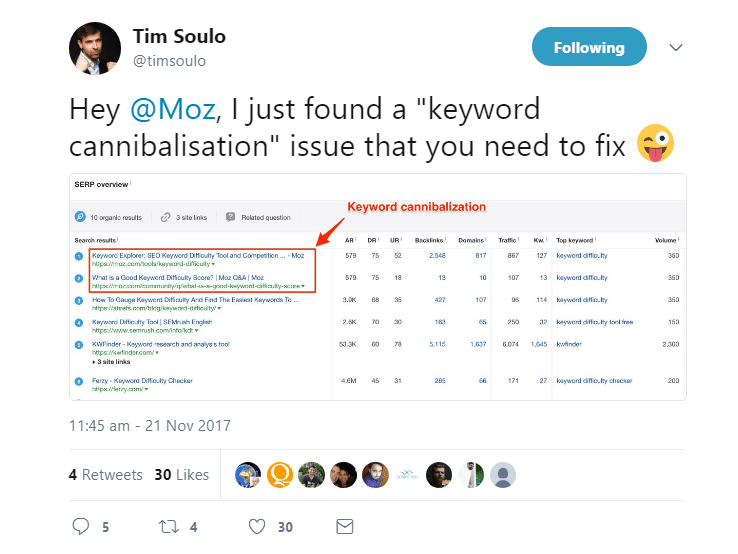 Use bright colors for images: it's where the psychology of color works indeed.
Post horizontal images, and consider their size: 1024×512px works best.
Snap With Emoticons
Emojis are a language new generations speak online today, so there's nothing wrong with using them in tweets if your brand tone of voice allows that. Emoticons catch the eye, tease users to take actions, communicate emotions and, thus, influence readers' mood, encouraging them to feedback.
Many influencers, including aforementioned Sam Hurley and Tim Soulo, use emoticons in tweets. Ana Hoffman is not an exception, too: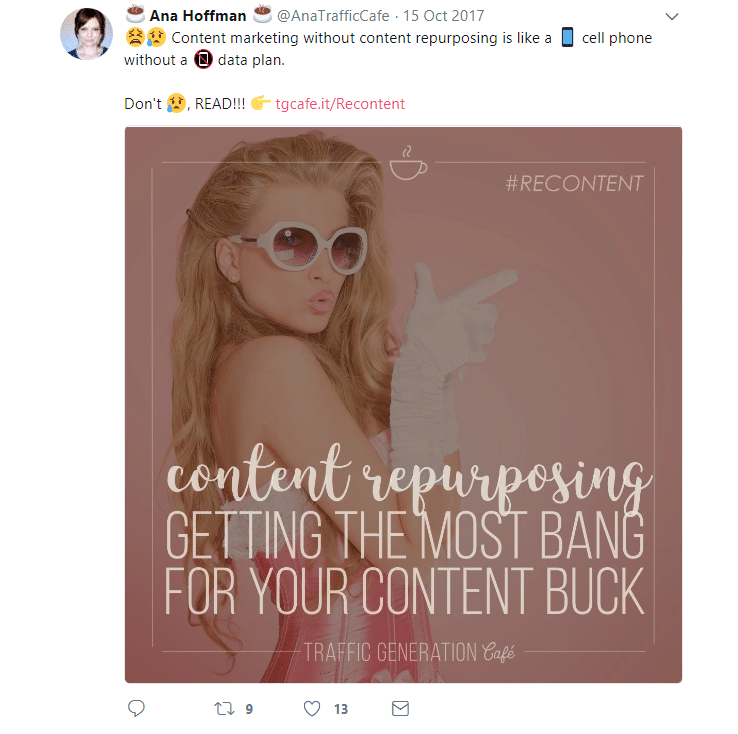 The influence of emoticons on your engagement rate on Twitter has been explored and proven with numbers. Larry Kim from MobileMonkey tested two ads, – with and without emojis – and it appeared that a tweet version with emoticons got 25.4% higher engagement!
Worth noting, isn't it?
Strike With Videos
And the last but not least:
Videos.
With 93% of Twitter videos viewed on mobile and live streaming on its rise, 72% of marketers are sure they can convert with this content type. Put it to the fact videos get more retweets, and such confidence stops looking like bravado, doesn't it?
Aforementioned Larry Kim makes the most out of videos on Twitter: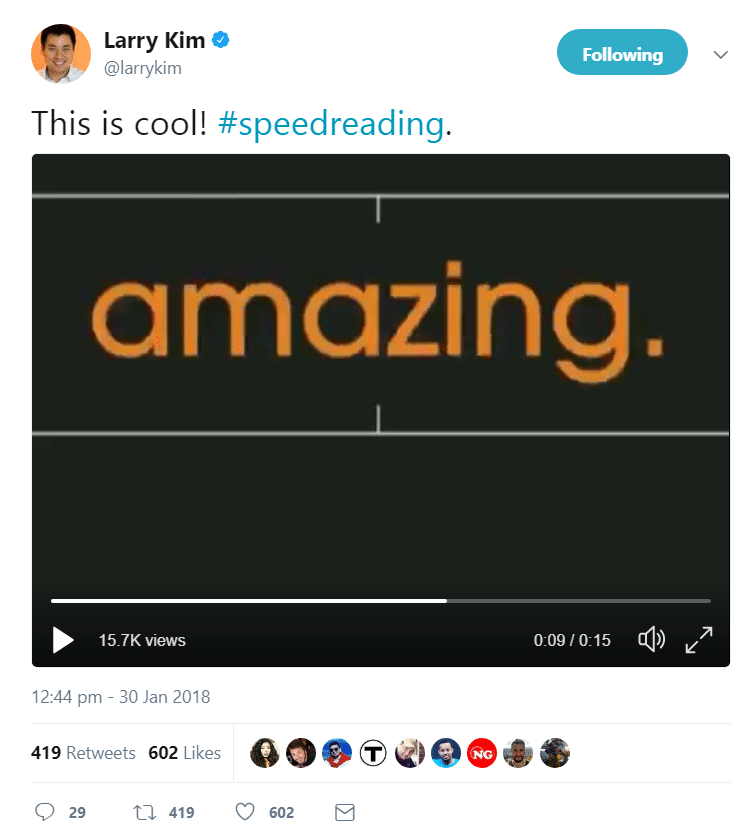 In a Word…
Twitter is an efficient instrument to engage people, communicate marketing messages, build a community, and influence buying decisions of your followers. To succeed and hit the target with your Twitter account in 2018, remember the peculiarities of this social network and its users, crafting your tweets with several details in mind:
Writing rules: short but concise messages, with active verbs, numbers, questions, quotes, and your personality; links at the end of a tweet to not confuse users by interrupting their reading; two hashtags maximum.
Balance rules: combine different types of content – informative, promotional, and entertaining; tweet and retweet often – about 15 tweets per day is fine; interchange your niche hashtags with trendy ones whenever appropriate to engage a wider audience.
Visuals rules: use bright, horizontal images that bring value to readers; consider emoticons if your tone of voice allows it; concentrate on video content, which is on its rise now. Follow the "show, don't tell" principle in tweets.
Such messages will maximize response to your tweets because they engage those mattering most to you and your brand – Twitter followers.
Everything of genius is simple, after all.
Don't you agree?
The following two tabs change content below.
Lesley Vos
Lesley Vos is a seasoned web writer who helps peers develop the confidence and skills for better articles creation and promotion. She runs a blog on plagiarism-free content, contributes to many publications on digital marketing, copywriting, and social media, and you can also find more works of hers on Twitter.
Latest posts by Lesley Vos (see all)