Millennials are a tech-savvy generation with strong purchasing power and it is believed to reach $1.4 trillion by the year 2020. Companies spend an enormous amount on millennial marketing for obvious reasons. If you want to make the most of your marketing efforts, you should communicate with them effectively. This is a challenge for most marketers.  
But the good news is that instead of looking for newer methods to market to millennials, marketers can leverage the age-old marketing channel – Email Marketing.
Here're Some Interesting Facts – 
According to Adobe Email Consumer Survey, millennials are gripped with email and prefer to be reached by email for work
It was discovered that one-third of millennials prefer to email rather than Slack, phone calls, or video
More than 50% of the millennials falling under the age of 18 to 24 check their email in the morning while in bed, and 43% of millennials aged 25 to 34 reported to do the same.
Hence, it's no wonder why email is the most loved communication channel for millennials.
#1. Email Marketing is Permission Based
As the competition in the digital marketplace is getting more and more intense, marketing ought to be consumer focused. You should respect their preferences and privacy. Taking the email marketing best practices into consideration, email lists are generated organically by seeking the prospective customer's permission and discretely collecting the email addresses. The user is more likely to expect an email for an important communication if they have subscribed to your brand.
See how Tedium sends out a confirmation email once a subscriber signs up to their list. This allows the user to rethink and be doubly sure about the subscription to the emails.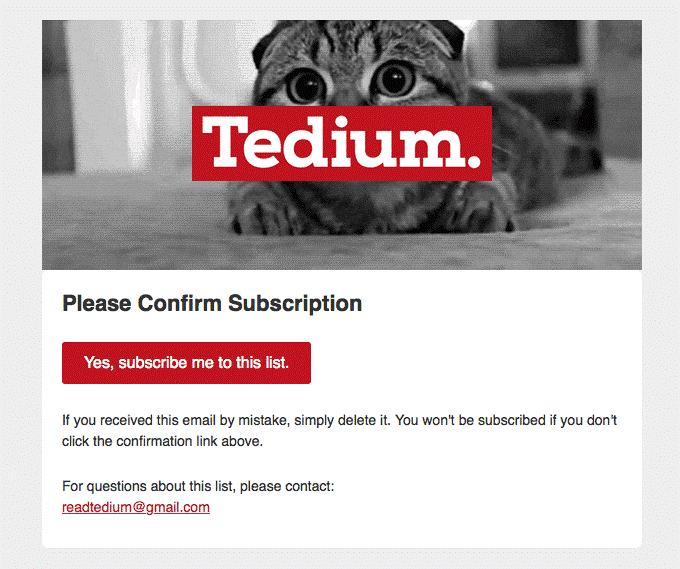 #2. Emails are the Most Personalized Mode of Communication
When compared to social media platforms like Facebook and Twitter, emails enable one-on-one conversation between the marketer and the user. They can be personalized to match the user needs and the buying interests. Segmentation of email lists is at the heart of personalization and enables the building of better-targeted emails.
According to the 2017 Email Marketing Census by Adestra in partnership with Econsultancy, marketers using advanced segmentation practices are 4 times more likely to report excellent ROI when compared to those who do not apply it at all.
You can tailor the emails to particular groups based on their location, time zone, demographics, etc. through these advanced segmentation methods.
Let's say a subscriber has purchased an iPhone X from your ecommerce store. You can send out an email suggesting him/her to buy a mobile phone cover or accessories that match the product. Relevant emails sent like this obviously impart a better shopping experience to the customer.
Netflix regularly sends out personalized emails promoting the recently added movies or tv shows, based on the watch list of the user. Their email marketing strategy is surely on point when it comes to the huge customer base of millennials that they have already won over.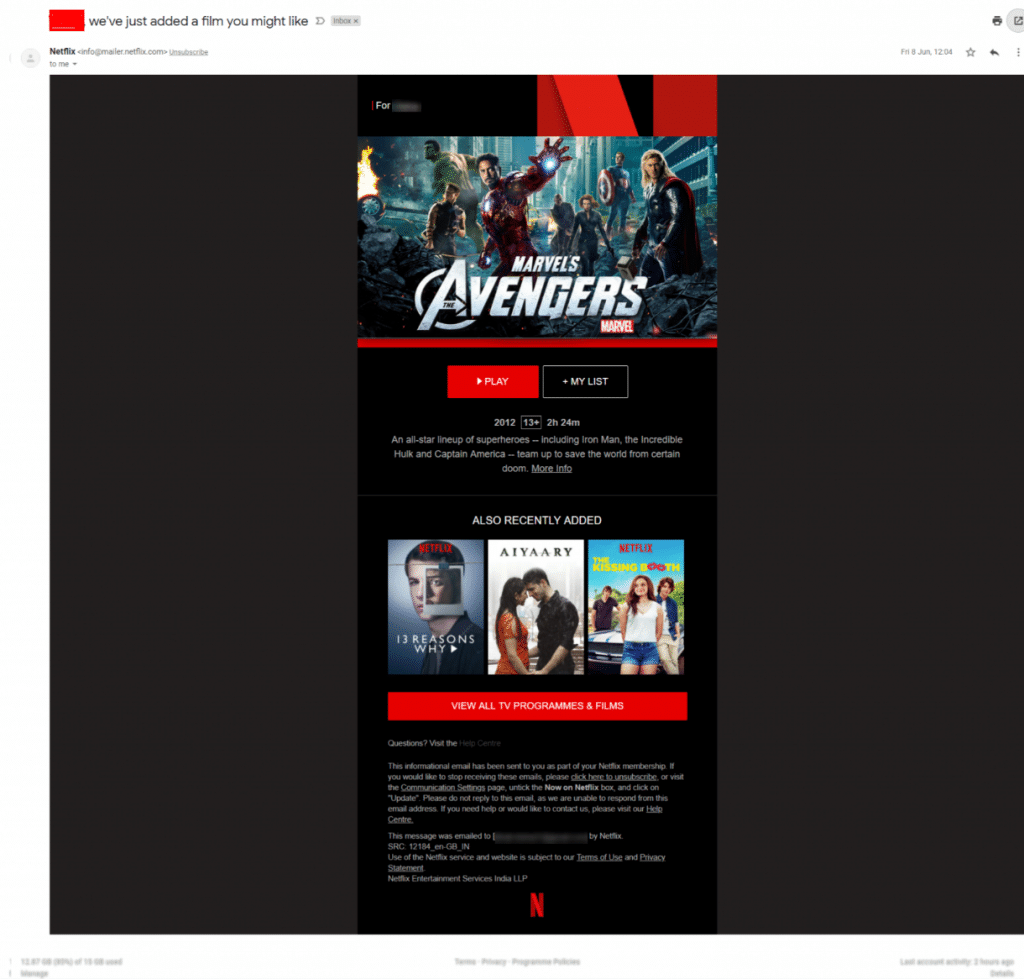 #3. You Can Send Emails at Every Stage of the Buyer's Journey
Your website visitors become a part of the customer lifecycle from the first time they visit your website. Whether the prospect is in the awareness, consideration or decision stage, emails can be effectively used to convince them into making the purchase. You can practice a lead nurturing email marketing strategy for conversion of leads into customers.
You can send emails even after the customer has purchased from you for better customer retention and to create brand evangelists.
Check out the email by Twist that is perfect to be sent in the awareness stage as it shares the 'Getting Started' guides.
TurboTax sends an interesting email to the subscriber in the consideration stage. Check the example below.

Strava sends a short and sweet email in the decision stage that explains the perks of going premium. The CTA is placed and designed in such a way that it is sure to grab the subscriber's attention.

#4. Emails Can Be Automated
As per Salesforce State of Marketing Report, 67% of marketing leaders presently use marketing automation platform while 21% more will use it by the next two years.
Right from the time a user signs up on your list, you can trigger automated emails in line with the subscriber activity. Consistent real-time marketing is possible through email automation.
Email marketing automation takes help of tools and mechanisms to send an automated communication to the leads that delivers a highly personalized experience to them.
For example: As soon as a subscriber makes a purchase, you can send out a transactional email confirming the purchase along with the order invoice. Sending such timely emails based on real-time and triggers like browse abandonment, recent website activity, a recent purchase, etc. help in building a better rapport with the subscriber and fulfill their expectations.
Check out the transactional email by All birds sent immediately after the user makes a purchase.

#5. Emails Can Be Made Visually Attractive By Including Interactivity
Millennials have witnessed the progress of emails as a medium to exchange messages to an extensively used marketing channel. They definitely prefer imagery over content. You can include rich media like static images, GIFs, cinemagraphs, and videos in your email. In case you have used it already, you can even go a step ahead and try out CSS animations, gamification, slider, countdowns, etc.
EmailMonks sent out an interactive email with scary sound effects to impart a horror experience to the subscriber in the inbox itself.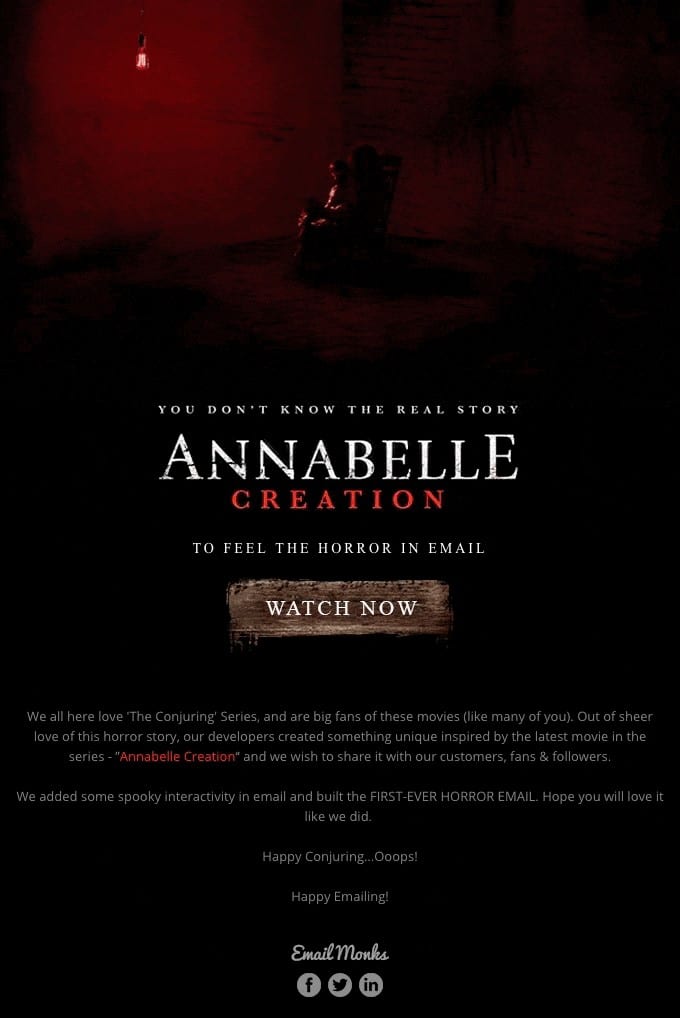 #6. It is Possible to Track the Performance of Every Email Campaign
Through email marketing tools, you can track the performance of your email campaign by measuring the open rates, click-through rates, delivery rates, bounce rates, and unsubscribes.
Email is the only channel that allows you to monitor detailed metrics and lets you know the results within 3 days after the email campaign is sent.
#7. Emails Let You A/B Test
You can test different variations in your email copy, segmentation strategy and personalization through A/B testing tools available with the majority of the email campaign software.
According to the metrics like open rates, click-through rates, and conversion rates obtained for each campaign variation, you can determine the one that worked the best for your target audience.
You can A/B test elements enlisted below:
Subject line
From name
Email layout
Inclusion of images
Content of the email
CTA placement
Offer highlighted in the email
#8. You Can Make Your Emails Accessible
Email accessibility refers to the practice of designing your email in such a way that it eliminates all the barriers for your subscribers who have any disability and enables them to access the content just like everyone.
It implies better usability that drives better business.
To make your emails accessible, you need to follow a few tips listed below:
Maintain a logical reading order by adopting the principles of visual hierarchy.
Fonts should be large and readable.
Keep the copy simple.
Ample white space is a must.
Your emails should be responsive.
Use crisp subject lines.
Images in emails should be supported with suitable Alt text.
Code your emails with semantic tags like <h>, <p>, and <table>.
Have a look at the email by SurveyMonkey. It includes neatly placed content with sufficient white space. The images and CTA colors are in contrast to the white background, thereby making the email readable and more accessible.
Wrapping Up
Be it social media platforms or websites, marketing is omnipresent. Your subscribers including the millennials are bombarded with content from all over the Internet. If you are not using emails yet, you could be missing out on targeting the millennials and losing out on a great scope of generating conversions.
Emails stand apart and let you render information that your subscribers would be most interested in… That's the magic they bring along!
The following two tabs change content below.
Kevin George
Kevin, the Head of Marketing at
EmailMonks
– one of the fastest growing Email design and coding companies, specializes in crafting beautiful email templates, PSD to HTML email conversion and free HTML email templates. He loves gadgets, bikes, jazz, and breathes 'email marketing'. He enjoys sharing his insights and thoughts on email marketing tips and best practices at his email marketing blog.
Latest posts by Kevin George (see all)