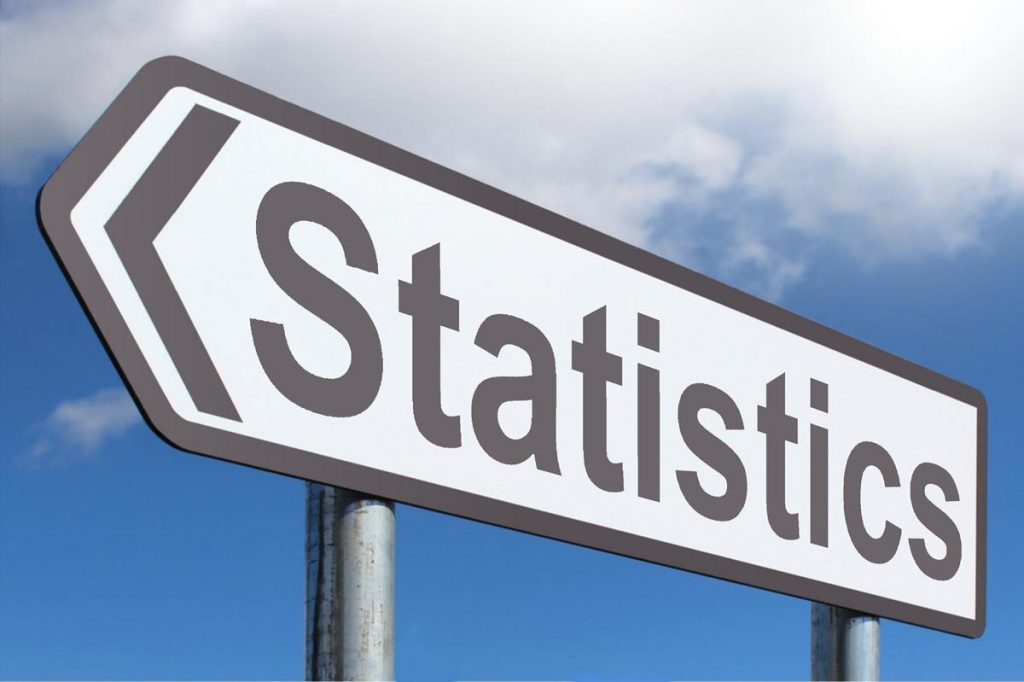 Content marketing is an entire mood!  As profitable and marketable as content marketing is, however, there are lots of people who fail at it.
Tired of failed content marketing campaigns? Perhaps you need to get a better grip on content marketing statistics, as proper usage of statistics is the key to success in the world of content marketing.
In this post, I'll let you in on some of these crucial statistics which are essential for your brand's success in content marketing. This way, you are better guided on the steps to take in your next content marketing campaigns. Sounds good?
Let's get all the juicy statistics!
#1. According to Research, Content Marketing Generates Three Times the Leads Per One Dollar Spent
Curious researchers pored over the phenomenon that is content marketing, hoping to discover whether it was effective or not. Guess what they found? The long-term benefits of using content marketing outweighed the amount of money spent on it.  
In terms of returns on investment, content marketing rocks, generating up to three times leads per dollar spent! 
In the long run, you make more money because of the cost per visitor crashes; leading to lower running costs. Isn't that amazing?
#2. Companies are Still Slacking Over the Use of Content Marketing (and Still Use a Lot of Less-Effective Paid Marketing Solutions!)
When Neil Patel interviewed over 200 companies on how much of their budget was dedicated to paid marketing and content marketing, the results were astounding. 
Many companies are still caught in the web of spending millions of dollars on Google AdWords and Facebook Ads as depicted by the images below. This is irrespective of their budgets!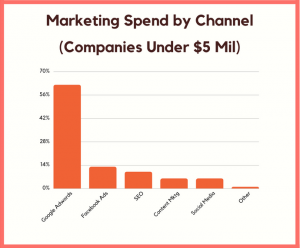 (Companies with Budgets Under $5million)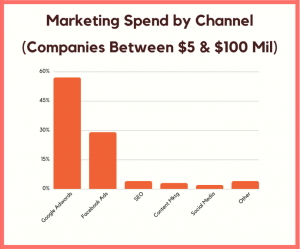 (Companies with Budgets Between $5-100 million)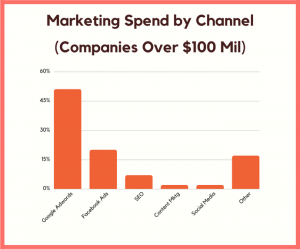 (Companies with Budgets over $100 million) 
This should be bothersome for content marketers because while content and SEO marketing generates the highest ROI, not enough efforts are being made by companies to invest in this highly beneficial means of marketing for their brands. 
One way to make companies trust the content marketing industry is to create and follow up on tracking the ROI with content marketing. Also, these companies need to know that while the ROI might not be immediate, they would certainly come. 
#3. Poor Cross-Section of Brands with Content Strategies
Amongst B2B and B2C brands, only 37-38% have viable content strategies! Yet, one proven key to success in content marketing is to have a viable strategy. This statement is backed up by data which states that approximately 60% of successful marketers have strategies in place. 
Realizing this gap between brands that want to succeed at content marketing and those who have put up the right strategies in place, you would need to analyze your own data, and make necessary adjustments.  
Only after the data has been properly analyzed; on the type of content that does well with your audience, ways to improve your effectiveness at content marketing; can you start putting up proper strategies in place?  
Content marketing is quite rigorous and to survive, you need to create a plan and determine what your key performer indicators would be. 
#4. Long-Form Articles: The New Vibes in Content Marketing
If you've been around for a while, you must have heard that long-form articles are winning, especially with the search engines. Previously, articles with shorter word counts were all over the web, but the story has changed; as bloggers are getting in on longer-form content. 
Today's blog post word count averages at about 1142 words, which is about 40% more than it was only three years ago. As a content marketer, you must note these statistics, as to keep your audience engaged, you'd have to deliver expatiate, valuable content in a longer form. 
You must, however, be sensitive enough to your choice of words, audio and visual components so as not to bore your readers into oblivion! Another tip is to use bulleted points or numbered lists. 
#5. Blogging Frequently Increases Your Results
HubSpot reports that when companies publish over 16 blog posts monthly, they get over the three-and-a-half times more organic traffic than companies that publish less than 4 articles monthly. This was discovered in a 2015 online research, and the statistics have continued to rise in favor of consistent publishing online content. 
This can be a win for content marketers; as many bloggers now opt to post less, thus reducing their chances of scoring high results. However, it is also important to spend quality time per post, so as to achieve better results. The key here is to balance consistency with the quality of posts.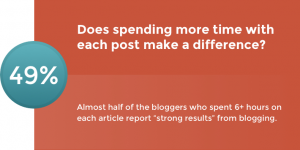 #6. Guest Posting, Content Updating and Promotion for the Win
Guest posting has some really cool benefits such as improving relationships and search engine visibility. An Orbit media survey reported that over 60% of bloggers guest post and this has immensely helped. 
Alongside guest-posting is the phenomenon of updating older content, which is a trick many popular bloggers use; with over 70 percent of bloggers who update these older content reporting more successful results.  
One blogger reported a surge in his organic traffic by about 260% when he used the content relaunch formula to update his older content. As a content marketer, you can use this to your advantage.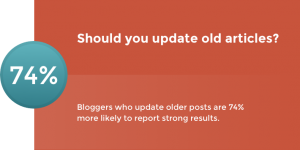 Lastly, because of the surge in online content, you must be proactive about promoting your content; even if you update your content or guest post, there is no modesty in hoping people discover you online without your active promotion of the said content. If you can't do this on your own, hire a content marketer. 
#7. Paid Content Promotion is Lucrative
Paid content marketing continues to rise in the rate at which it is used over the last 5 years.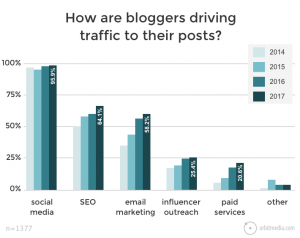 As paid marketing has been identified as one of the rather difficult means to generate good ROI, its high effectiveness has also been acknowledged; hence the surge in its use over the last couple of years. As a content marketer, marketer, you are gold! 
You should be dealing directly with social media platforms, realizing that what works on one platform e.g. Facebook, might be off-putting for another e.g. LinkedIn. 
#8. Email as an Effective Means of Content Distribution
You thought emails were to be ignored? Not quite! Over 70% of B2B and B2C marketers have reported email as a highly successful means of content distribution, with blogs and social media taking second and third spots, respectively.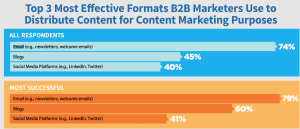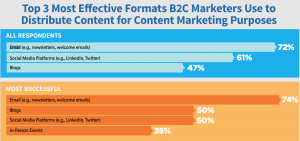 However, to succeed with emails, you have to be strategic about the kind of emails you send out. Are you being too promotional with your mails, rather than giving consumers helpful information? Are you sending the same kinds of emails out to everyone without targeting or personalizing your emails? 
It is important to consumers that emails are informative and also personalized! 
#9. The Power of Visuals
Long-form posts are awesome but the secret to them being appreciated by readers is the side-by-side usage of eye-popping images. Everyone (who can see) understands better with the use of proper visuals. 
Statistically, visual content gives better recall rates; over 50% higher than that of written content, with people following visual instructions at an approximately 300% rate higher than written instructions. 
With lots of tools on the market such as Canva which help include visuals into your content marketing, your posts can become heavily infused with creative visuals.
#10. Videos Drive Traffic, and Make Content Marketing Worth It
This should come as no surprise. Videos have an undeniable juicy component to them that makes them irresistible. The statistics on how videos can help drive traffic to your content marketing efforts are amazing! It is in fact, estimated that by 2021, over 80% of internet consumer traffic will be driven by videos. 
It is quite clear that to survive as a brand, you would need to invest in high-quality video content. This helps you powerfully connect with your audience. Smart brands and influencers are already utilizing this great form of content marketing to further strengthen their brands. 
These videos do not only have to be a fun video, but educational videos also have a market! All you have to do is get creative, spice up your video content and churn out great content.  
Going live can be a little scary at first but when you get down to it, you'd discover how interesting and fluid it really is!
Wrapping It Up
Content marketing is a booming industry. To make the greatest use of content marketing skills and to achieve the best possible results, you need to know your statistics.  
Allowing yourself to be unaware of the important content marketing stats is akin to shooting yourself in the foot, as someone who would want to engage in some form of content marketing either as a full-time marketer or for the growth of your own brand. You wouldn't want to be that person.
The following two tabs change content below.
Duncan Kingori
Duncan Kingori from
IZEA
has been in the writing profession for a decade now. He has great experience writing informative articles and his work has been appreciated and published in many popular publications. His education background in communication and public relations has given him a concrete base from which to approach different topics in various niches.
Latest posts by Duncan Kingori (see all)