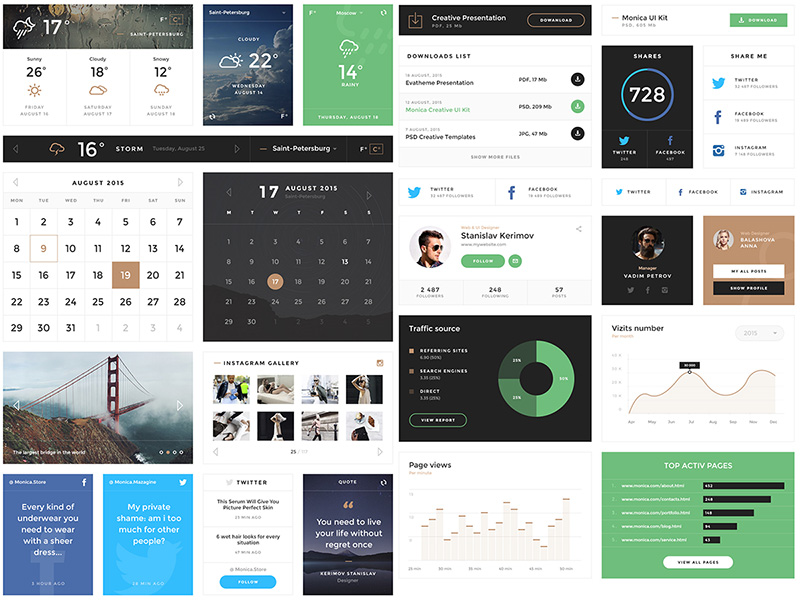 You have seven seconds to catch a website visitor's attention before they click away to look for a more appealing site. How can you spark a user's interest so they stick around to view your website's content? Businesses typically consider things like color scheme and video content for increased audience engagement, but there is another engagement tool in town…the widget. Many sites are now using widgets to optimize their websites, keep visitors engaged and improve the user experience.
What are Website Widgets?
When you visit a website and see a map or a social media icon, you are actually viewing a website widget. Widgets are third-party applications you can install and embed on your website to perform a variety of simple and useful functions. With widgets, you can add advanced features on any page of your website without having to customize each individually. Widgets displays featured content directly on any page of your website.  
Web widgets can drive more interest to your website by complementing the existing content.  Depending on the type, widgets can help you increase sales, engage visitors, collect information, provide customer support and acquire more social media followers. If you are a local business or restaurant, you can even add a map widget, enabling users to get customized directions. 
You don't need to be a web developer to install a widget on your website. All you need to do is copy a piece of code provided by the widget host on your website. The most common areas to place widgets include the header, footer, sidebar, and homepage. 
Widgets are different from buttons or badges. Widgets contain dynamic content updated regularly. For example, if you add news headlines from CNN on your website, the widget will update whenever CNN updates its site. 
Widgets can perform virtually any function from providing the weather forecast to tracking the number of visitors to your site to displaying the most recent news headlines. One of the most common widgets is Google Ads or other display advertising. Other widgets include web search boxes, news headlines, stock quotes, polls, Twitter feeds, clocks, calendars, forms, etc.
Widget Types
Thousands of widgets are available for free online and for any topic imaginable.
All website builders including Wix, Squarespace, and WordPress allow for widgets to be added. Each website builder has its own method for inserting the code. Many major websites and social media channels offer widgets such as Facebook, Google, YouTube, etc. A simple web search will provide you with an array of sites to obtain widgets. 
Here are some examples of widget types you can use on your website.
#1. 
Calendar Widget
There are a wide variety of calendar widgets available, but all have the same goal – let people know about your upcoming events. The calendar widget can be customized depending on your needs. If you are an artist or musician, you can display your upcoming shows, events or album release dates.
For businesses requiring appointments (i.e. auto body shop, doctors, financial advisers), the calendar wizard can display the availability and allow visitors to pick a date. In some calendar widgets, a range of dates can be selected for scheduling a trip.
In the example below, The Washington Post chose to display a type of calendar widget that does a countdown until the next presidential election that updates in real-time every second:

Select calendar, event and appointment widgets: Google Calendar, Setmore, Eventbrite and Planyo.
#2. 
Social Media Widget
If you want to increase your social media presence and gain more followers organically, social media widgets for Twitter, Instagram, Facebook, and other social media channels. Social media widgets also make it easy for potential customers to navigate to your social media profile, eliminating the need for them to search for your profile. A social media widget displays about 3-5 of your most recent posts and also provides a link to your profile so people can easily follow you. The widget pulls information from your account and updates the feed to the widget in real time. 
Even if you don't have a social media presence, a social media share widget enables visitors to share content from your site on their own social media pages. When your content is shared, it builds your brand awareness and increases your engagement with current and potential customers.
Social media widgets can also benefit your search engine optimization (SEO) strategies. Google determines search rankings in many ways and one of the signals is the number of times content is shared, tweeted, liked or posted on social media. 
A great example of a social media widget can be seen found consistently across the ShareAble for Hires' website in their footer. They chose to highlight their email along with their LinkedIn, Facebook, Twitter and Google Plus profiles:

AddThis, GetSocial, and Shareaholic are all widget tools that enable your users to share on social media. 
#3. 
Map Widget
For businesses that have a physical location and do not solely operate online, a navigation widget is a great addition to include on the website. Map/Navigation widgets can be interactive where the user can zoom in and out of the map and see multiple location businesses or have it remain static to show the location of a specific store.
Grocery retailer giant Vons includes a map widget on their Store Locator page.
EmbedGoogleMap and Brandify are popular, extremely simple map widget providers.
#4. 
Music Player Widget
A music player widget enables you to add music or audio to your website, especially if you are a musician or a radio station. A music player widget is also a great tool if you have a podcast you want to promote to your audience. Visitors can listen without leaving your website, providing instant engagement with your audience. Music-playing widgets come in all shapes and sizes.

Select music player widgets: Spotify (users need a Spotify account),  SoundCloud, BandCamp.
#5. 
Mailing List Widget
If your goal is to generate more leads, the mailing list widget can help by enabling people to join your mailing list by entering their email address into a small form. This eliminates the need for visitors to click on a link to go to a full signup page and less intimidating. The mailing list widget is an easy, low-cost method of building your email list.
Here is an example of an automatic mailing list widget pop-up with a lead capturing form on Housecall Pro's learn page: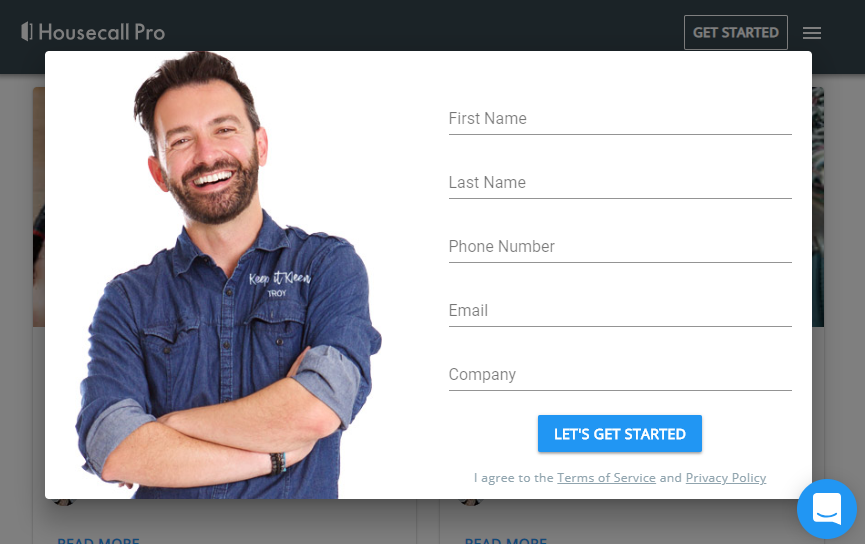 Select mailing list widgets: MailChimp, INinbox, POWr.
#6. 
Weather
Widget
Certain businesses such as ski resorts, concert venues, sports fields, and tourist attractions rely on certain weather circumstances for their success. business's success is influenced by certain weather conditions. Adding a weather widget to your website will keep your visitors informed and engaged. Weather widgets can be customized for the local area. Weather widgets can provide current conditions, forecast, advisories, news, maps and more.
Snow resort Boreal Mountain California includes a weather widget on their homepage so prospective skiers and snowboarders can know exactly what conditions to expect on the slopes:

Available weather widgets include: WeatherWidget.io, TheWeather.com, The Weather Network, and WillyWeather 
#7.  
Chat Box Widget
One of the most common widgets seen on websites is the chat-bot type. Instances of this widget can be found on a majority of online service providers such as health practitioners, financial institutions, and almost any other business where a customer may have specific questions unique to their situation. These widgets can be customized to respond to a variety of comments and queries automatically and can even relay relevant information from the chat to a designated contact within the business.
Throughout Arnett Security Credentials' website, they have a live chat widget so that readers may ask specific product questions and get an immediate, personalized response. Giving potential customers such attention will help to drive sales by making them feel valued and listened to.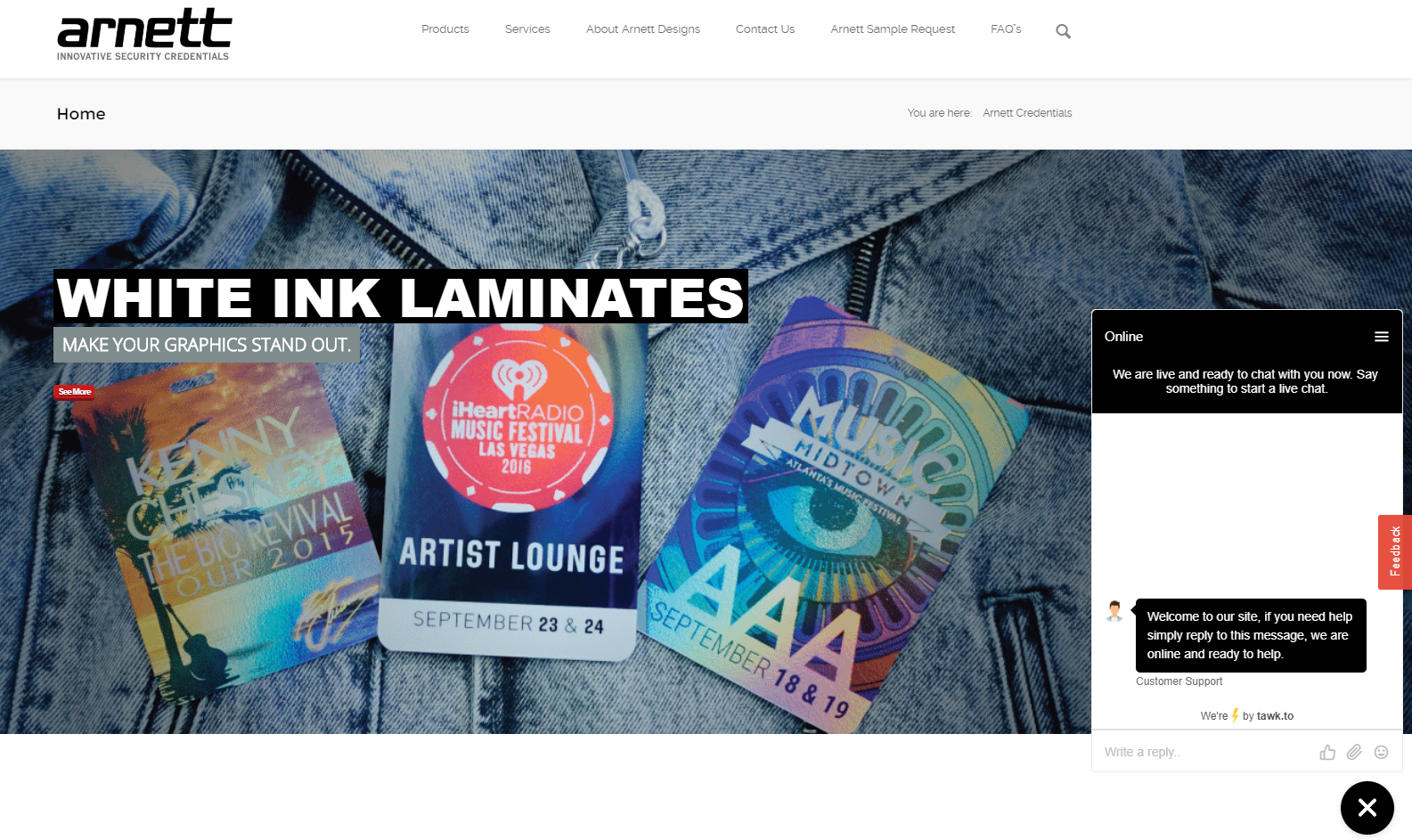 Common chat-box widgets include Jivochat, MyLiveChat and tawk.to.
Don't add a widget just for the sake of adding it. Doing so will just clutter the website and make it unappealing to visitors. Each widget you use should have a specific purpose and be aligned with your overall marketing goals. For example, if you are an e-commerce website, you can use widgets to guide users to complete orders, provide payment information and complete a customer survey.
Summary
Whether you want to chat with site visitors or show the weather forecast, widgets are one of the easiest and most convenient ways to customize your website with valuable information and content. Widgets are both entertaining and advantageous. Users like widgets because they help find the information they need quickly and easily while businesses enjoy their user engagement capabilities. By taking advantage of all the great widgets, you will see improvement in your site's user experience, performance and possibly even increase your conversion rate.
The following two tabs change content below.
Emily Banks
Emily Banks is a bay area native who got tired of San Francisco's cold beaches, so she moved to San Diego. She is currently the editor for
Inseev Interactive's Blog
. When she is not typing away on her keyboard, she can be found eating street tacos in the sunshine.
Latest posts by Emily Banks (see all)