Enterprise Rank Tracking tool designed for powerful business SEO strategy and reporting
All-in-one professional keyword and rank tracker, Mondovo's Enterprise Rank Tracking tool is the most advanced, comprehensive and extensively customisable tracking solution for any business. Attain competitive data to beat your rivals with most powerful and up-to-date SEO strategies for your niche. Extract enterprise level reports for presentation to your clients or comparative statistics to monitor your own progress.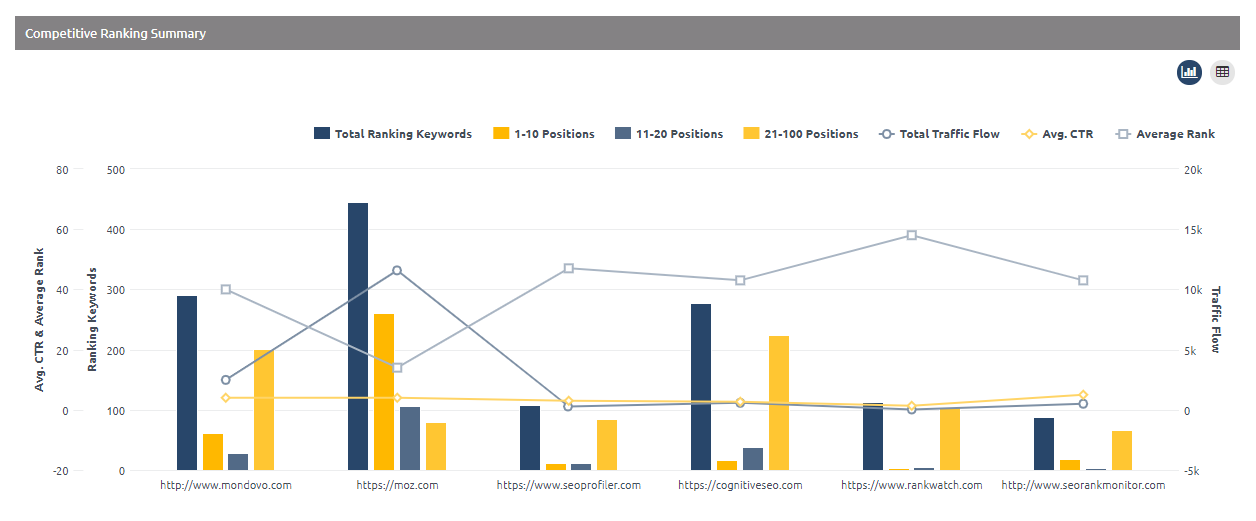 Compare the Rank Change across 365 days
The Keyword Ranking table has multiple columns that show data on search volume of all your keywords and ranking position of your website as compared to your competitors with respect to each keyword. Isn't that remarkable to be able to view such crucial data side by side! You not only get to compare your rankings with your competitors but have more comparison options by days - 1, 7, 30, 90, 180 and 365. This allows Enterprise Rank Tracking to provide you with information on your ranking and your competitor's ranking for all 365 days.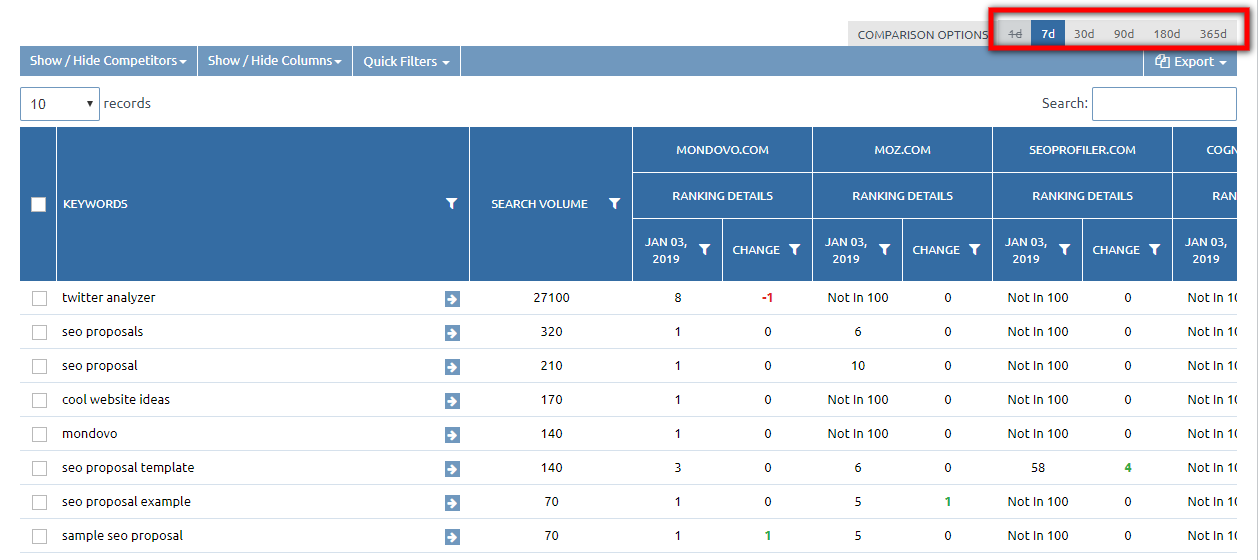 Branded ranking reports with White Label Reporting
A company's logo on reports and presentation is a great way of branding. By adding your branding anywhere on files that have important data such as your SEO strategies, keyword ranking, SERP ranking and competitor's ranking, places you in a certain position while presenting to your clients by building trust among them in believing that data being reported by you is not just paid for but has has been carefully worked upon. This is very crucial for your business, hence, the Enterprise Rank Tracking plan allows you to replace Mondovo's logo with your own branding logo in the reports extracted from the Rank Tracker.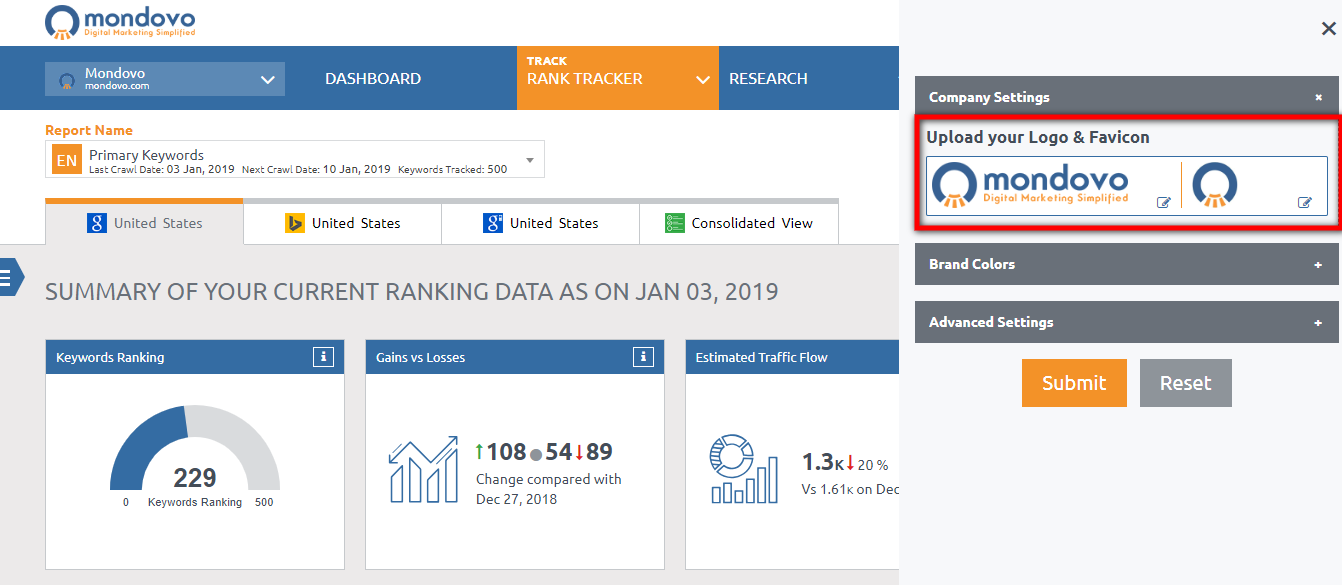 Autopilot your rank tracking with predefined intervals
Rank tracker allows you to set a fixed schedule - daily, weekly, monthly, according to your need, to extract information on your SEO progress, keyword ranking and website's positions on SERP. The crawlers automatically run through the search engines as per the timing set by you and fill up the Rank Tracker with all the data. Moreover, Enterprise Rank Tracking tool is flexible which allows you to switch between the three intervals whenever required.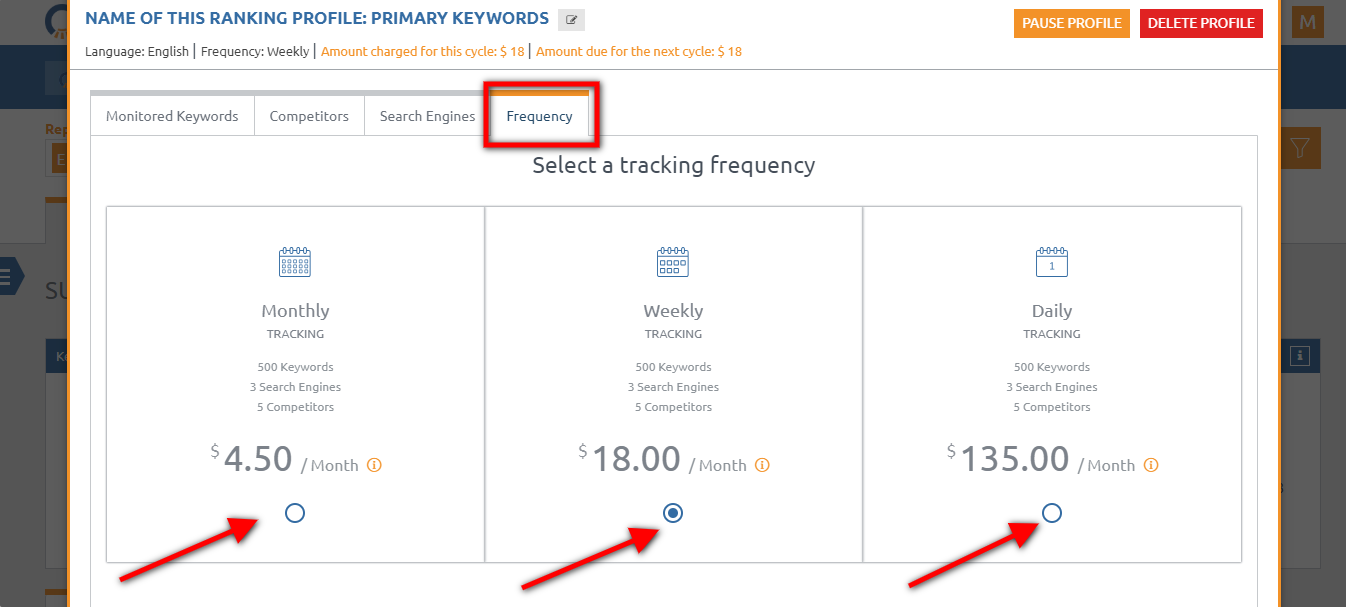 PDF Export of the complete report with a click
Mondovo's Enterprise Rank Tracking makes it very convenient for you to extract all the data available in the Rank Tracker. All reports for keyword ranking, SERP tracking, current and /historical statistics, competitive ranking summary, and even page-wise ranking along with graphically represented data can be downloaded directly in PDF format with just one click on the option located on the top right of the rank tracker called "Export to PDF".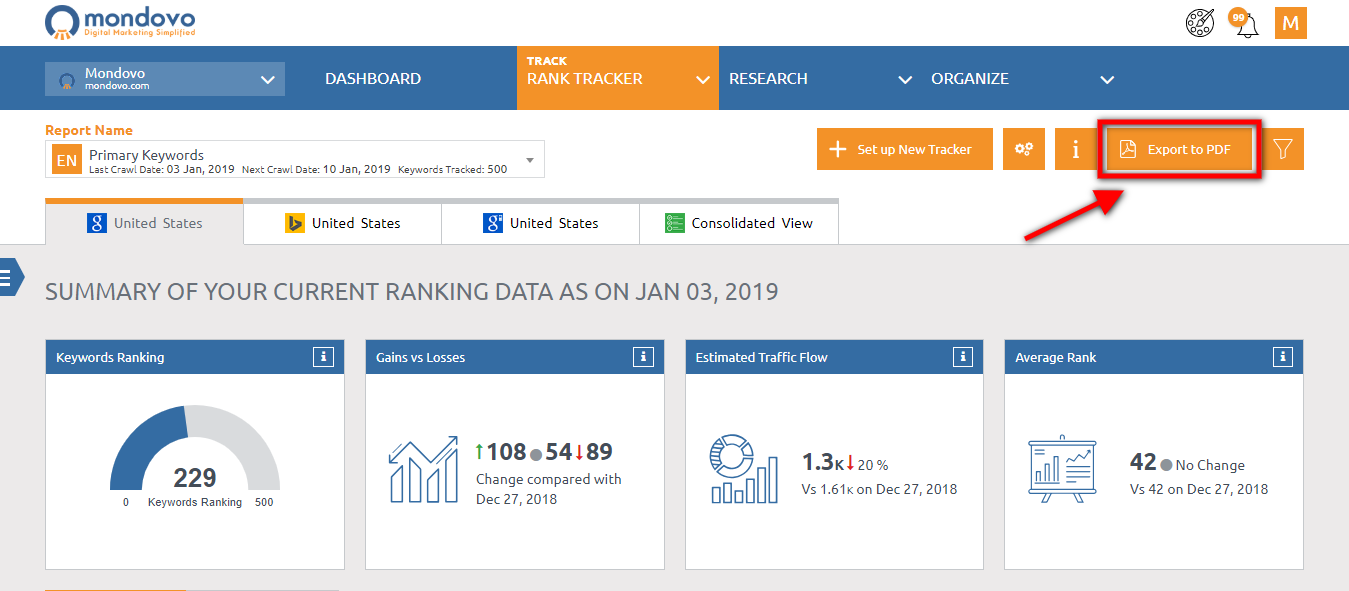 Uncover the URL attributes of Top 100 Search Results by keyword
Keyword Rank Tracker provides you with an in-depth breakdown analysis based on types of results showing up in top 100. This data also consists of information on ranking of your website URLs that can be viewed in the form of break-up chart as well as in a table format. The search results of your website URL have been divided in following attributes
Home page in results
Inner pages in results
Unique domains
Pages having keywords in the title
Pages having keyword in URL
You can also find out number of times your website URLs appeared in news results, map results, video results, local results, answer box, shopping results and ads. Rank Tracker enterprise is indeed compendious and thorough!

Add, pause and remove keywords in the Rank Tracker tool at any point in time
"Edit Existing Rank Tracker" is a feature in Enterprise Rank Tracking tool that allows you to go back to main profile setting of a campaign where you can edit and remove competitors, search engines, frequency plan, and even keywords. The Monitored Keywords tab allows you to pause or remove any listed keyword in just one click. It also provides you with an option to add new keywords and all of this amidst a running campaign without disturbing any data.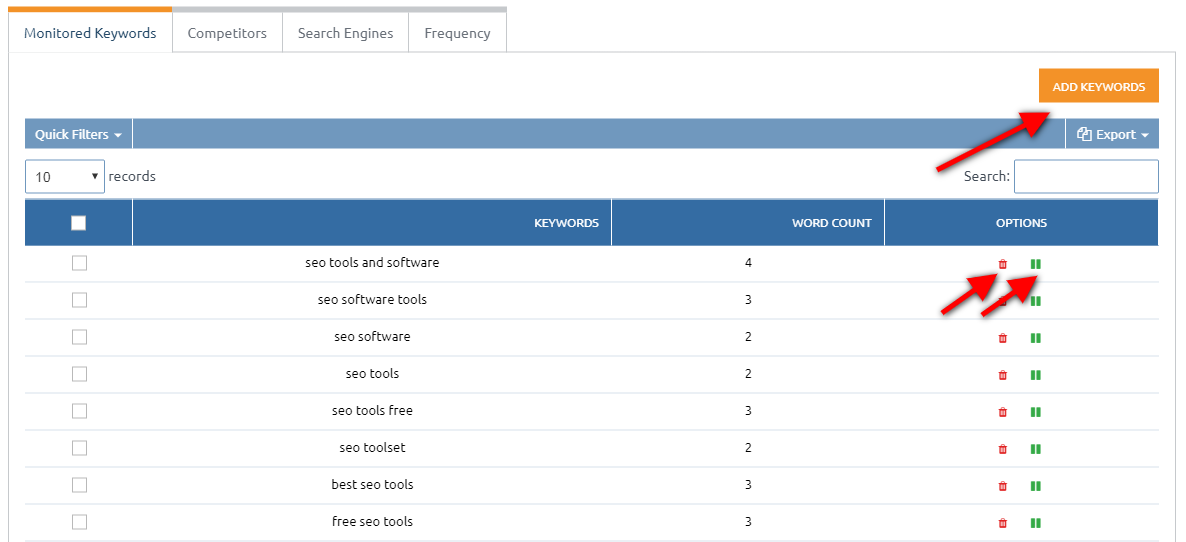 Try Mondovo now
Start your Trial of Mondovo today and keep an eye on your ranking progress.