When tasked with comparing hundreds of websites to uncover which ones are pulling in the most organic traffic, the easiest way to get this data would be to use our Bulk SEO Metrics Tool.
Pulling this data isn't an easy option from the usual suspects of SEMRush, Majestic or even Ahrefs, not to mention the hundreds of smaller SEO tools available in the market.
Our Bulk Metrics Checker provides a natural alternative that's both easy to use and supremely affordable to run.
To demonstrate how we can fetch the organic traffic metrics of multiple website URLs, I've taken a small sample of the top websites online at the moment – 31 to be exact. The tool though allows you to analyze up to 1000 URLs at a time.
Example URLs:
https://www.cbsnews.com
http://www.drudgereport.com/
https://www.tripadvisor.com/
https://www.cnbc.com/
https://www.goodreads.com/
http://www.allrecipes.com/
https://www.reuters.com/
https://www.latimes.com/
https://www.yelp.com/
https://www.kickstarter.com/
https://imgur.com/
https://www.answers.com/
https://photobucket.com/
http://www.lifehacker.com/
https://barackobama.com/
https://www.woot.com
https://www.zazzle.com/
https://www.southwest.com/
http://www.indeed.com/
http://go.com/
https://www.salesforce.com/
http://www.thefreedictionary.com/
https://www.cbssports.com/
https://www.barnesandnoble.com/
https://www.addthis.com/
https://www.att.com/
https://www.bloomberg.com/
https://www.bleacherreport.com/
https://www.pogo.com/
https://www.surveymonkey.com/
http://www.examiner.com/
You can either import these URL's directly to the form or copy and paste them like I did.

Once that's done, scroll down and select these two options along with the location:
Organic Traffic – Domain Metrics
This fetches the estimated traffic the entire domain receives from Google. You can select the country for which you want these metrics, the default option would fetch the organic traffic the site receives globally.
Organic Traffic – Page Metrics
As opposed to the metrics on a domain level, selecting this will additionally get you the organic traffic metrics on a page level. This can be useful, especially so if you have a whole batch of article urls that you want to compare from across a host of your competitors.
Combined, these two metrics will return all the necessary traffic information into a report that looks like this:

You can now easily export the report to CSV or Excel and filter the data to achieve your end objective.
But, let's say you want to take the data a step further and uncover the actual individual organic keywords each URL is ranking for. To do this, just copy each individual URL and run it through the Competitor Keywords tool. 
Once the report is ready, the data should look something like this: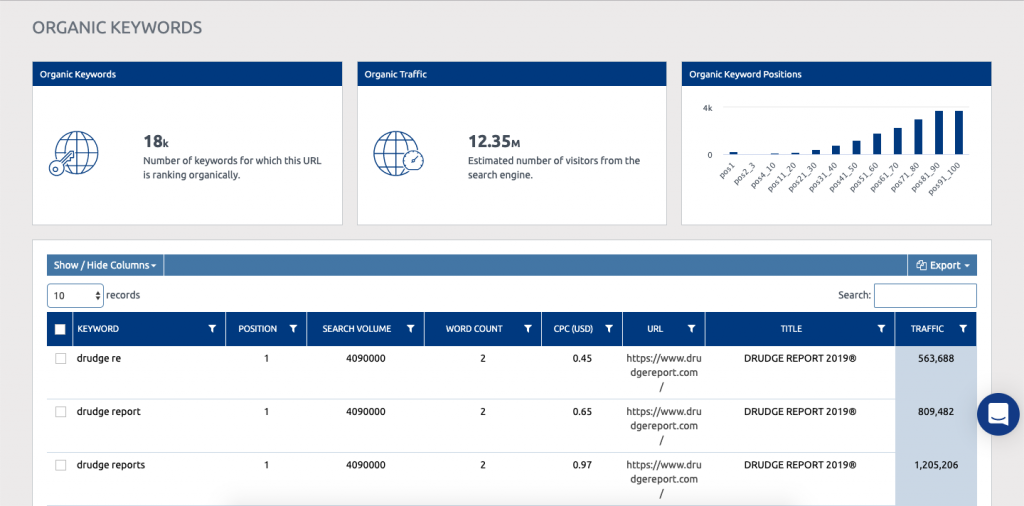 This report again can easily be exported in Excel or CSV format for further analysis.