If you have a single campaign in Mondovo, you can set up an unlimited number of Rank Tracking profiles for the campaign URL.
There are a few reasons why you might want to create multiple profiles even though you're tracking rankings for just a single website. When you set up a Rank Tracking profile, you are bound by the following limitations:
A single profile can only track rankings for a single language
You can track only up to 5 search engine locations under a profile
There can only be one tracking frequency for a single profile, i.e. daily, weekly or monthly
There are quite a few benefits of setting up multiple rank tracking profiles as discussed below –
Your site targets multiple languages and you could then set up an individual tracking profile for each language.
There might be some lesser important keywords that you'd like to track but not on an as-frequent basis, e.g. some keywords your blog is ranking for could be tracked on a monthly basis while the more core product based keywords could be tracked daily; this results in more effective credit utilization and you being able to track a lot more keywords under your existing plan.
Your business could be targeting multiple different locations and it might make more sense to track the rankings individually for each location in a separate profile, e.g. you have a chain of restaurants across 12 cities – under each ranking profile you could track the desktop and mobile versions for a single city and then set up 12 individual profiles for each city.
For some other reason you might want to track rankings for different groups of keywords under their own individual profile, then in such cases, multiple profiles would be useful.
To overcome some or all of these limitations, you get the option to create multiple rank tracking profiles and here's how you do it.
Setting Up a New Rank Tracking Profile
#Step 1.
In the existing Rank Tracker, click on + towards the right side of the screen.

Upon clicking the + icon, you will see – Setup a New Tracker. Click on that.

You will then be presented with a "Setup a New Rank Tracker" screen that involves 7 steps. By default, the setup screen will show the "Campaign URL" entered by you at the time of setting up Mondovo.

In case you need to setup Rank Tracker for a new URL or a different domain, you will need to create a new campaign.
Click on Continue to Proceed

#Step 2. 
Selecting the Appropriate Language
Select the right language from the drop-down options. The language you select here will determine the search engines on which you can track your rankings, in the next step.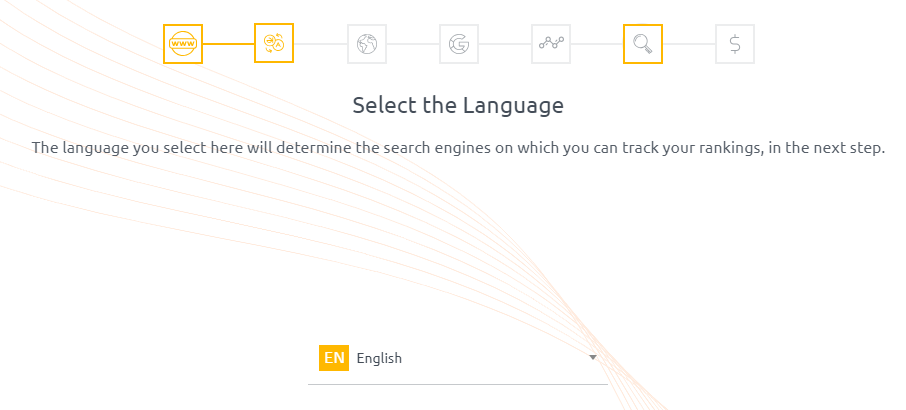 Click on Next or Previous to go to the previous screen.
#Step 3. 
Choose Search Engine Preferences 
You can select up to 5 search engines based on the device type and location.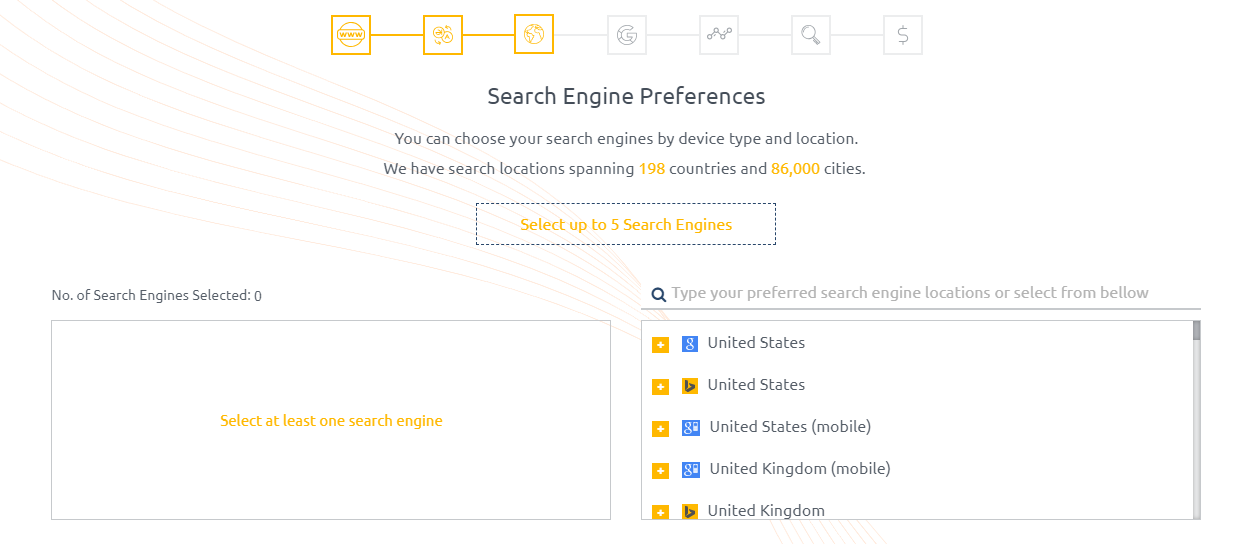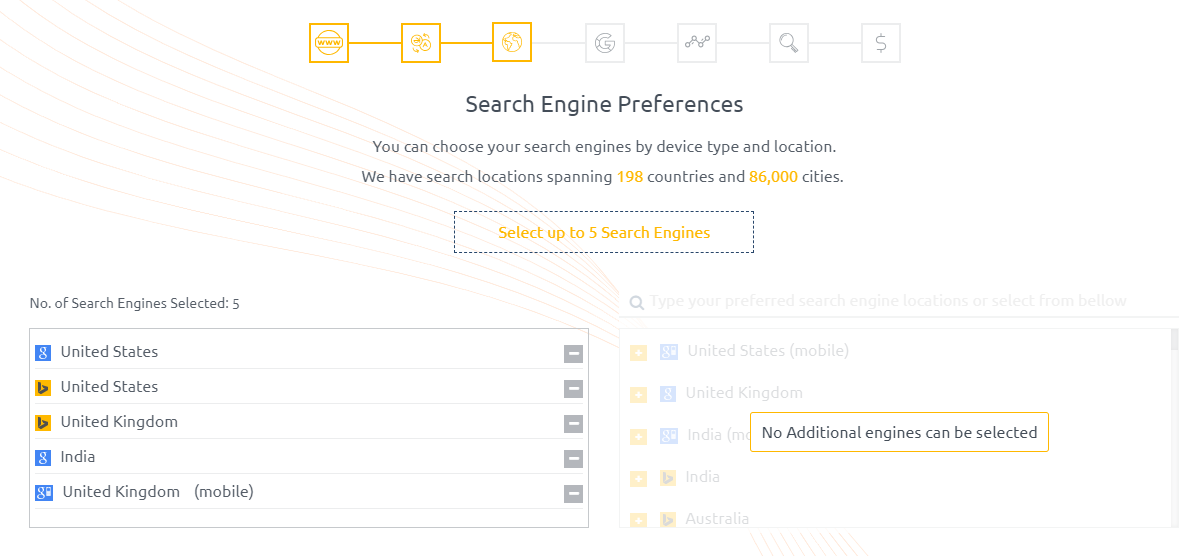 Once you have selected up to 5 search engines, please click on Next or Previous to go to the previous screen. 
#Step 4. 
Authorise Your Google Search Console Account
Though an optional step, authorizing your Google search console account can help you get smarter keyword suggestions.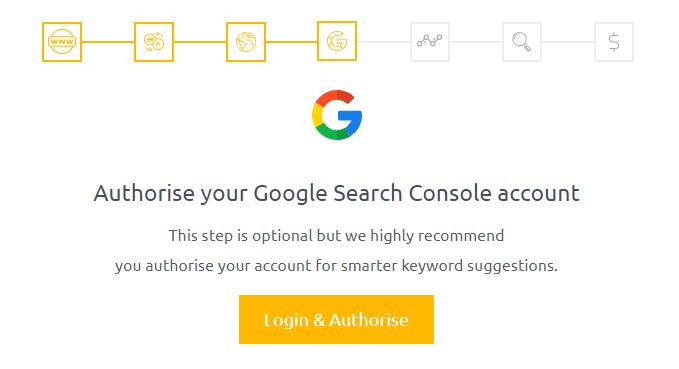 Once the setup is completed, you will see the following –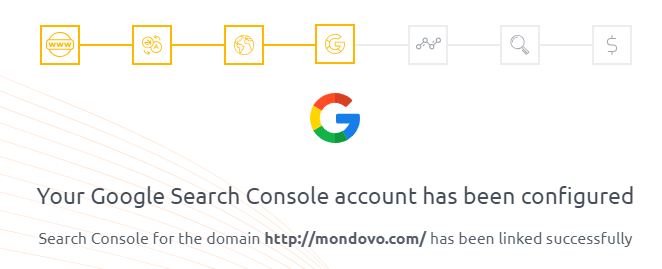 Please click on Next to continue or Previous to go to the previous screen.
#Step 5. 
Choose Competitors
This step allows you to select and choose up to 5 of your closest competitors'. The competitors' can be chosen from the auto-generate competitor suggestion list or you're also free to enter the competitors' that you know of.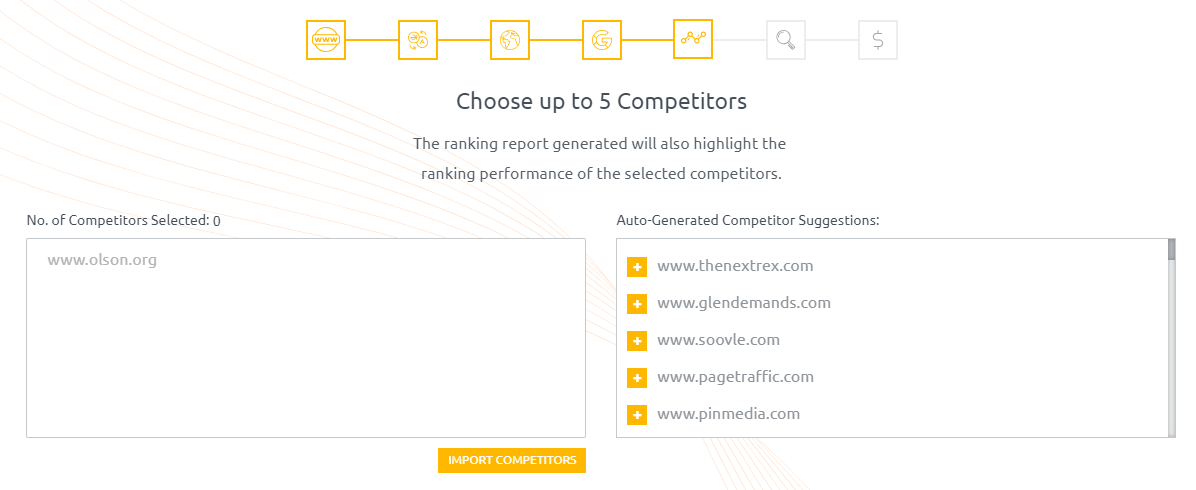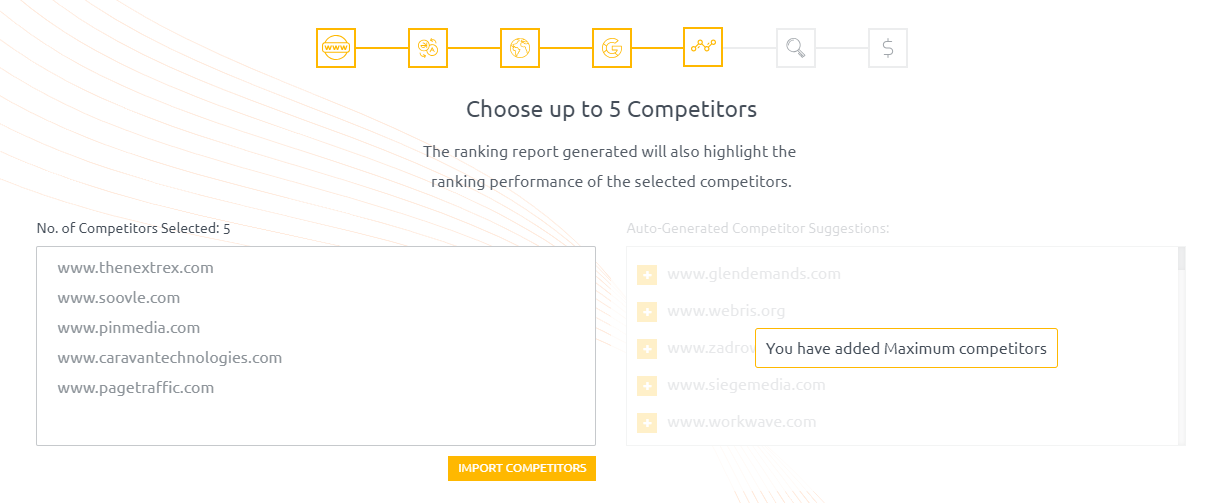 In case you have tagged URLs earlier, you can make use of the "Import Competitors" option to load your competitors' URL. 
This step is necessary as it will help you determine your site's ranking position versus your competitors'. 
Once done, click on Next to continue or Previous to go back to the previous screen.
#Step 6. 
Enter Keywords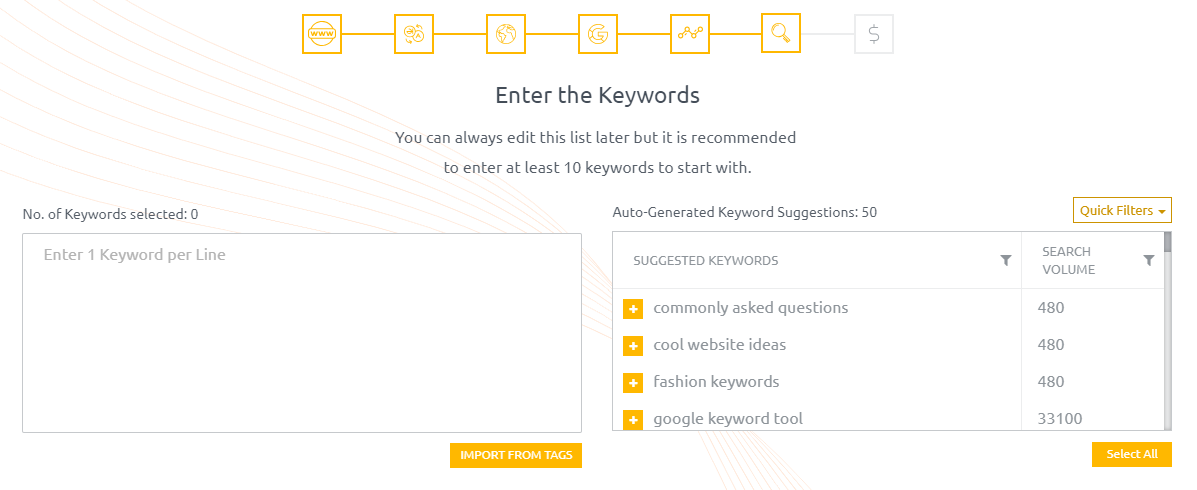 This step allows you to enter the keywords of your choice or select the appropriate ones from the auto-generated keyword list.
In case you have tagged keywords earlier, you are free to import that list as well.
The "Quick Filters" option on the right allows you to filter the terms based on search volume more than 10, 100, and 1000 respectively.
Please note that this is not the final keyword list for which you want to track rankings. The keywords can always be removed or paused and new terms can always be added.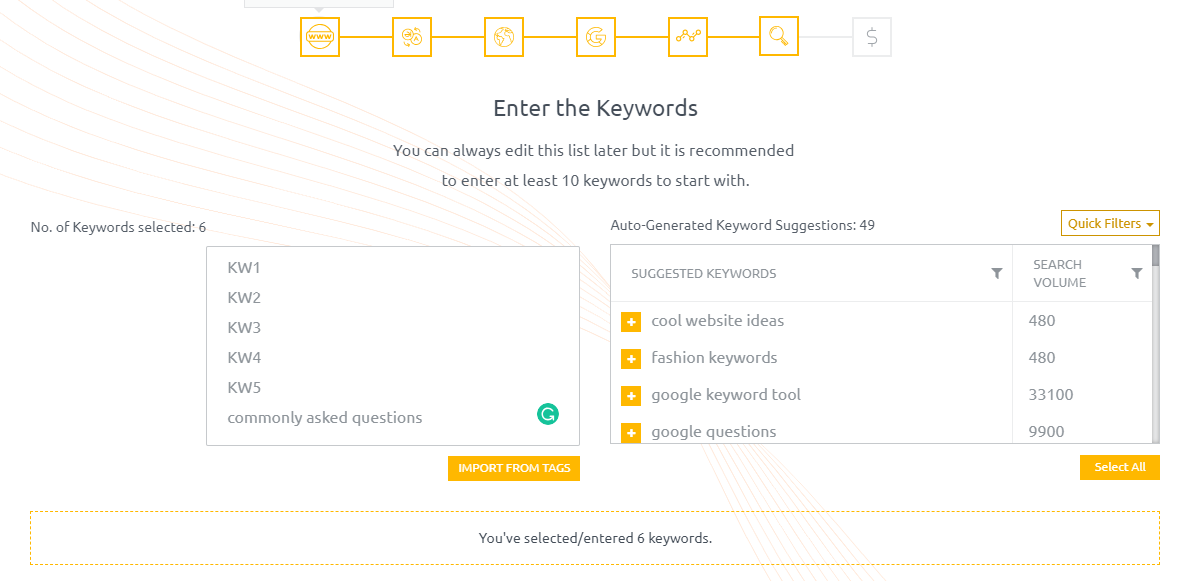 Once the keywords are added, please press Next to continue or Previous to go back to the previous screen.
#Step 7.
Select Tracking Frequency
This allows you to set the right tracking frequency – daily, weekly, and monthly.
Select the one that you feel the most appropriate, choose a name for your rank tracking profile and you're done.
Please note that the tracking frequency can be changed at a later stage.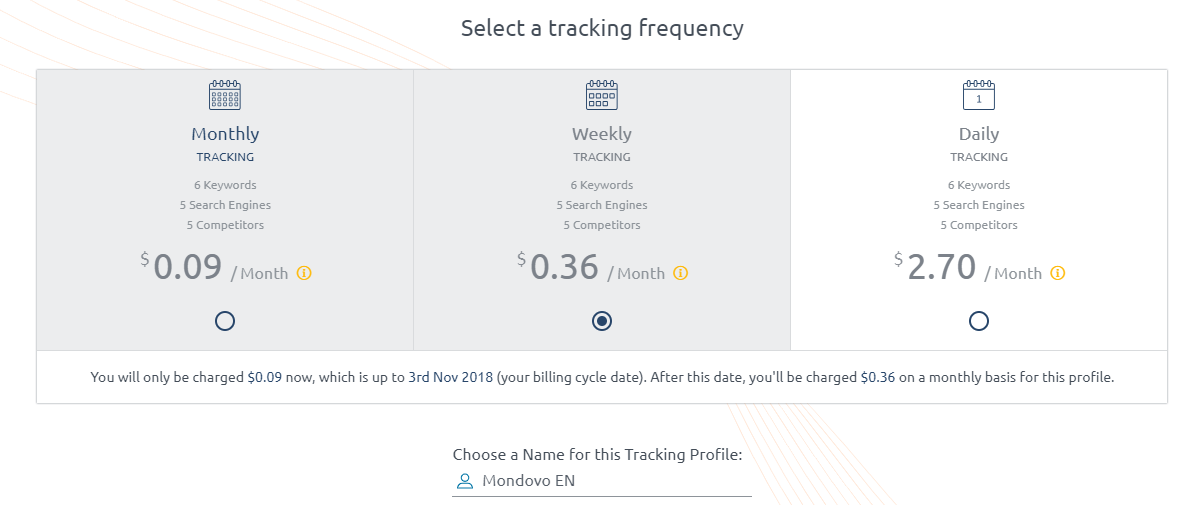 The amount that you see in the table varies based on –
Keywords Entered

Search Engines Selected and

No. of Competitors'
Once done, click on "Run Report" and your rank tracking profile is successfully setup.
Once the report is ready, it looks something like this –

The other options that you see in the right corner include –
Setup a New Rank Tracker

Edit Existing Tracker

Video Overview & FAQ

Export to PDF

Report Filter