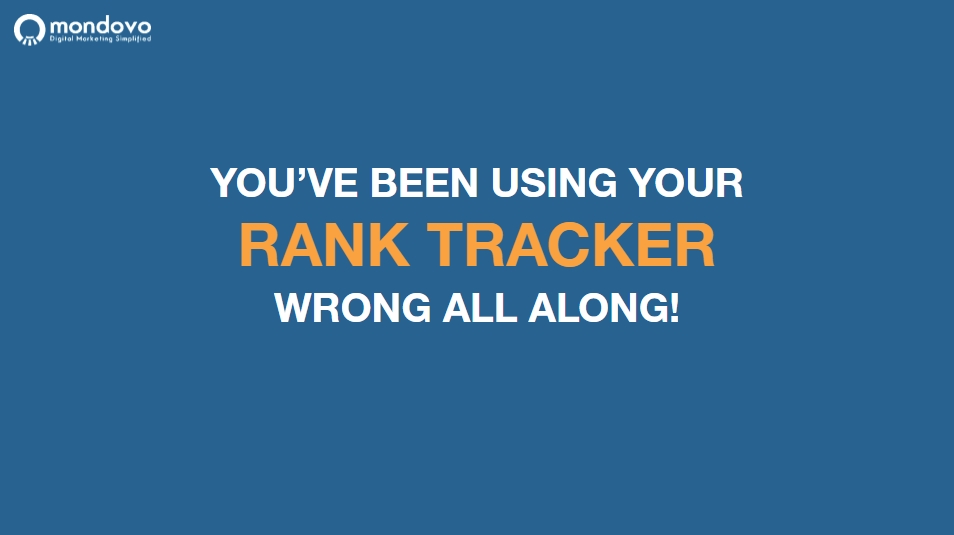 Every other Rank Tracker in the market today just focuses on showing you your rankings for the keywords you enter. That information, while useful, isn't enough on its own to help you improve your rankings.
At Mondovo, you not only get that critical search ranking data you seek but you also get access to a lot more insightful data. Our reports show you trending competitors & advertisers, give you a detailed page-wise performance of your site and presents a lot of other detailed data points that you can use to outrank your competitors.
We've outlined some of these features below. We start with some of the basic features and then move on to cover some of the more advanced things you can do with our Rank Tracker. You'll notice that we go well and beyond what other Rank Trackers do.
Unlimited Tracking Options
Track Unlimited Keywords
Mondovo's Rank Tracker gives you the option to track search engine rankings for an unlimited number of keywords. This means you can monitor and track rankings even for the biggest of websites. As long as you have enough credits, you could potentially track rankings for million keywords or more for a site.
Track across Multiple Languages, Locations & Devices
You can track search rankings in 80 different languages across 190 countries and 35,000 cities. You can accurately track even non-English keywords such as those in Spanish, German, and Arabic.
We give you the option of checking your search rankings on Google Desktop, Google Mobile, and Bing. For Google, you also have the option of checking rankings at the city level.
In a nutshell, you can track your rankings for all the cities, languages and devices that Google serves around the world.
Set Your Own Tracking Frequency
Our Rank Tracker offers 3 different crawl frequency options viz. Daily, Weekly & Monthly. You also have the option of tracking different groups of keywords with varying frequencies using the multiple profiles option in the Rank Tracker.
All You Need to Know in under a Second
See the summary of your keyword ranking performance as soon as you land inside the tool. Sometimes you just want to know how you're doing without looking at all the detailed rankings. We simplify that with a useful summary right at the top, highlighting the following metrics:
Keywords Ranking – shows the number of Keywords that you're ranking for in Top 100
Gains vs. Losses – shows the number of keywords for which you've improved and declined in rankings
Estimated Traffic Flow – this is an extremely useful metric to gauge whether the ranking changes have resulted in an uptick in traffic or not; there may be instances where you improve in rankings for just 1 keyword and decline for 10 keywords but the 1 keyword improvement could be for a primary term that leads to a massive traffic increase – learn more about traffic flow here
Average Rank – a nice metric to evaluate your average ranking position for all the keywords where you're in the Top 100

How you fare vs your Competitors
Gain insight into how you and your competitors fare for the same keywords
The Competitive Ranking Summary graph gives you the following insight:
Total Ranking Keywords – For how many keywords do you and your competitors rank in the Top 100.
Keywords in the 1-10, 11-20 and 21-100 Positions: For how many keywords do you and your competitors rank in the Top 10, 11-20 and 21-100 positions. This can be an extremely useful benchmark.

Compare the search traffic you receive as against your competitors
For the keywords being tracked, you can view and compare your site's estimated traffic flow with that of your competitors' sites. The Rank Tracker also gives insight into your average CTR and Rank and those of your competitors.
Keep tabs of historical performance
The historical performance chart shows you a detailed break-down comparison of how you've fared vs your competitors as against multiple benchmarks.

Assess the popularity of your chosen keywords
Mondovo's Rank Tracker gives you insight into the search volume and the cost-per-click (CPC) data. Thereby, you can determine a keyword's popularity as well as its competition.
Know where you and your competitors rank for individual keywords
In a side-by-side display, our Rank Tracker shows the position you and your competitors rank in for a particular keyword. It reveals the keywords for which you are doing better than one or more of your competitors, and more importantly, keywords for which your competitors are ranking but not you.
Illustration – Screenshot 1: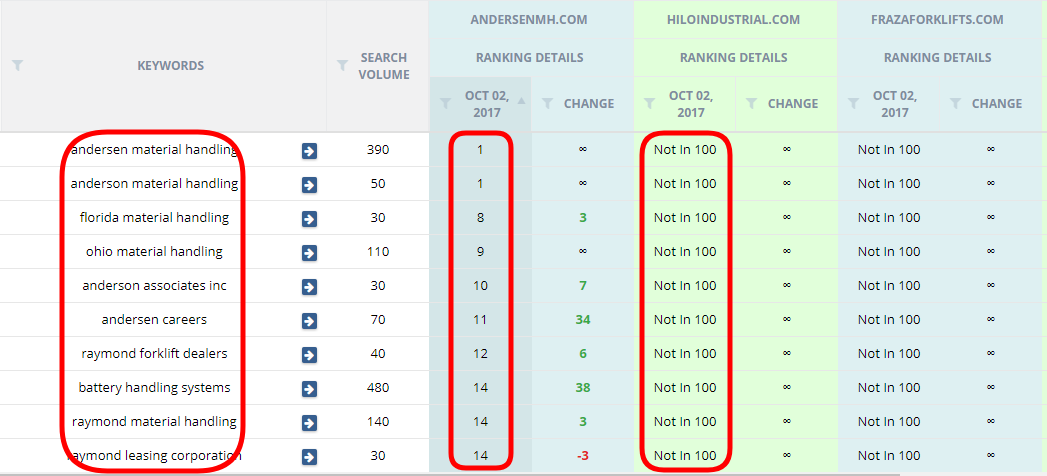 Illustration – Screenshot 2: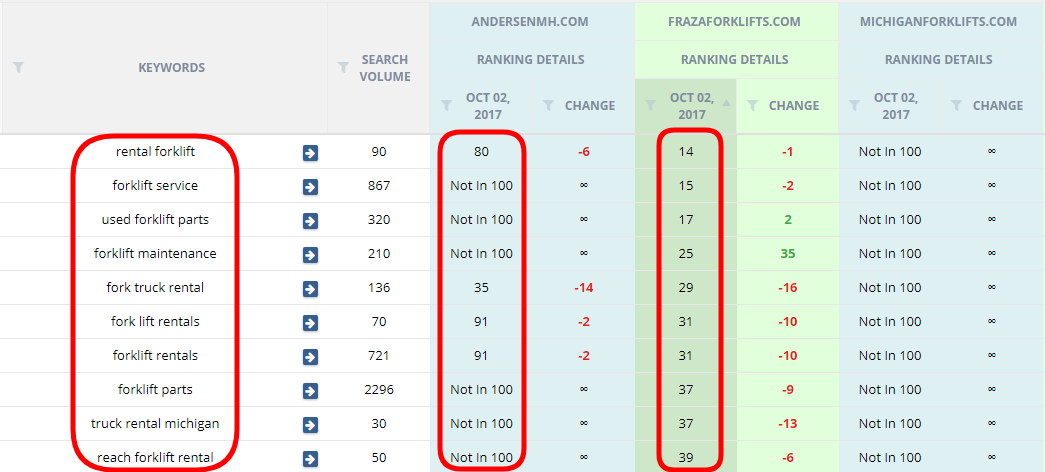 These are the sort of metrics and insights that let an SEO professional reimagine his/her SEO strategy and focus on ranking for keywords that truly matter.
Track the best ranking pages
Sometimes knowing your competitors' best ranking pages can give you ideas on what kind of pages you should create for your website.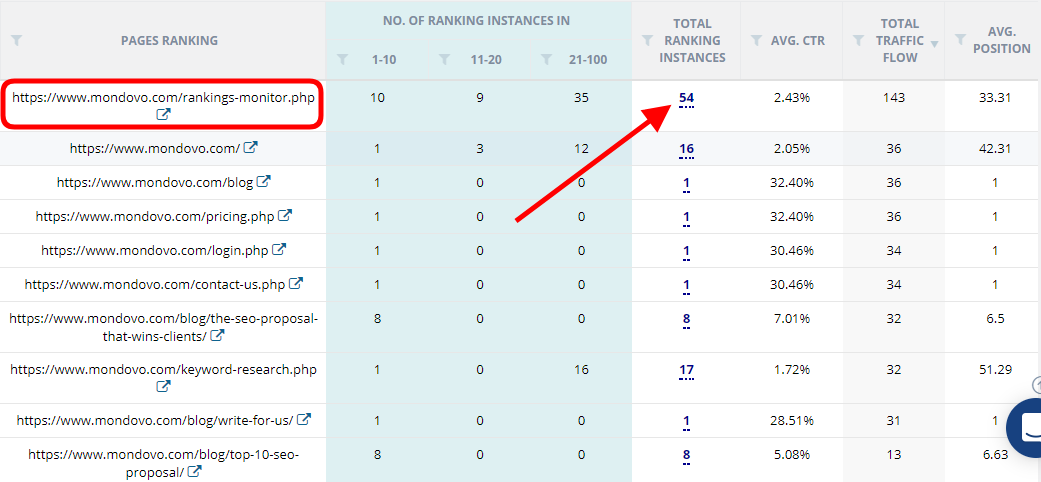 Find the competitors that are dominating the search landscape
This section is super insightful! We show you the top domains that dominate the search space for all the keywords you're tracking. This can be very useful to identify your true organic competitors and help you determine the sites you should be analyzing further.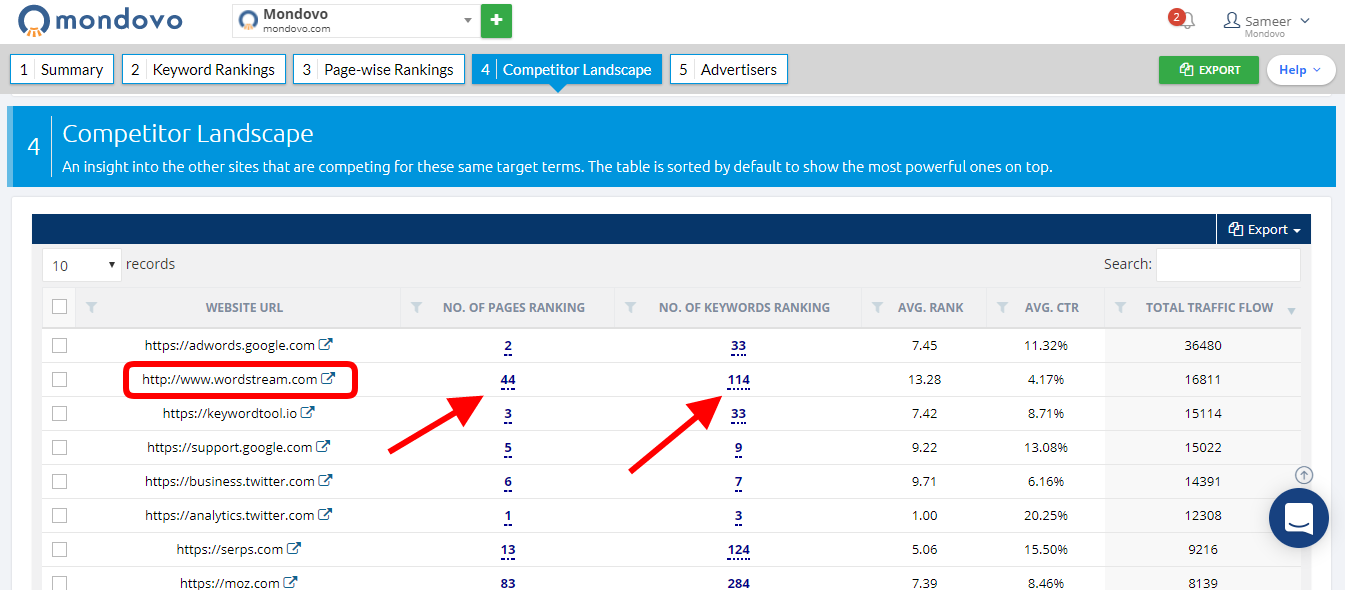 Slice & Dice the Search Data
Identify the types of results that show up for your target keywords
In addition to your regular keyword rankings, Mondovo displays the type of search results available for each of your tracked keywords — Regular Ads, Shopping Ads, Images, Videos, News, Local Results, and even Answer Box. Access this feature by clicking on the "Show/Hide Columns" on top of the table.

Compare Rankings Across Dates
Our Rank Tracker gives you the option to select a prior date and see how your keyword rankings have varied since then to the last crawled date. The image below displays the search rankings variation over the past 30 days (Sep 03, 2017–Oct 02, 2017).


View the Top 100 ranking URLs for a keyword
For any chosen keyword, you can view the Top 100 ranking URLs and download the entire list in either CSV or in Excel format. Click on the blue arrow next to each keyword to view this section.
The below screenshot shows the list of URLs which rank for the keyword 'Mondovo'.
Get a snapshot view of the actual ranking results
Mondovo's Rank Tracker also gives you a snapshot of how the search results look in your search engine. This is captured when Mondovo's crawlers fetch the ranking data from the search engines.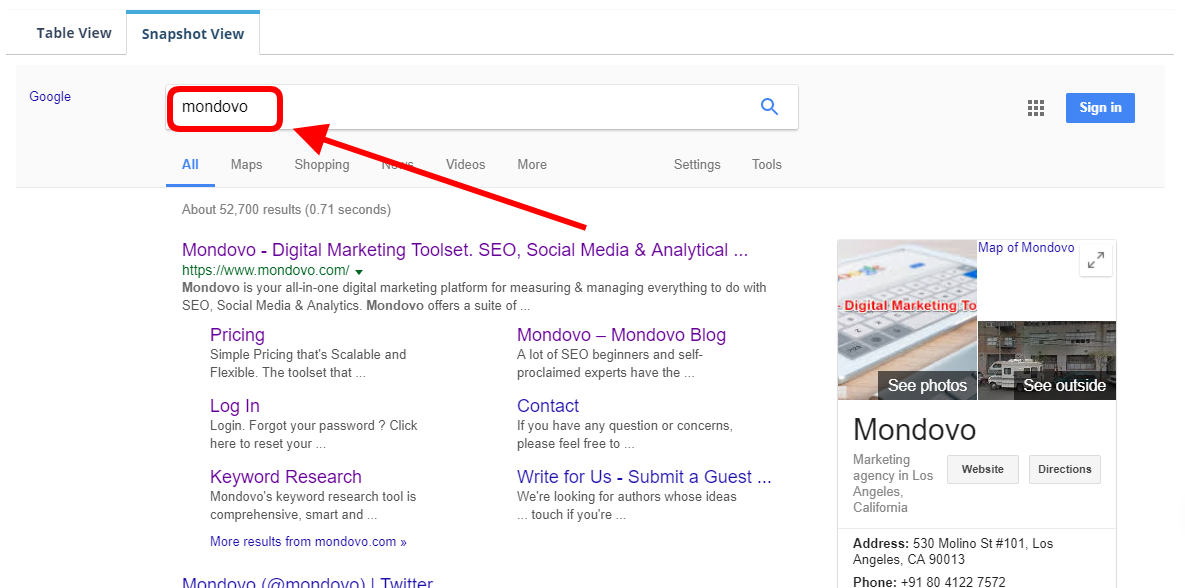 Analyze the keywords used in the URLs, titles & descriptions of the Top 100

We analyze the URLs, titles and descriptions of the Top 100 results and find the common words used. This could be useful in helping you determine the best words to use in your url, title and meta description and also your body.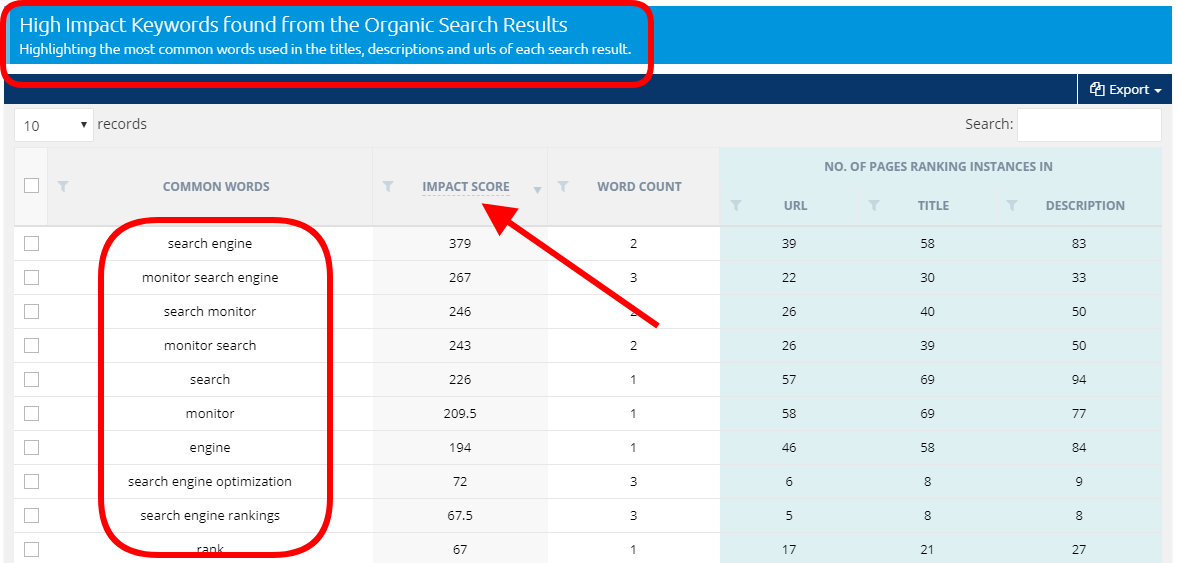 Analyze how particular keyword sets are doing
Let's say you are a food blogger and you have different keyword segments for different types of food, e.g. pizzas and pastas. With the Rank Tracker, you could use the "Report Filters" to filter the entire report to show how your "pizza" keywords are faring. This feature can be extremely useful in understanding which segments may need more work.
The entire report is filtered for the segment you select. So this allows you to see the top competitors dominating this segment under the "Competitors Landscape" + you can also see the advertisers buying up ad space for this segment.

Compare your performance across multiple search engines and locations
With Mondovo's Rank Tracker, you can view and compare your keyword ranking performance across different search engines or the same search engine in different geographical areas, in a side-by-side consolidated report.


Get a Peek into the Advertisers
Besides providing information and data about the organic results, Mondovo gives you an insight into the sites advertising for these keywords.
Discover the top spenders
Know who is spending the most on the keywords you target.

Get the list of all Ad URLs & Ad Copies
Dive deep into seeing the ad copies they're using along with their landing pages. This can be very useful and super insightful!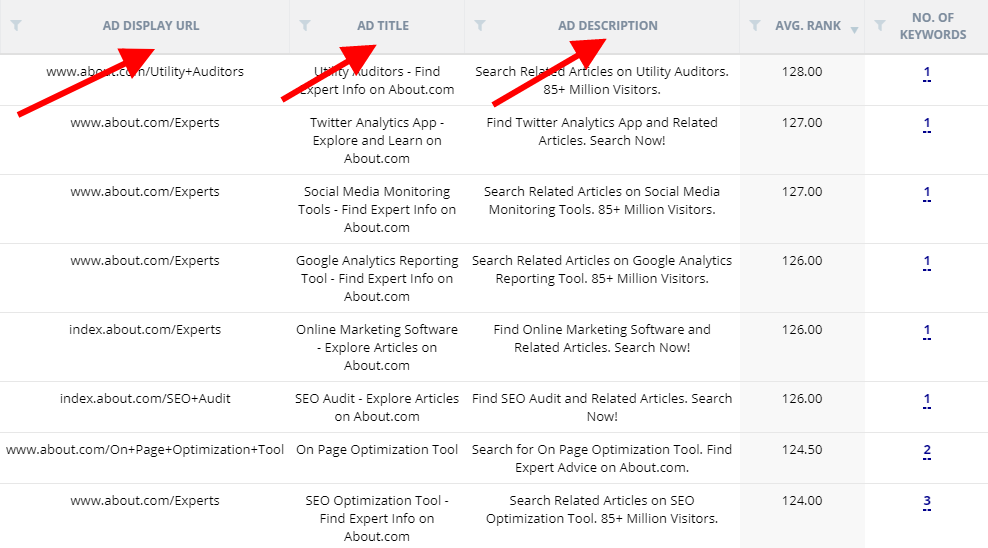 White Labelled Excel & PDF Reports
Last but not the least, Mondovo offers you extensive reporting options. You can export your ranking reports from Mondovo in PDF, Excel & CSV formats. The reports can also include your logo if you've opted for a plan that allows white-labelling.