Dissecting keyword rankings is a great way to uncover how your competitors pull Search traffic to their website. Most often, it's because of reasonable organic SEO efforts, quality backlinks and even ads.
Sometimes though, it's because of a well-known but little used strategy that is often overlooked; Keyword Optimization of Local Listings. We've been tracking this tactic off late, and we're always surprised at just how effective it is. Let's dive deeper into the specifics through a live example.
A Real-Estate client of ours was about to launch a new project and was going up against well-established competitors, both online and offline. One of those competitors though was far smarter at SEO than we thought.

As you can see, the last website on the right has fewer keywords ranking than most of the others (barring the one on the extreme left). Everything seems ordinary until I plug in the traffic figures.

Obviously, we just had to figure out how this guy was pulling in more significant traffic numbers with fewer terms and no ads, and fortunately, the Rank Tracker in Mondovo allowed us to do just that.
Step 1: Filtering the Data
From the 'Show/Hide Competitors' filter, uncheck all the others except the competitor that we want to analyze. This is a simple step, but we've found analyzing large data sets tends to be easier when you're focused on just one set at a time.
Next, we need to see the Traffic Flow, the Difficulty and the type of Results that appear for each keyword and these are the factors we're the most interested in. What kind of traffic are these terms pulling in individually, how hard are they to rank for and most importantly, what kind of ranking does the competitor have for each term – local, organic, video, image and so on.
To do this, click on the 'Show/Hide Columns' filter and check the boxes I've just outlined above. Lastly, you'll want to arrange the Traffic Flow data in descending order for easier analysis.
If done correctly, your flow should look something like this:
Step 2: Data Analysis
From the report, it's easy to see that the competitor is ranking very highly for Local Search Results, and these rankings are what is driving high traffic numbers to his website. The other sites, by contrast, aren't ranking well for anything locally.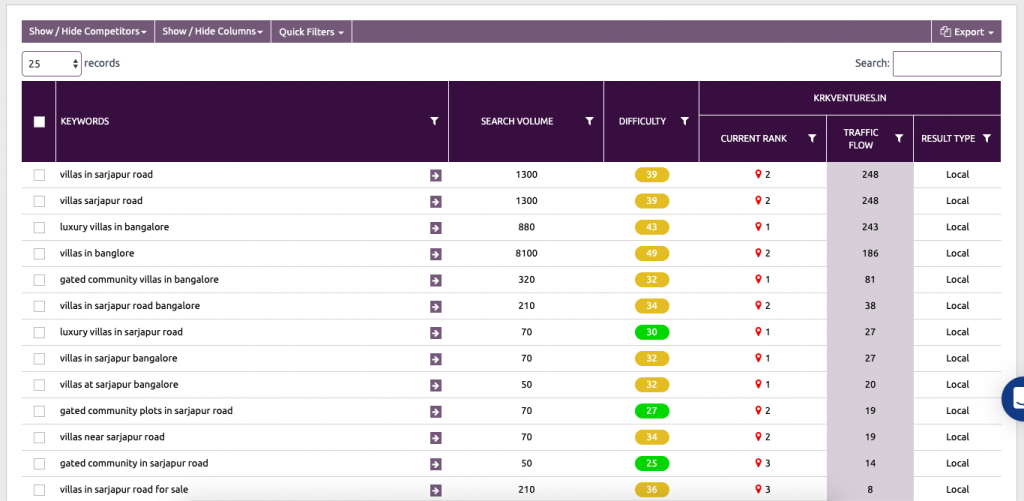 If we dig further to see just what is in his local listings to make them rank so well, we can see that every listing has the target term used in the Title. This tactic ensures that anyone typing the term in Google will automatically see their website in the Local Listing results.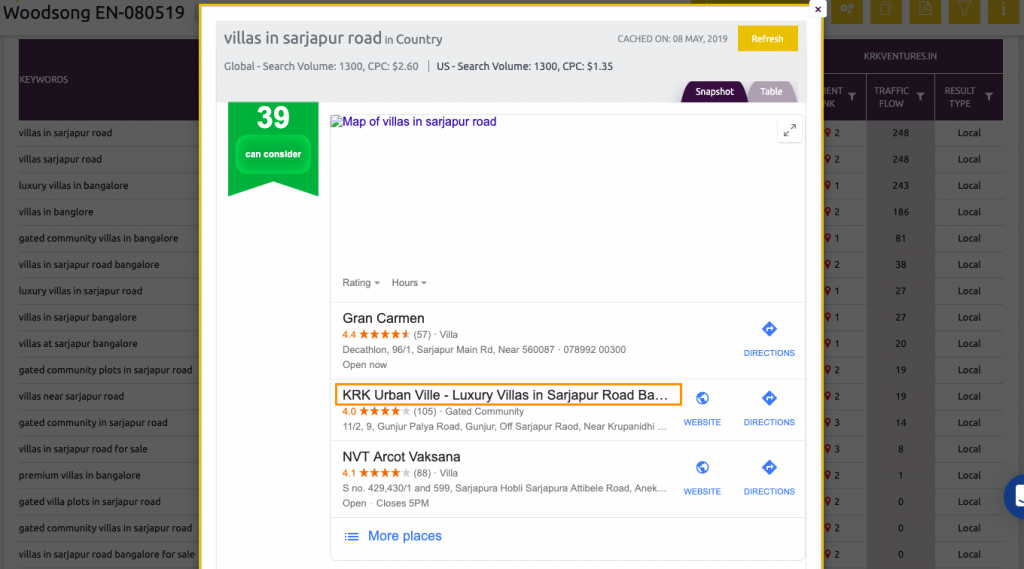 To summarize, never underestimate the potential of anything Google offers as part of Search. Even something has mundane as Local Listings can have a truly positive effect if managed correctly.
Lastly, this tactic also underscores the importance of constantly monitoring your competitor landscape using a Rank Tracker like the one in Mondovo. It helps you spot opportunities to bypass your competitors without having to resort to the traditional route for organic rankings or Ad Spends.