Whether you know it or not, there are GAPS in your SEO strategy. These Gaps are nothing but the terms that you are not ranking for in the Top 10 Search Results. And although this might seem harsh, in reality, if you're not ranking for key terms on Page 1, you might as well be offline.
This article demonstrates how you can plug the holes and Fill in The Gaps in your SEO strategy using Mondovo.
Now finding the right terms to focus on can be difficult. Most often, you have to wade through mountains of keyword data and even then, which terms do you choose?
Luckily, in Mondovo, we've two tools — Keyword Gap Analysis and Competitor Keywords — that can help you in the process.

The Keyword Gap Analysis tool helps you find the terms your competitors are ranking for and you're not. And the Competitor Keywords tool uncovers the terms that your competitor is using to rank. These two tools make the task of Filling in the Gaps less of a chore by helping you filter and present the data in a way that patterns become easily visible.
Let's dive into this with an example. Say Booking.com is trying to find key terms to outrank Expedia.com. Giant domains like these have hundreds, if not thousands, of pages and keywords to analyze. In most instances, however, smaller websites have smaller data sets.
Anyway, let's begin.
We start by running a Keyword Gap Analysis report to compare both websites. The Keyword Gap analysis tool is one of Mondovo's coolest & most popular applications, because It shows you the keywords which your competitors are ranking for but you're not.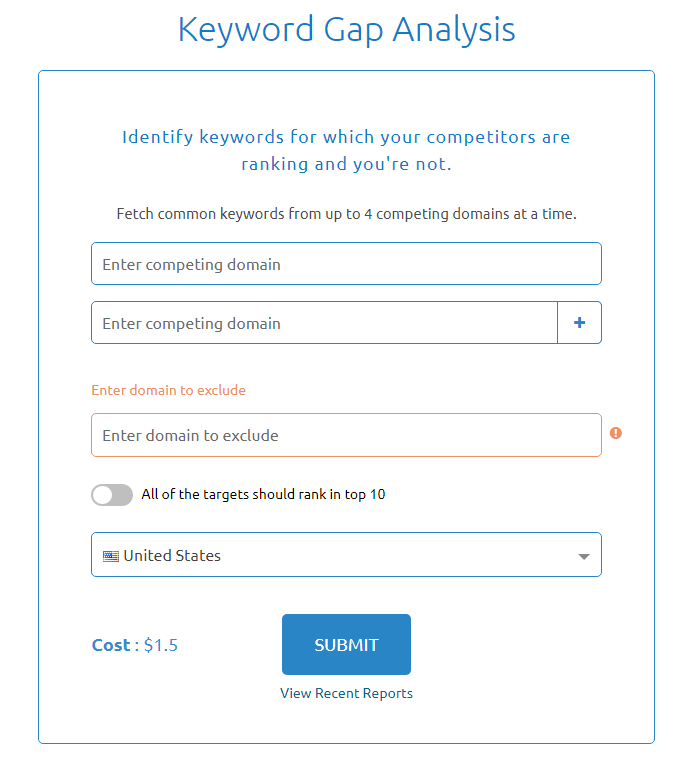 Now when setting up the report, we'll enter Expedia.com in the "competing domain" section here. If you're feeling brave or want more data, you can enter up to 4 domains. But in this instance, we'll just stick to one. We'll then go ahead and enter Booking.com in the "exclude" section. This excludes the keyword ranking data of Booking.com from the report, which I'll show you in a while. We'll stick to the Google United States as the location. Now let's go ahead and run the report.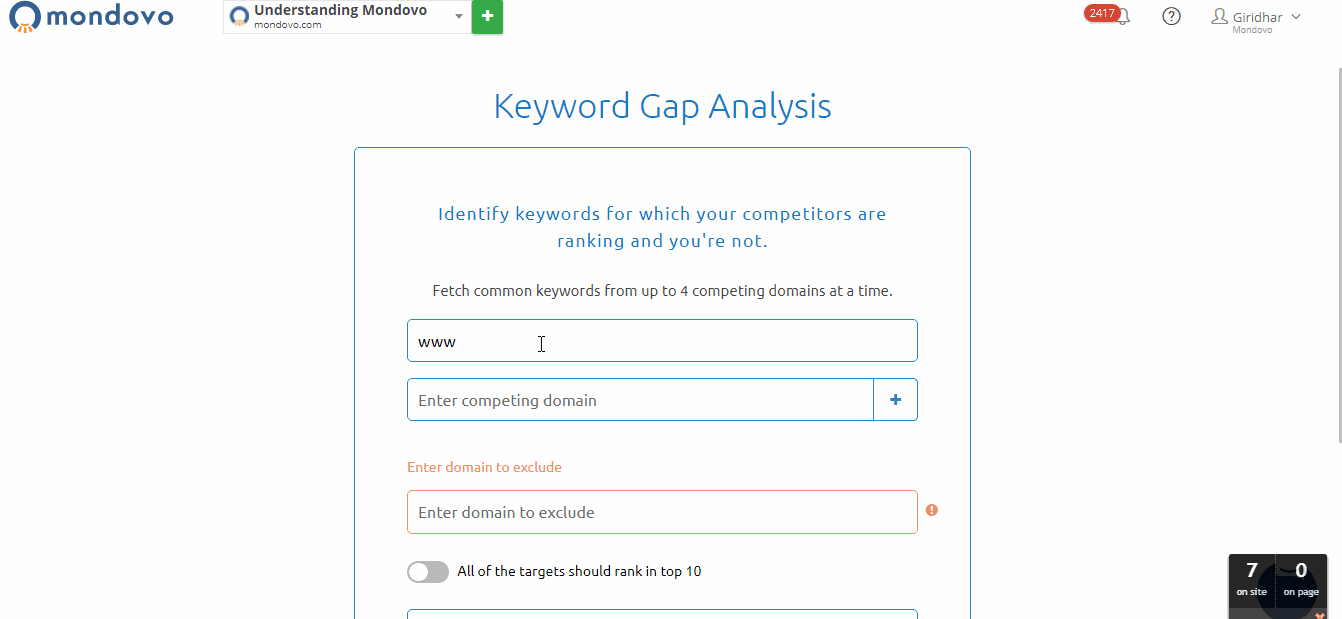 As I mentioned earlier, big domains like these come with large data sets that are difficult to analyze. As we can see here, the data is showing us keywords that Expedia is ranking for and which Booking.com can consider as new keyword opportunities.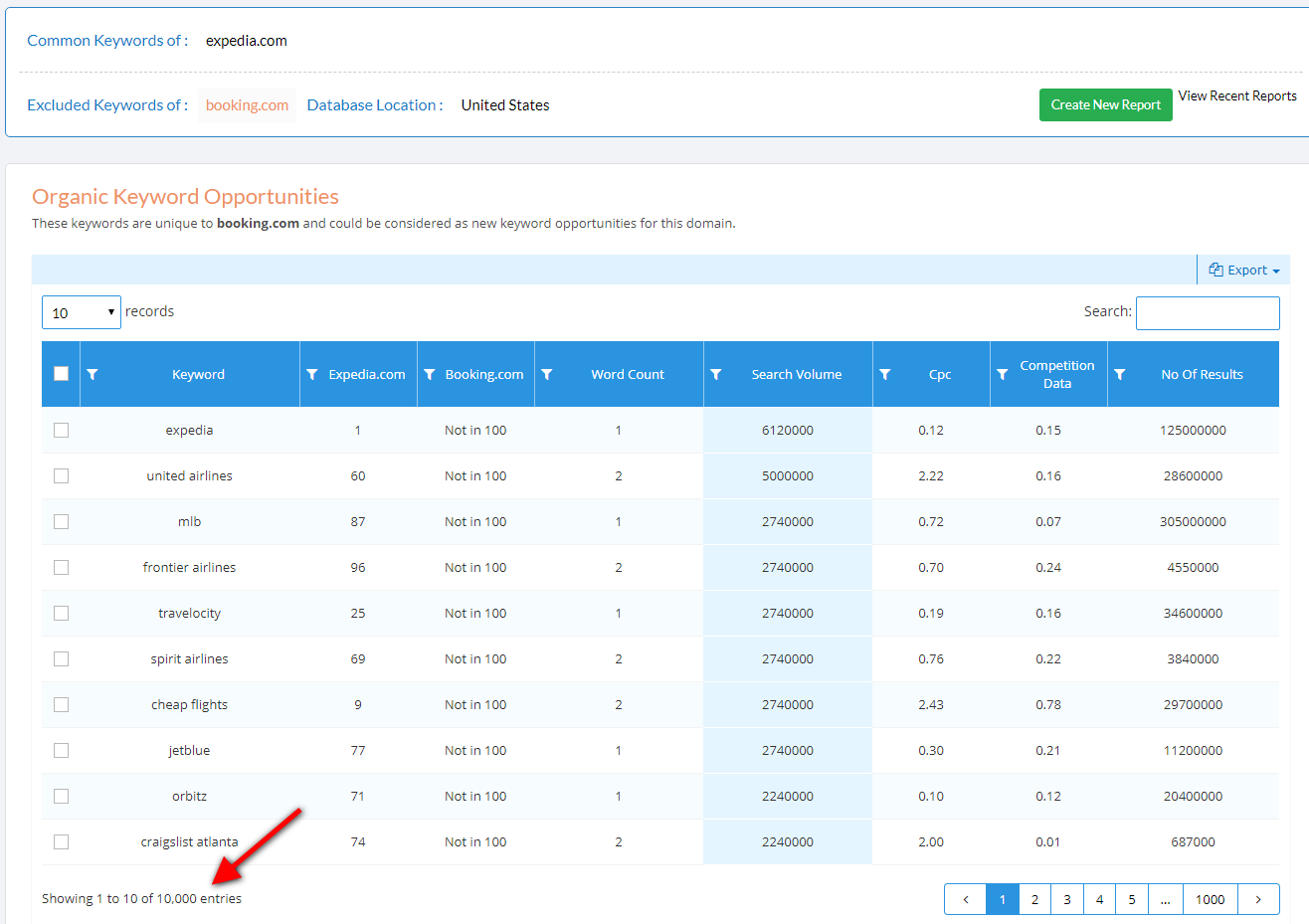 Given that there are more than 10,000 results, it's going to take forever to filter through. But there's hack that can save us a lot of time. For this hack, we have to run the report again, but this time select the option of only seeing the Expedia terms that are ranking in the top 10 positions.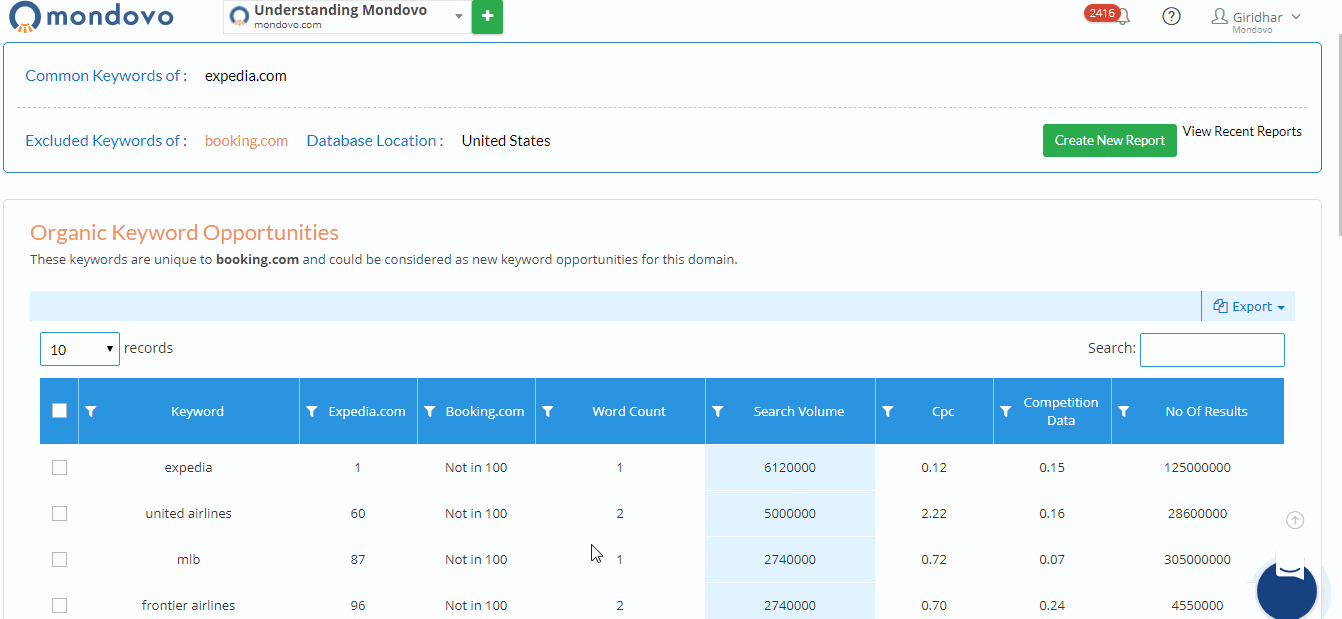 Granted, the report is no less small this time around. But at least we know that we're looking at Expedia's main terms right off the bat. Using the filters on the table, let's start refining the data and see if anything jumps out at us.
I don't want the data to include certain terms, so I'm going to add them to the exclude list. The UI is really intuitive so all I have to do is highlight and click on the exclude (Red negative) sign.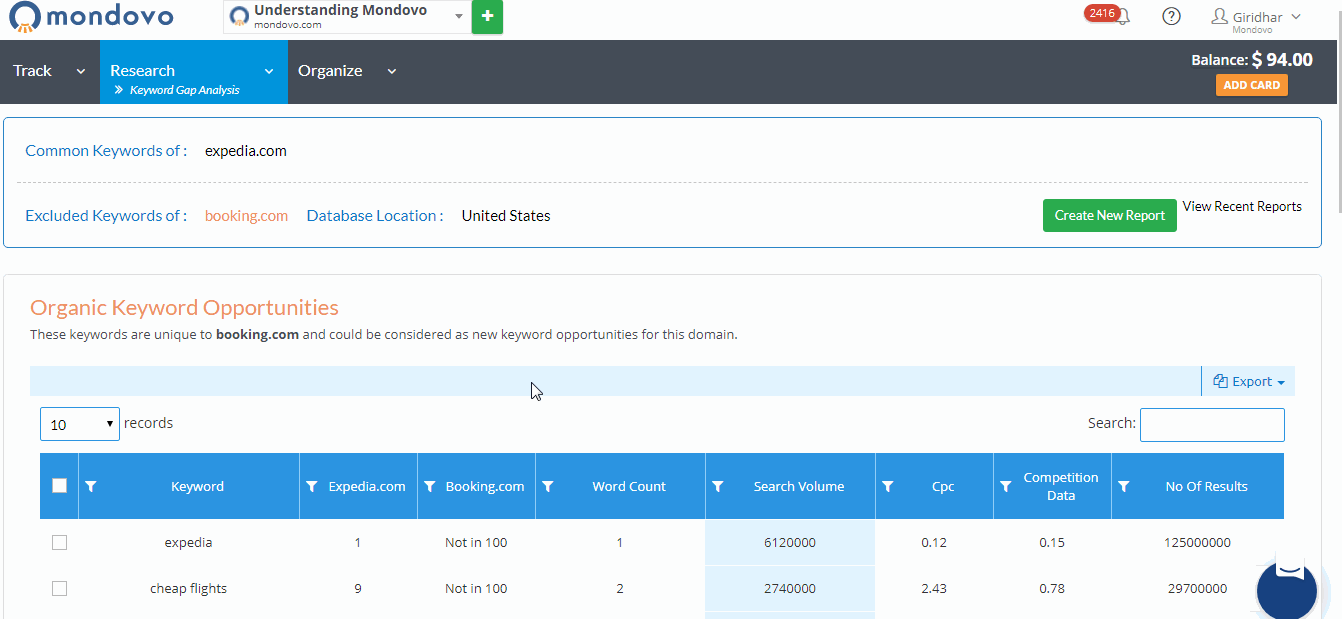 Further, I'm only going with the terms that have a word count greater than 1. After applying, we can see that these two filters have cut the overall report size by nearly half.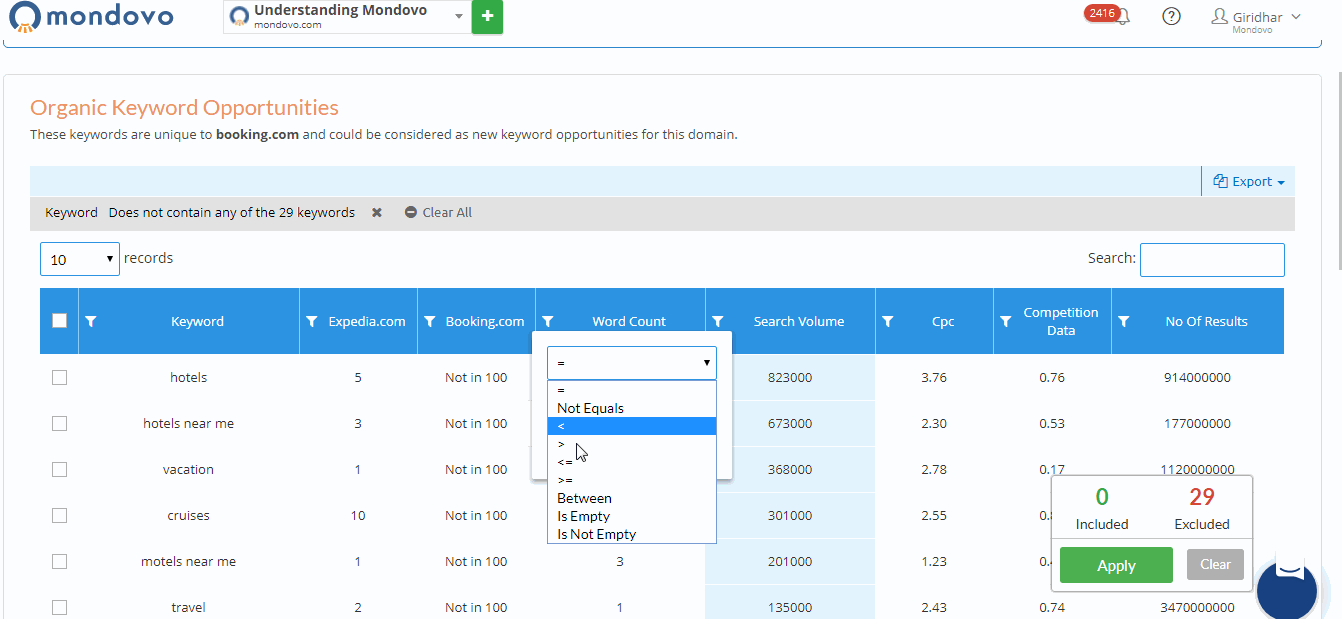 As I'm going through the data, I notice that a couple of opportunities relating to 'Last Minute Travel' — I'm sure you can find plenty more opportunities on your own.

Let's go ahead and do a quick filter for the terms that contain the words 'Last Minute'. Now what I'm left with are 25 opportunities that Booking.com can optimize for.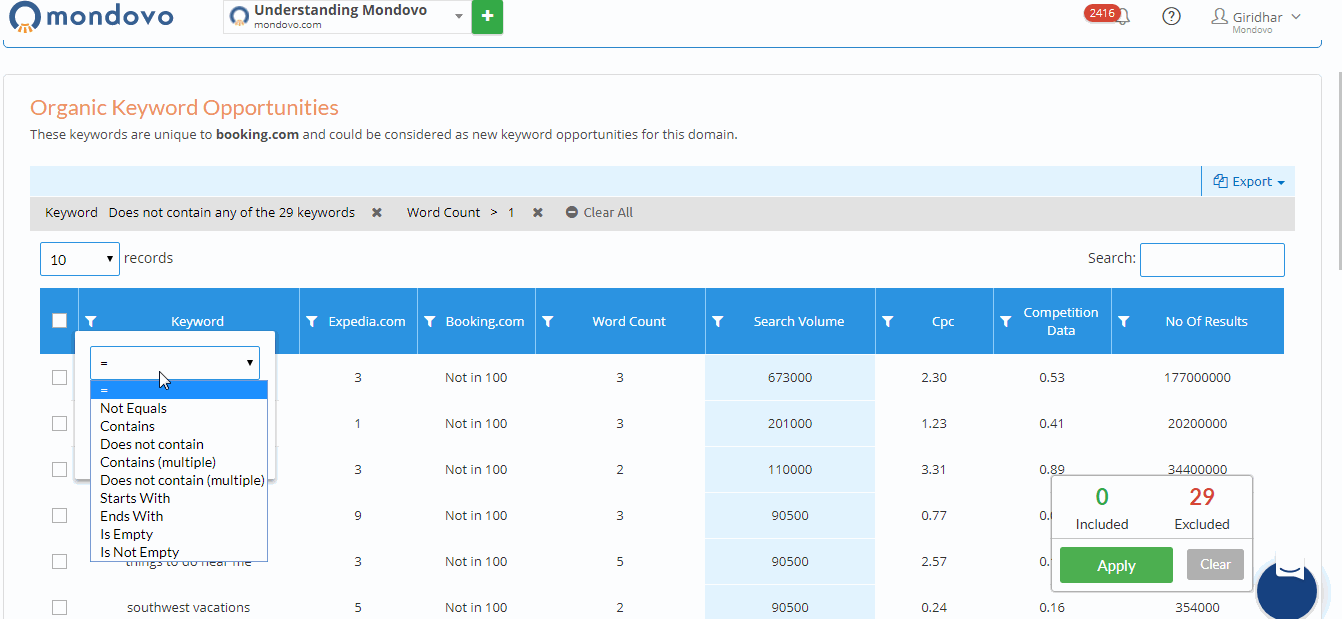 Looking through the list again, interestingly I find that Booking.com isn't ranking for any Disney related terms like Expedia is. Check this out: If I filter the table to show me the terms that contain the word "Disney", there are 199 terms that Booking.com is missing out on. The search volume of each of these terms is high, and so the potential for lost site traffic is enormous.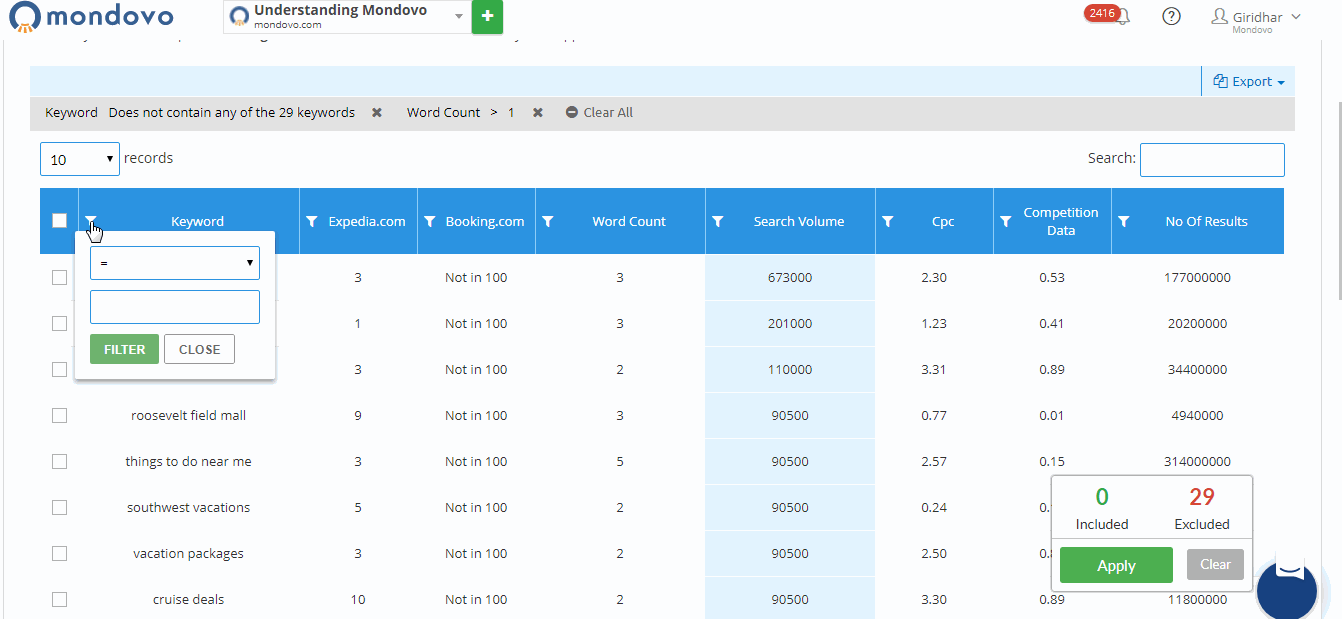 Sticking to the "term Disney", let's see which pages of Expedia are ranking highest for Disney keywords. To do this, let's tag these 50 terms as an example, and import them into the On-Demand Rank Checker. After running the report, let's navigate directly to the Page-Wise Rankings section to see which page is ranking the highest for the Disney Terms.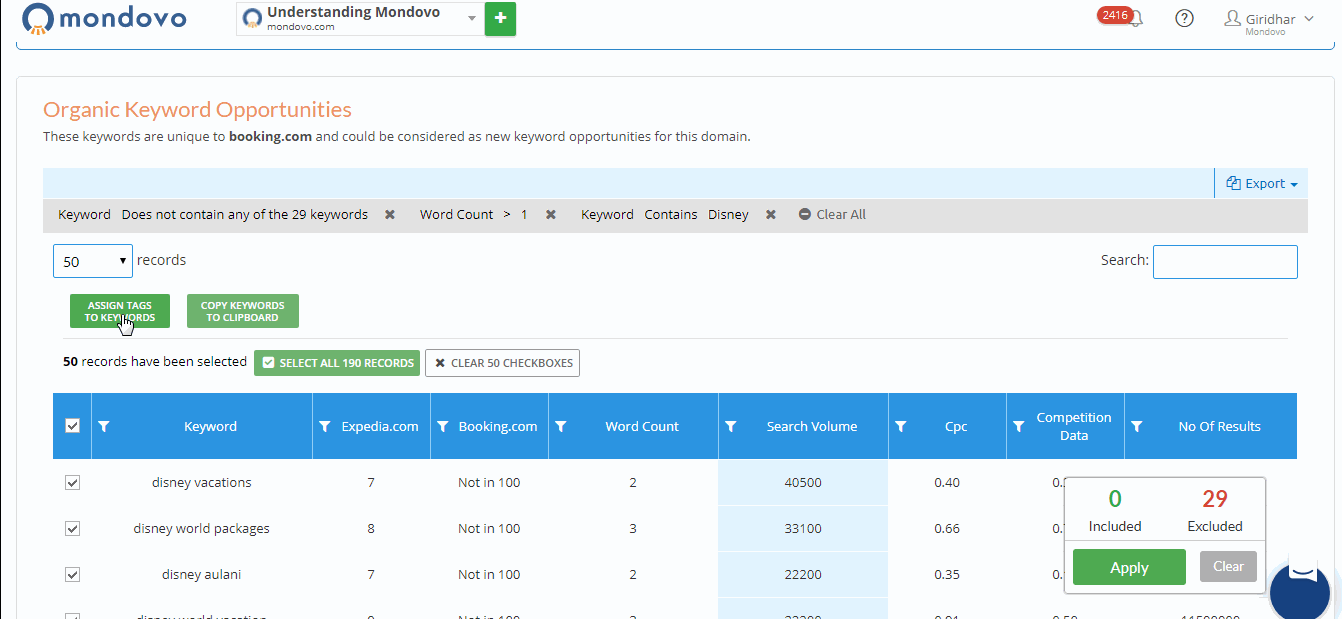 Digging a little deeper, we can see that for this page, only a few terms are ranking out of the 50 that we ran the report with.

But what if I want to see the complete set of terms this page is ranking for? To do this, we open up the Competitor Keywords Tool and run a report on this exact page.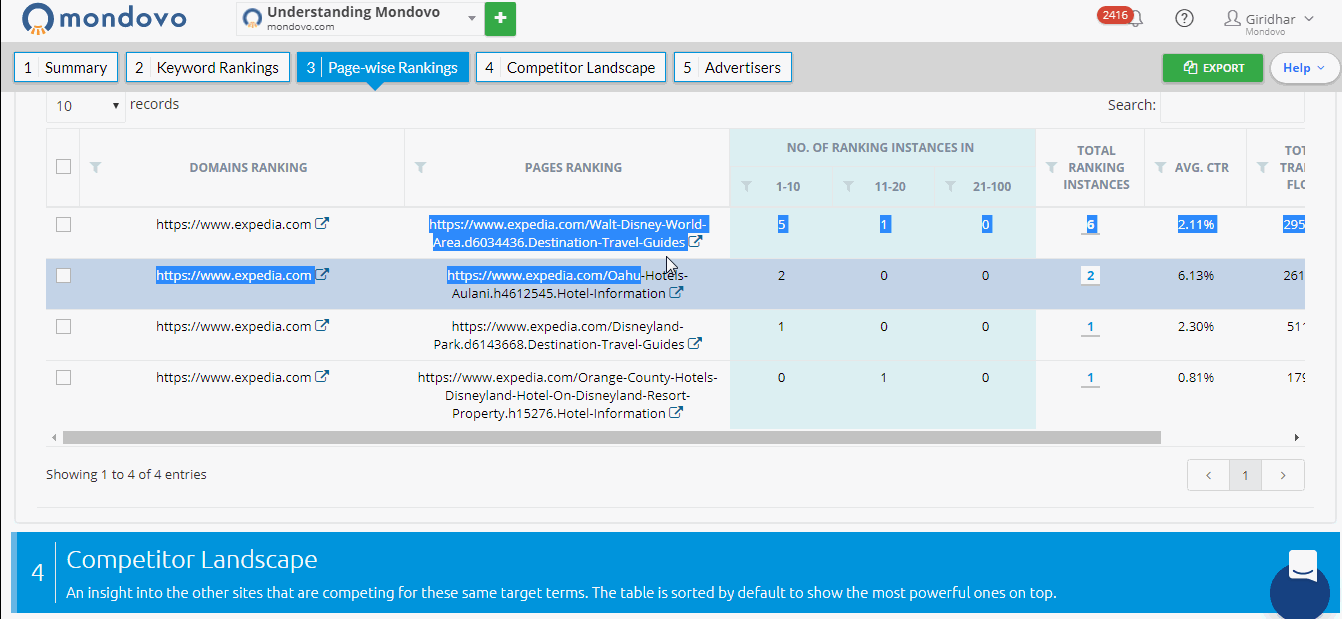 As we can see, the page is ranking for over 2000 keywords and pulling in a fair amount of organic traffic. Using the same filter techniques I had used earlier, we can go ahead and shortlist more terms, which we can then use to optimize certain specific pages of Booking.com.
Other Ways You Can Use Keyword Gap Analysis & Competitor Keywords
Before winding up this article, let me quickly show you how you can find more keyword opportunities using the tools — Keyword Gap Analysis and Competitor Keywords.
In the Keyword Gap Analysis tool, if you enter Expedia.com and Booking.com in the competing domain section and leave the exclude section blank, the report will show you the common terms that both domains are ranking for.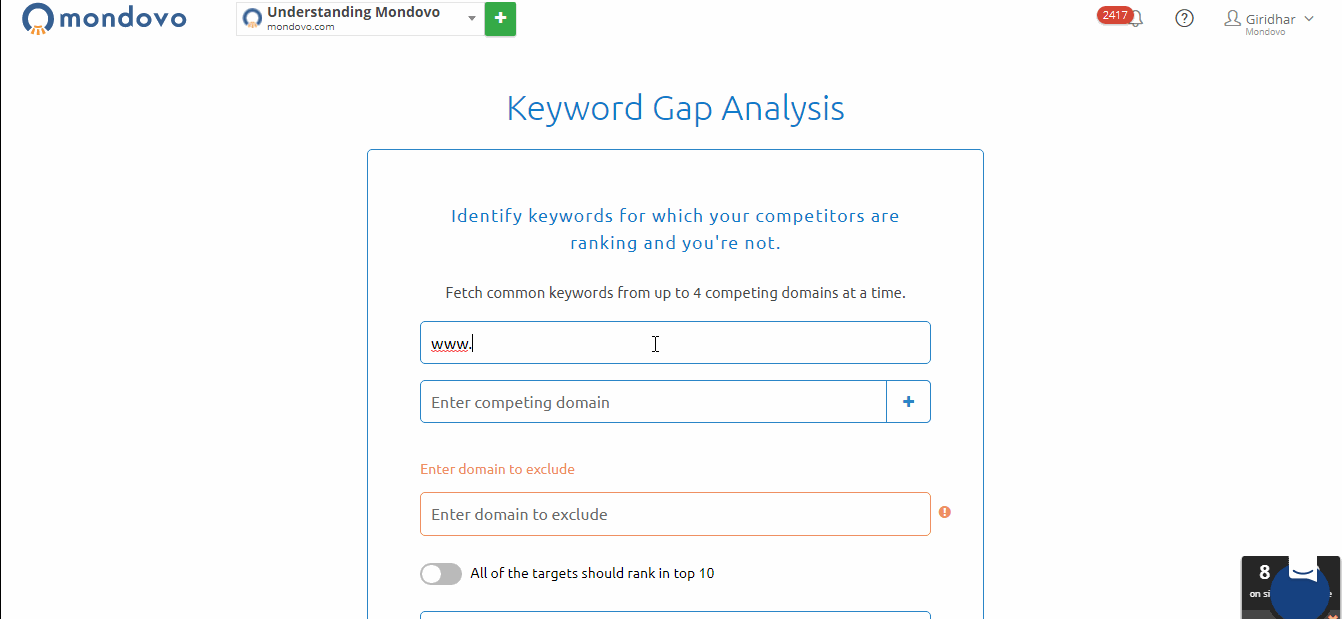 As I mentioned in the beginning, gaps are nothing but terms that you're not ranking for in the top 10. So, as we can see here, there are plenty of opportunities that you discover using Mondovo's Keyword Gap Analysis tool.
In the Competitor's Keywords tool, if we enter our own URL (in this example, Booking.com), we can easily see the terms that we're ranking for between 11 & 30. Again, plenty of opportunity for optimization.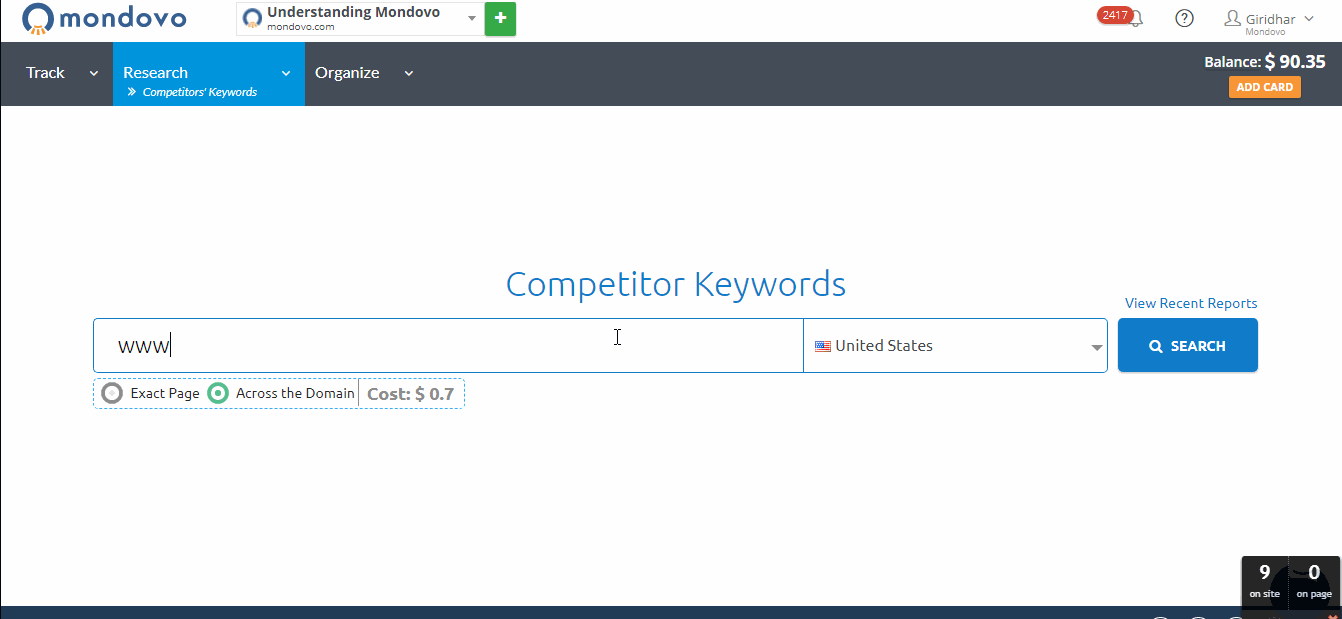 So, there you go. A quick look at how you can improve your site's SEO using the Fill in the Gaps strategy and Mondovo's toolset. Do check the learning center for more tips, tricks, and strategies.