All-in-one Mondovo SERP Tool
Mondovo's all-in-one SERP Tool makes it easier to modify and manage Rank Tracker at any point during a campaign. It allows you to improve keyword tracking, reorganize competitors list, filter and download SERP data for reporting. You can view top 100 competitors, along with SEO metrics like their target keywords, ranking pages, average rank on search engines, CTR and total traffic flow.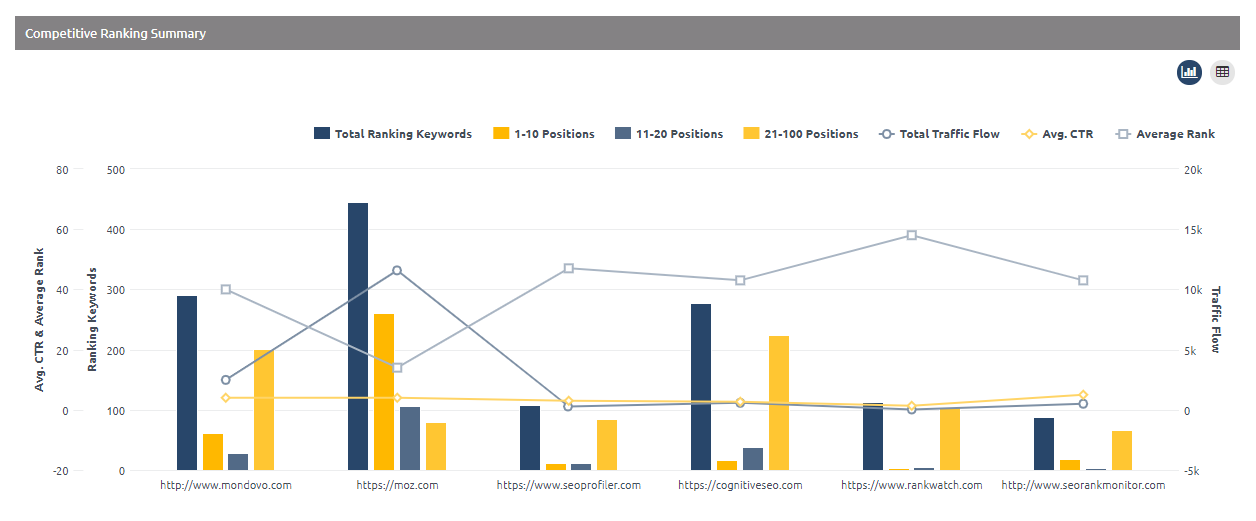 Edit your Rank Tracker Profile at any point of time
Mondovo SERP Tool gives you the option to edit your Rank Tracker Profile in the middle of an on-going campaign. Any time you feel the need to revise your keyword list or change search engine locations that you have been tracking, you can do so by clicking on "Edit Existing Tracker" option placed in the top right corner of the Rank Tracker and it will open a new window with the following editable options
Monitored Keywords- Add/Remove/Pause keywords
Competitors - Add/Remove competitors from auto-generated competitor suggestions
Search Engines - Add/Remove preferred search engine locations from an existing list
Frequency - Choose between Daily, Weekly and Monthly tracking frequency This window also gives you an option to Pause or Delete and rename the existing profile.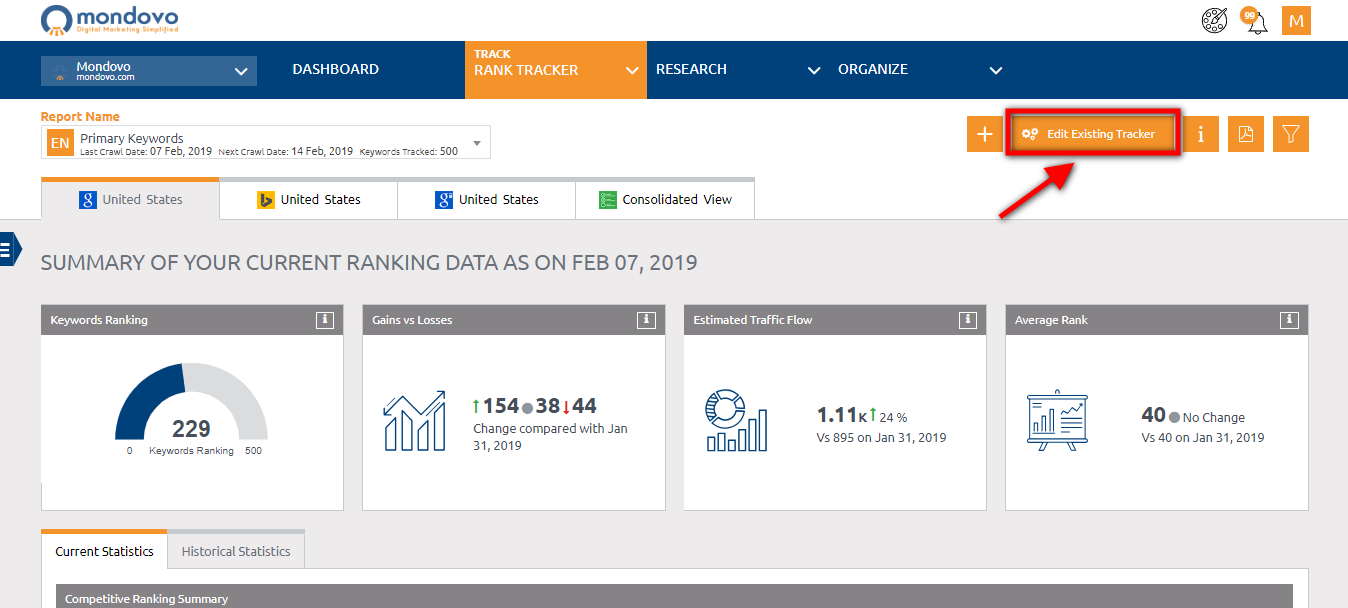 Filter SERP data by competitors to track competitors who matter
The chances of missing out on competitors, using the same target keywords as you, is high when you manually make a list of rivals and remain limited to it. Therefore, Mondovo SERP Tool creates a detailed table with multiple columns that gives you an insight into all other websites using the same target keywords and competing to be on top of SERPs. This table is called Competitor's Landscape and it provides you with the following columns
Website URLs - Competitors' websites that are you using the same keywords as you
Number of Pages Ranking - Number of pages ranking on top from your competitor's website
Number of Keywords Ranking - Number of keywords ranking on top of your competitor's website
Average Rank - Average rank of the competitor's website on search engines
Average CTR - Average Click-through-rate of competitor's URLs Total Traffic Flow
Total Traffic Flow - Estimated total organic traffic flow to your competitor's website
These columns are further divided into two sub-columns which show you comparable data between current and previous dates of the selected date range. Additionally, you can add more columns to the list from these filters to view changes between the current and previous data -
Difference represented by a numeric value
Change in number of page rankings
Change in the number of keywords
Difference represented in percentage
Change in average rank
Change in CTR
Change in Traffic Flow
Additionally, the numbers mentioned under columns Numbers of page rankings and keyword rankings reveal the specific keywords being used by your competitors and also, provides the respective website URLs in which these targeted terms are present.
This table is arranged in descending order by default, that is, it starts from the top performing competitor and ends with the lowest performing one. This makes it easier for you to concentrate on the first top ten or first top fifty competitors from the start without having to figure out challenges manually.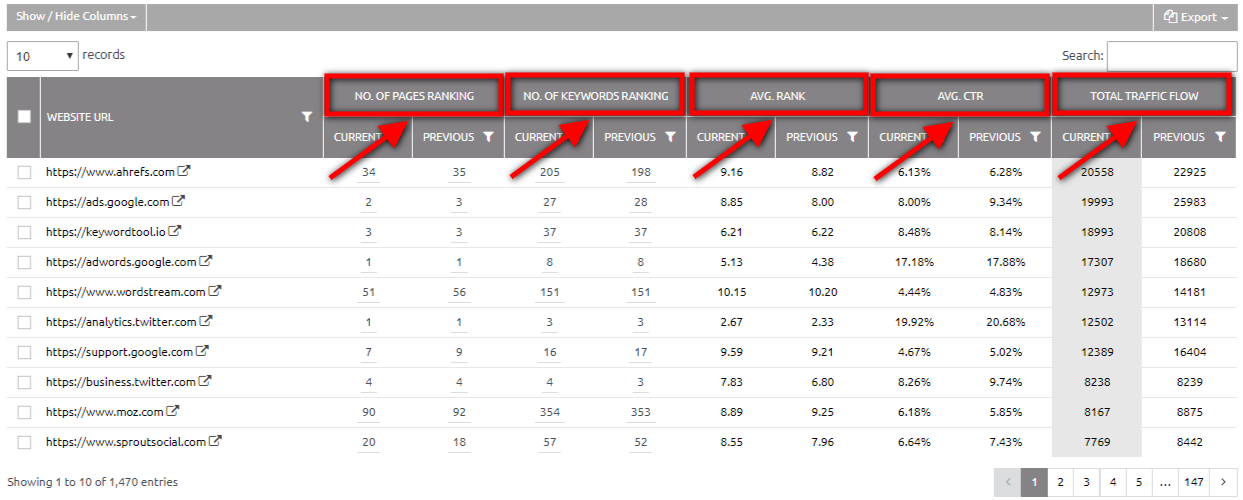 Filter SERP data by a specific date range
Instead of hoarding piles of reports in your drives, Mondovo's SERP Tool lets you quickly view data for previous date ranges. "Report Filters" option on the top right of Rank Tracker allows you to filter the whole Rank Tracker by keywords and dates. When you select "Filter by Date", a small window pops up on your screen that allows you to choose and submit date range comprising of
A search date, and
A comparison date.
The dates for which ranking data is available gets highlighted for you to manually choose from available ranges that depend on dates when your rank tracker would have run in the past to track all the data for SERP ranking, keyword ranking, and other information. Besides extracting old data for your own keyword ranking and SERP ranks, Mondovo's SERPs checker tool equips you to update all comparable tables with competitor's old data of respective dates. Furthermore, you can compare your current rankings and measure your personal progress. Such a dynamic Rank Tracker indeed!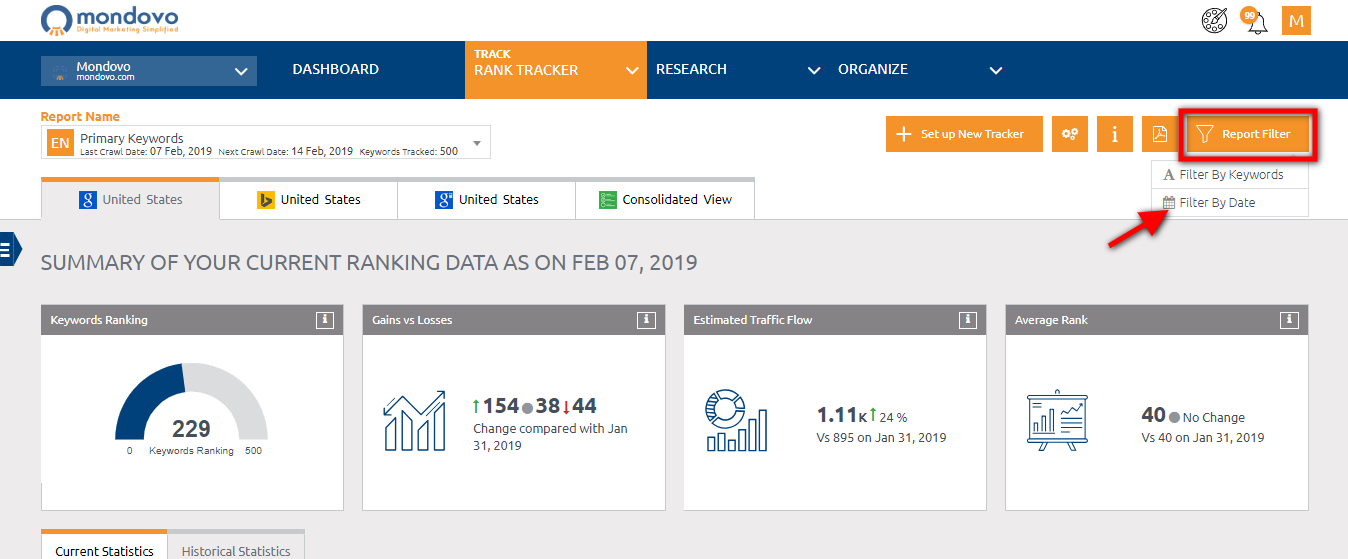 Export any ranking data table instantly into a CSV/xls file
Mondovo SERP Tool is dynamic yet designed to be convenient to use for all types of users and reporting. In a single click on the Export option on the top right of every table, you can download +complete data in CSV or XLS format. It is suggested that you apply necessary filters and add or remove columns in the tables before exporting them. This will help you save time by pre-arranging the data in columns and the downloaded files can be directly used for reporting or presenting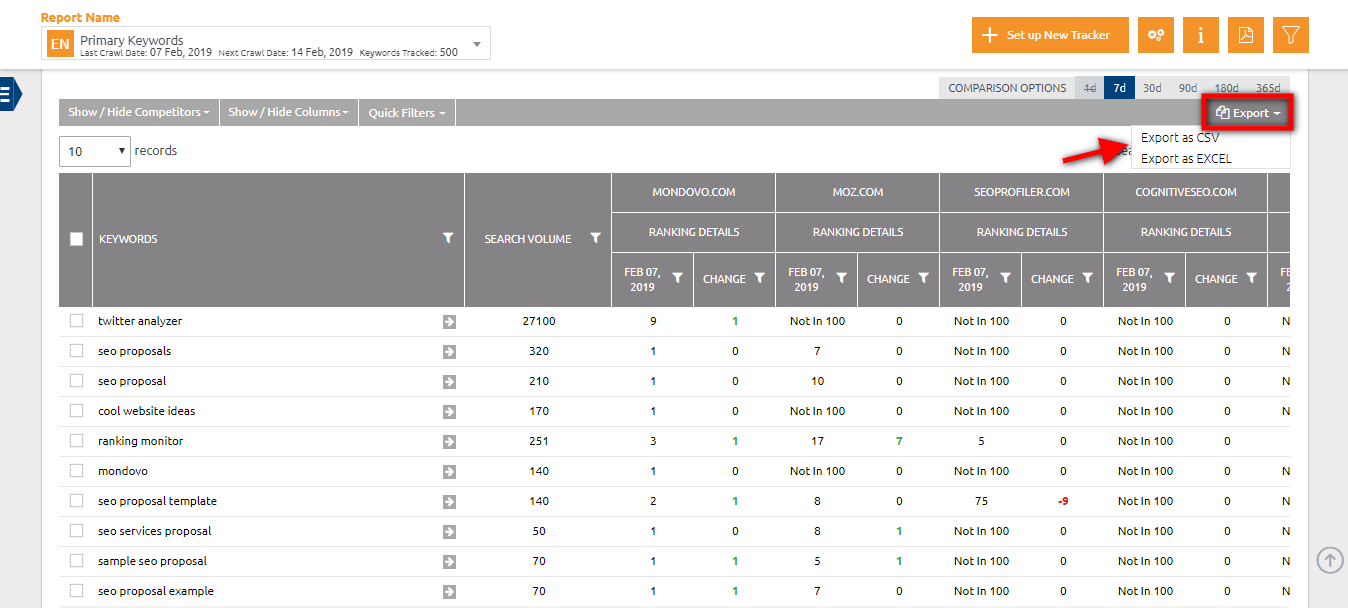 Find out the Total Ranking Instances of any URL with a click
Mondovo's SERP Tool helps you in finding all the pages for which you and your competitors are ranking on search engine. The Page-Wise Ranking table has the following columns
Domains Rankings - The homepage URLs of you and your competitors' domains
Pages Rankings - URLs of you and your competitors that rank on SERP
Number of Ranking Instances - Pages ranking in top 1-10 pages, 11-20 pages, and 21-100 pages
Total ranking instances - Number of times respective URLs rank on search engine between any ranking instances
Average click-through-rate of each URL
Total traffic flow from each URL
Total traffic potential - Estimated traffic of each URL in case of attaining position 1 on search
Average position of each URL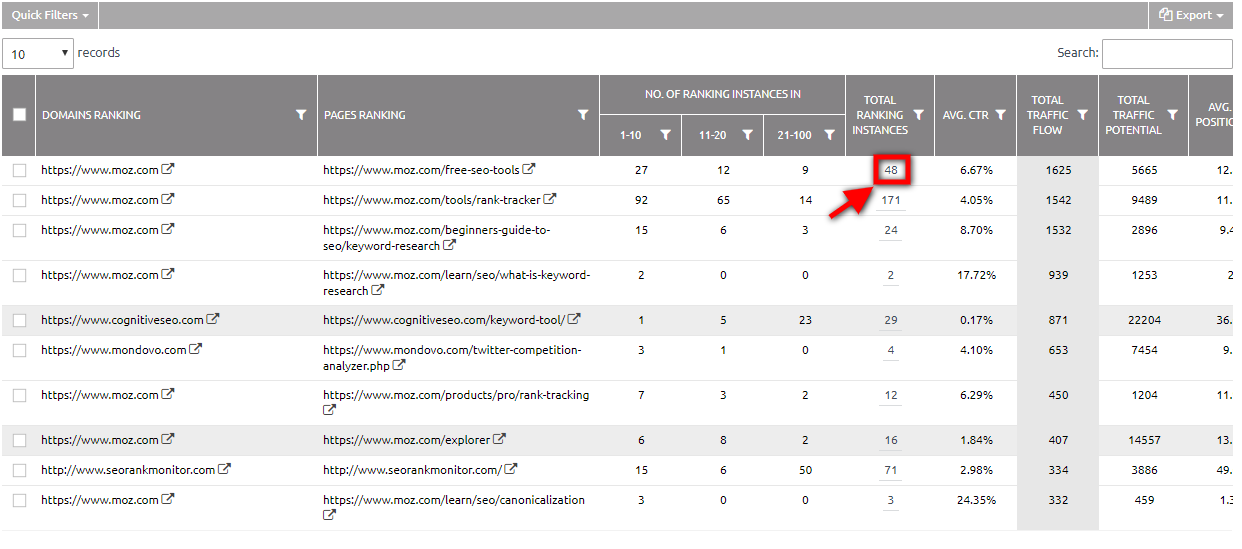 However, this is not it. When you click on the numeric data provided under column Total Ranking Instances, it opens a new window that reveals the following information about each URL listed on the table
Keywords - The targeted keyword that made the URL rank on search engine
Search Volume - Number of times a keyword has been looked up in a search engine and by the users of selected locations
Ranking Position - Ranking positing of the URL
Cost per click - CPC that was charged for the URL
Estimated Click-Through-Rate
Traffic Flow - Number of people who visited this URL
Result Type - Web, Images, Videos, News, Maps, Shopping, Books, Flights, Finance Personal
The Page-Wise Ranking table also provides you with predefined filters that show only pages from any one particular domain. All the URLs containing that specific domain are filtered out and displayed under each column. This table and the data within column Total Ranking Instances can be easily exported in CSV and XLS formats.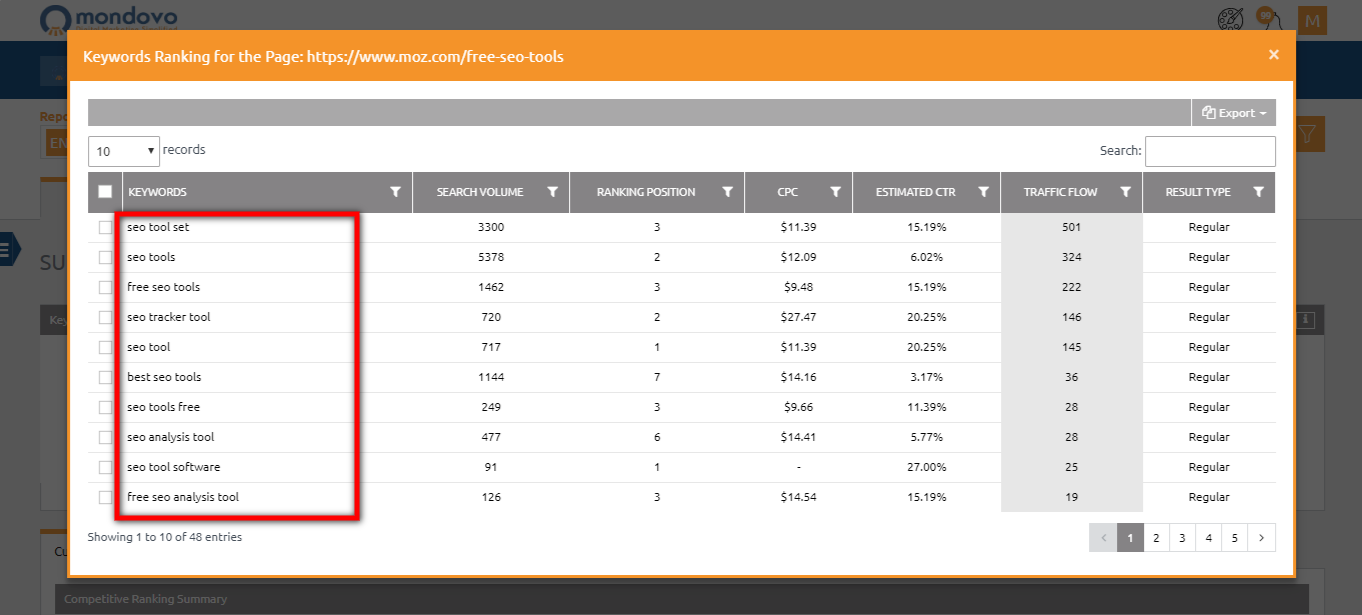 Export the Top 100 SERP data with a click
In-depth Keyword Analysis on Mondovo's SERP Tool helps you in discovering details of the entire set of results ranking in top 100 positions on search engine page. It gives you two options to view your data - Table View and Snapshot View. Snapshot View, as per the name, displays results in a pictorial form, that is, a snapshot of how Google result page looks like when a keyword is entered. On the other hand, Table View creates columns for all the data related to the keyword and allows you to download the view in CSV and XLS formats. The report includes the following columns :
Ranking URL
Title in Search Result
Ranking Position
Estimated Click-Through-Rate
Traffic Flow
Another set of crucial data that can be referred to while working on your SEO metrics is looking out for High Impact Keywords table that highlights the most commonly targeted keywords used in the titles, descriptions, and URLs of each search result. This table can also be exported in CSV and XLS format and distributes data in the following columns :
Common Words
Impact Score
Word Count
Number of Pages
The table allows you to filter down to top 10, 25, 50 and 100 results. This makes it possible for you to track all the top 100 results.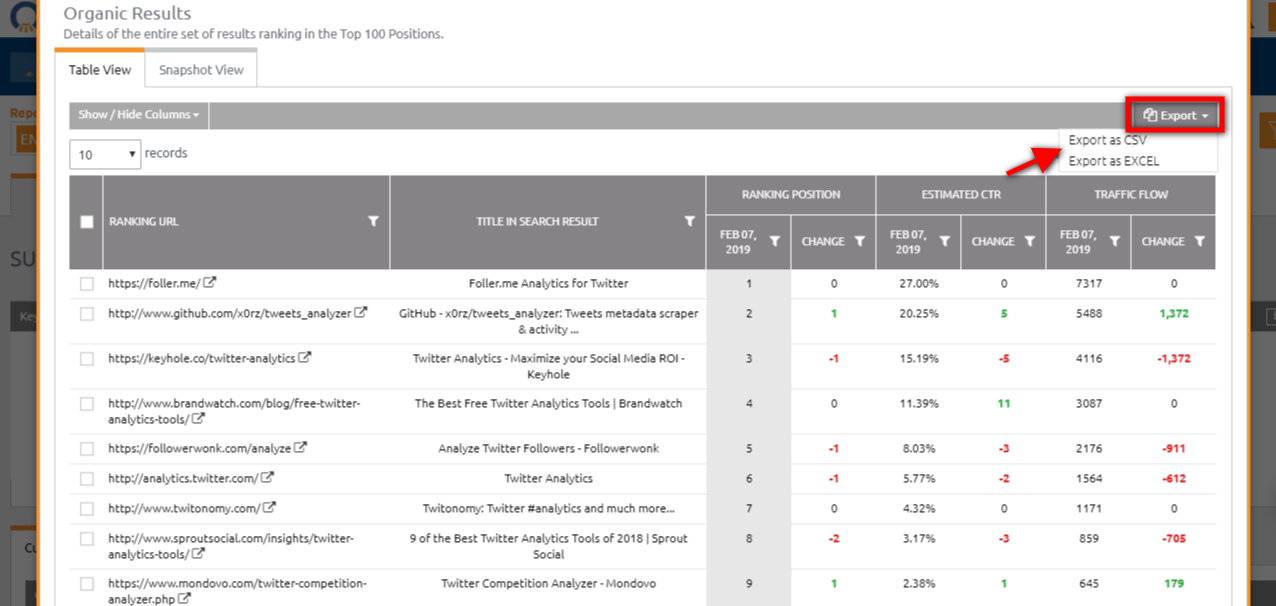 Try Mondovo now
Start your Trial of Mondovo today and keep an eye on your ranking progress.