The Easiest and Most powerful SERP Checker Tool for all search engines
Mondovo's SERP Rank Checker is optimized to track your website's rank for both desktop and mobile. Analyse REAL-TIME SERP for any set date, track SERP rank across multiple search engines and compare current or historical data to track your own progress. Receive scheduled reports on time directly in your inbox and compare Google SERP keyword ranking with your competitors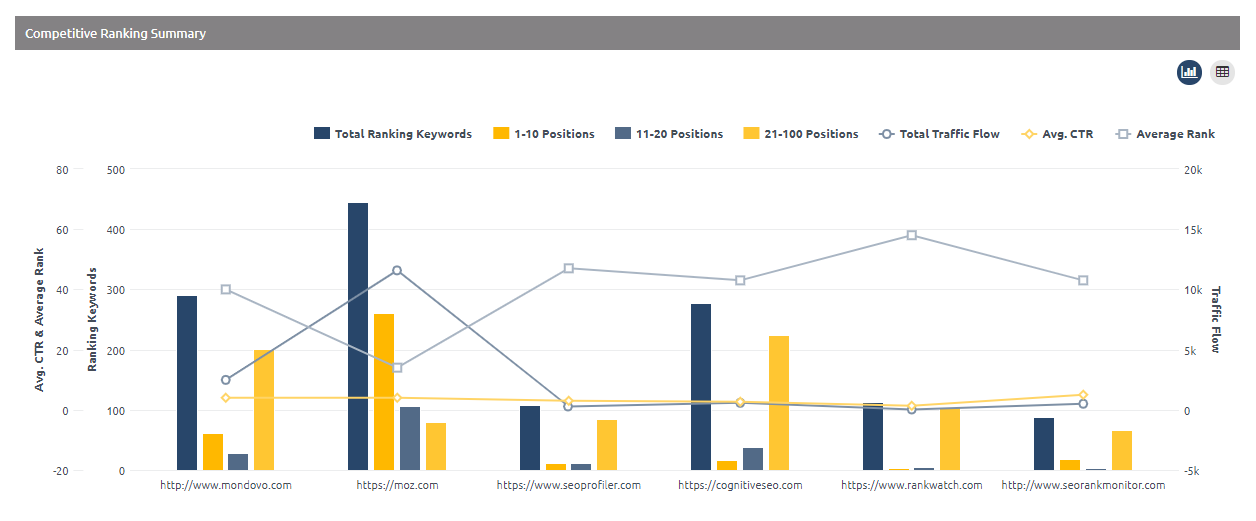 Receive Scheduled Email Reports
With Mondovo SERP Checker Tool, you can receive rank tracking updates daily, weekly and monthly directly in your inbox. A few simple steps following Email Scheduler helps you to set Next Send Date and Frequency of all trackable modules like Rank Tracker, Google/Facebook/Twitter Analytics, Google Console and even Recurring Audit report. All scheduled reports are timely delivered to your inbox with 100% accurate data.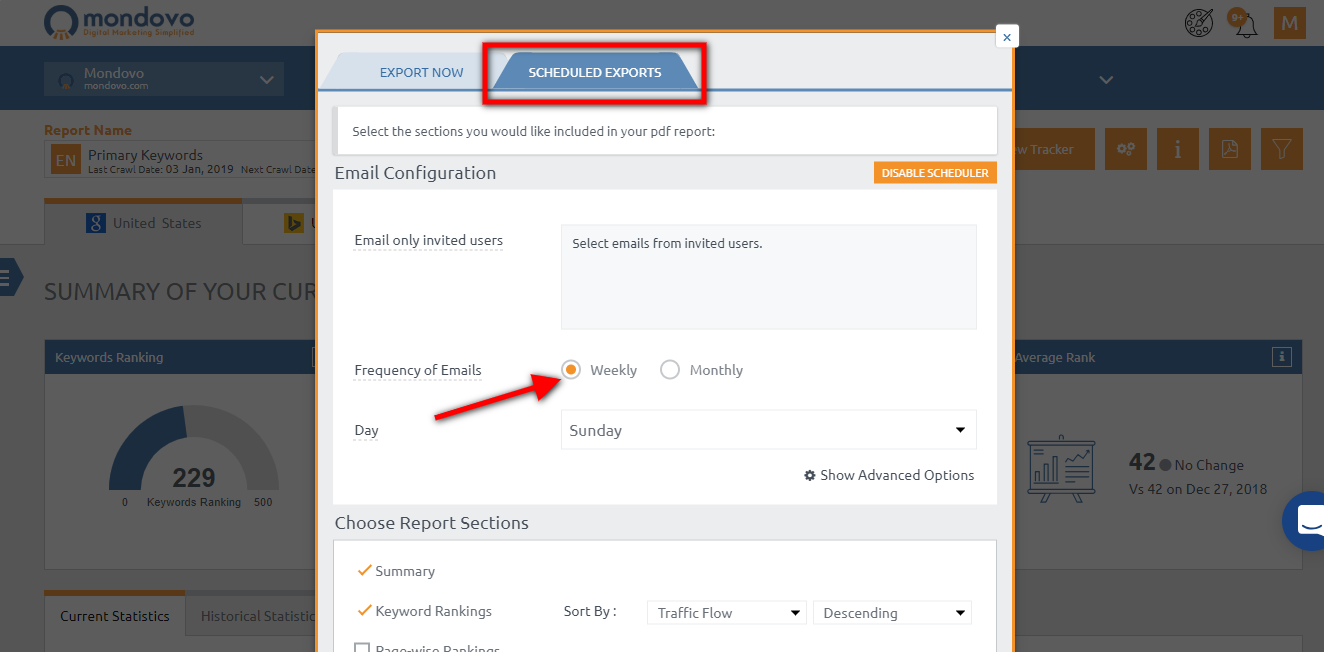 Analyse the real-time SERP for specific keywords
Mondovo's in-depth Keyword Analyzer creates a detailed table to track SERP rank for top 100 results.
Table View - Displays 5 important columns showing data from the specific date of top 100 URLs, the title of these pages in search results, ranking position of each page, estimated CTR and traffic flow.
Snapshot View - Shows a snapshot of the whole search result page at the time when Rank Tracker was run.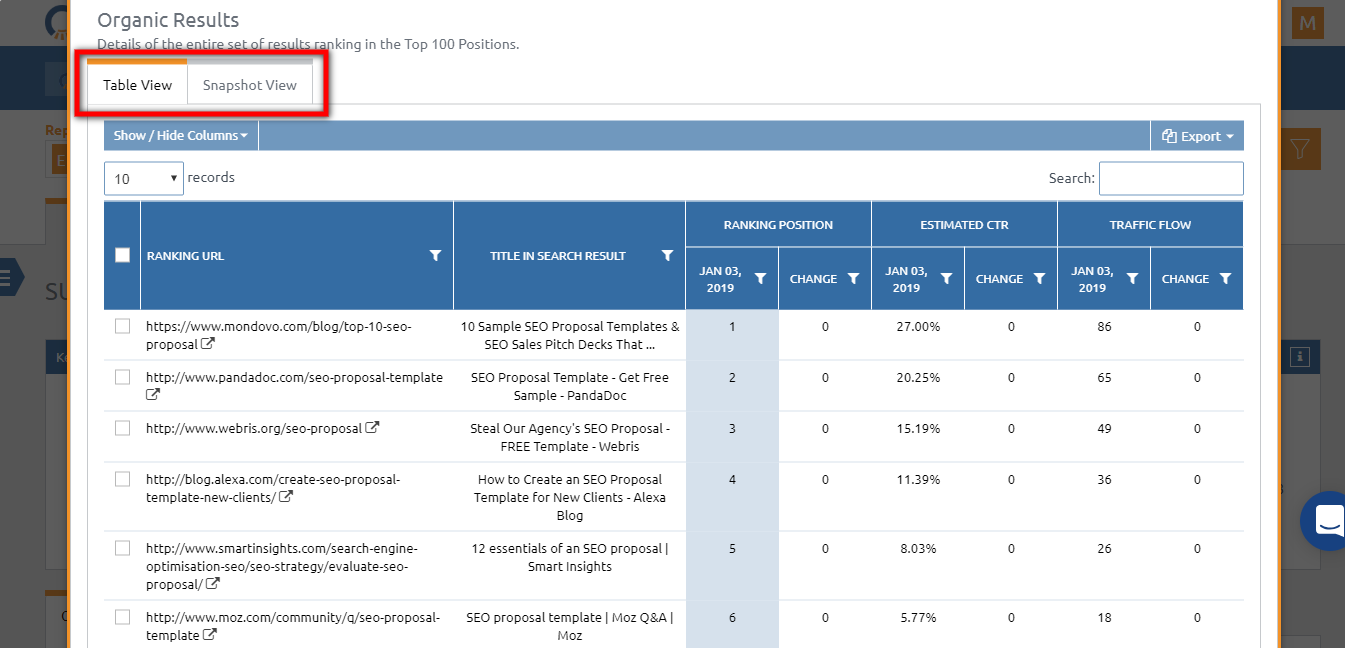 Identify if your search result is Regular, Local or an Answer Box
Mondovo's Google SERP Checker upgrades as Google search does! Mondovo is capable of capturing all types of Google ads and displays data in comparison with your competitors. The Keyword Rank Tracker gives you an option to show and hide various columns under which it lists out all types of ads being run at a specific date for each keyword, by you and your competitors. You can choose to see Regular Ads, Shopping Ads, Images. Videos, News, Local and even Answer Box.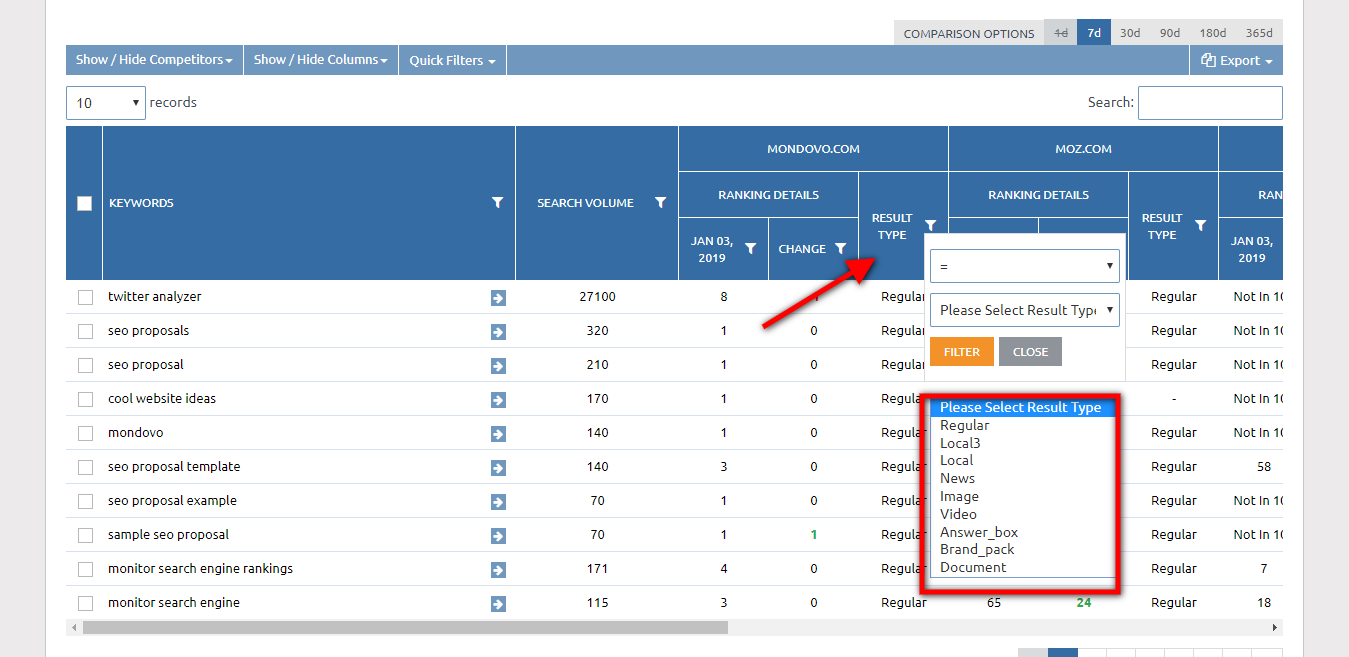 Get consolidated ranking data across multiple search engines
Wondering how to track multiple search engines at once without getting confused? Mondovo SERPs Checker Tool provides you with both consolidated and single view of SERP ranking. You can easily switch between tabs without any hassle and compare all search engines on a single platform.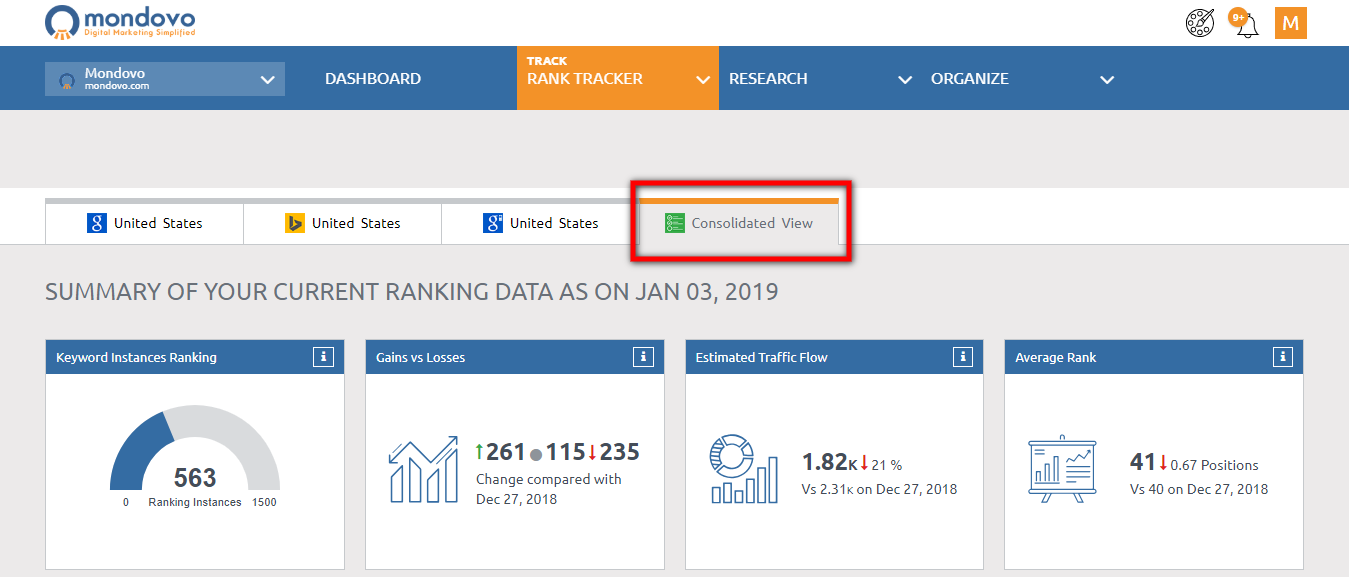 Track your SERP rankings for both desktop and mobile
Users, these days, are present on both desktop and mobile depending on their convenience at the moment of browsing. It is extremely important to gain an understanding of SERP check for desktop as well as mobile in order to compare both platforms to know what is working best. Mondovo's SERP Checker Tool allows you to toggle between desktop and mobile data tabs in just one click and compare data side by side.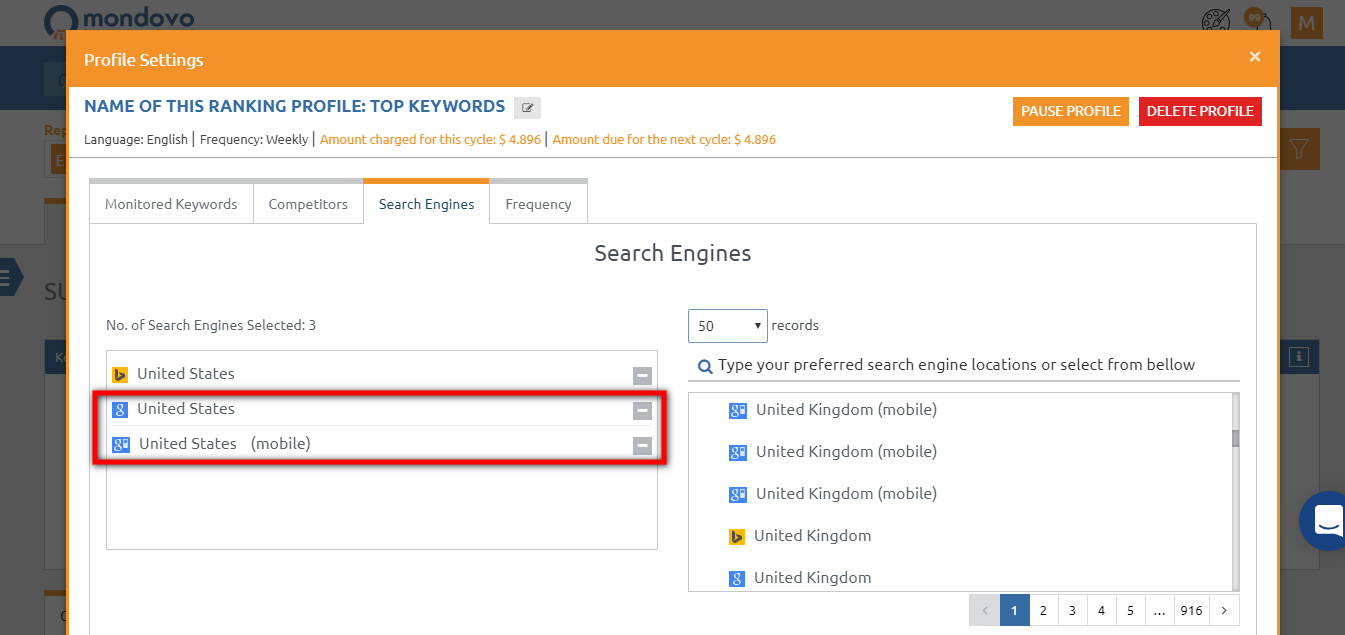 Know if your SEO efforts are worthwhile with Historical SERP Ranking Statistics
What better than being able to compare your current statistics report with your historical statistics! Mondovo's SERP Checker Tool creates a graph for historical statistics that shows average CTR of your website compared to your competitors, total traffic flow, total ranking and non-ranking keywords along with lists of keywords ranking in top 100 in the search result. All the data in SERP checker is calculated for your website and your competitors' websites that allows you to compare present as well as all the historical statistics.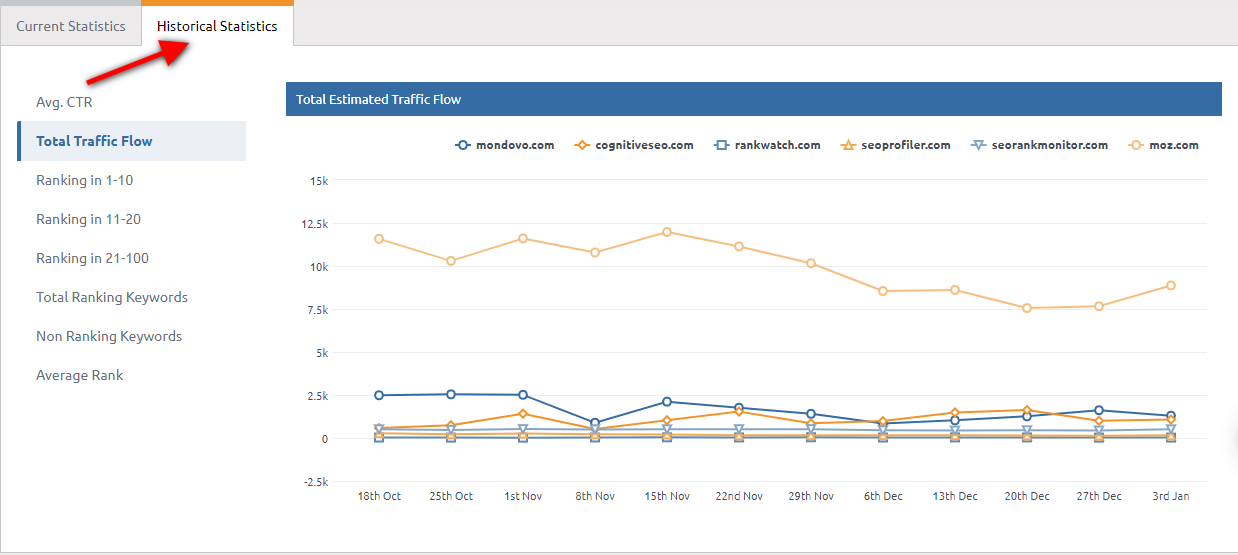 Try Mondovo now
Start your Trial of Mondovo today and keep an eye on your ranking progress.