Marketing is all about the digital realm. From social media to search engines, viral videos to Google Analytics, your online game needs to be strong as a marketer – and so does your digital security.
As a digital marketer, you need to keep all your systems and data secure, whether you're a solo freelancer, an in-house team, or a digital agency.
To help you assess your own digital marketing security risks, we're going to look at:
7 of the most important risks you need to know.
What that risk looks like for you as a digital marketer.
4 ways you can protect your online marketing business from cyberattacks.
Risk 1: Social media
Sites like Facebook, Instagram, and TikTok take up hours of the day for many digital marketers. Whether you do social media management or run paid ads, it's undeniable how important they are for the sales funnel.
There are plenty of pitfalls when it comes to your online security, though. You need to access your Business Manager account through your personal profile, as does anyone else on your team. This means your account is only as secure as the most vulnerable profile accessing it.
Pages, profiles, and even groups can get hacked and taken over without warning or notice. Years of building audiences and engaging communities can be lost in minutes when your social media security isn't up to scratch.
Risk 2: Site hacks
Most digital marketers will be aware of content management systems (CMSs) and website builders such as:
WordPress;
Wix;
Squarespace.
There are plenty more too – and sadly, security isn't guaranteed.
To get the best out of these and other platforms for search engine optimization (SEO) or your ecommerce work, you'll likely use plugins and apps. These add another layer of complication to your online security.
Both the platforms you use and the extra add-ons you take advantage of can be vulnerable to hacks and data breaches. Your information – or worse, your clients' or customers' – could be leaked on to the dark web.
Risk 3: Lost accounts
As well as your personal website being hacked, the platforms you use can also be vulnerable. While it would be a nightmare to see the websites you administer and optimize hacked, seeing the platforms that host your content get taken down is a disaster.
Sites like YouTube or WordPress completely failing seems unlikely. But smaller sites where you or your clients host content like course platforms or podcasts could become the victim of a hack. This can lead to your data getting corrupted or held to ransom.
Best case scenario; the platform is able to recover the data and get back to normal. Worse case scenario? You have to start your digital platforms from scratch.
Risk 4: Data storage
A lot of data gets generated in digital marketing. Think about all the files you produce:
Written content like blogs or captions;
Photo and video content;
Content calendars and strategies;
Billing and invoicing data.
Where does this currently get stored?
Some digital marketers will go for a cloud solution while others will keep it on-premises. Both comes with risks – cloud storage can be hacked on an account or a provider level, like Dropbox was back in 2016.
Storing everything locally can also make your marketing business vulnerable. If you have just one person with an unsafe password, your can open your systems to ransomware, which is how the Colonial Pipline hack happened in 2021. Avoid your payments and transactions to get hacked.
Risk 5: Password sharing
Your digital marketing tech stack is probably busting at the seams with useful tools. You'll potentially have:
A customer relationship manager (CRM);
An email marketing tool;
A CMS;
A project management tool;
A social media scheduler;
An invoicing tool;
And many more besides.
Picking a pricing package that lets everyone on your team have access can quickly become expensive. However, storing and sharing passwords can make your team and your business vulnerable.
There are software solutions for this type of problem that we'll discuss in our tips to keep you safe. In general, though, your business should buy enough seats for everyone who will need one for online tools.
Risk 6: Phishing emails
The old "Prince with a fortune to inherit" scam is probably too obvious for a digital marketer to fall for. However, there are email phishing scams that can look way more sophisticated and be harder to spot.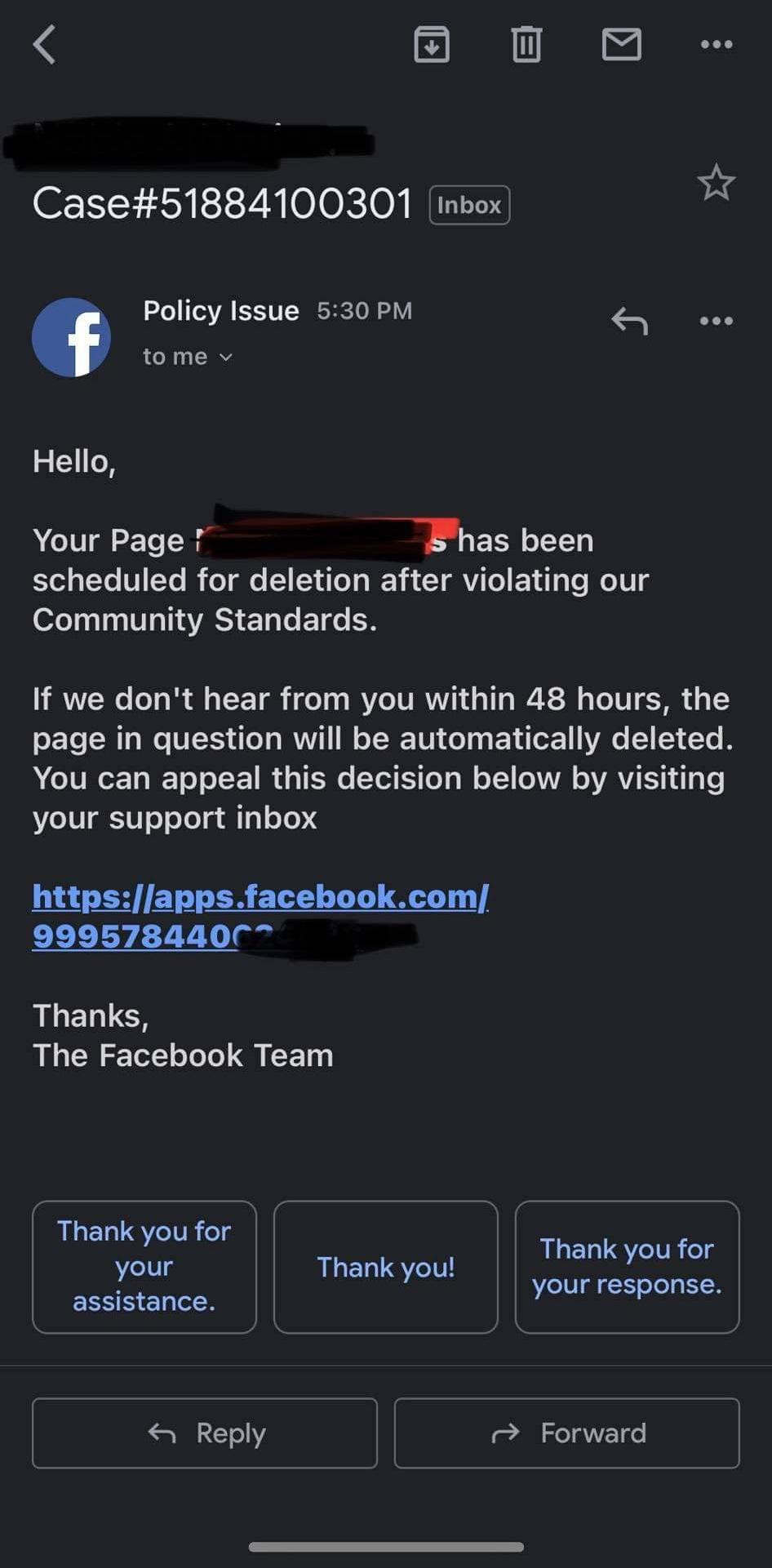 An email like this one can be very worrying for your or your digital marketing client. With big money at stake on social platforms, for example, it can be easy to panic and not look at these things too critically. A quick way to check if the email is credible is to run a DMARC report analyzer.
This type of email is common for social accounts but you could get one for any number of other platforms where you do your work.
Risk 7: Making card payments
Your business will pay for lots of things online. You have to maintain your tech stack that we just looked at as well as pay your freelancers, suppliers, and a range of other people and companies.
You'll be entering your business card details online and each time, you'll be taking a risk. Your computer could have a keystroke logging malware, the company you pay may not be secure, and many other pitfalls.
4 ways to protect your digital marketing business
It all sounds scary, right? But online security for your digital marketing business doesn't have to be a big headache – you just need to have a solid foundation of tools and know-how.
Use a VPN
Having a VPN app for your business desktops and mobiles will go a long way to keeping your business tools secure. It can prevent malware attacks and keep your browsing and spending data secure.
Use a password manager
Tools like LastPass or 1Password allow you to securely share passwords and software access with your team. You can give access to social profiles or other tools securely so that passwords aren't being typed every single time.
Turn on 2-factor authentication
Apps like Authy and Google Authenticator should work with a wide range of tools like Facebook, Upwork, and Google Suite. If your platforms and software don't link with a 2fa app, they should have SMS code access. Whatever is on offer, make sure it's turned on.
Maintain awareness
You and your digital marketing team need to remain vigilant at all times. Follow marketing and general B2B trends for hacks, phishing, and malware so you know what to look for and how to assess whether an email, notification, or search result is legit or the gateway to a scam.
Conclusion
As an online business, digital marketing comes with unique risks. You can easily mitigate them with a strong suite of security tools and a good chunk of online awareness as well.
The following two tabs change content below.
Latest posts by Chandni Panjwani (see all)