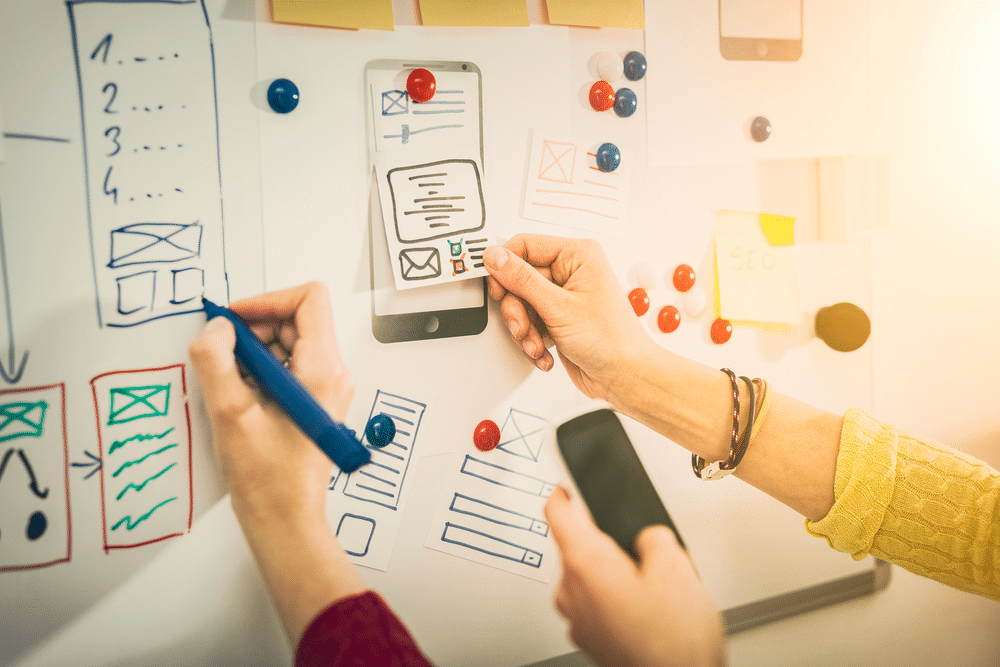 Every savvy digital marketer knows that there's not "just SEO" or "just user experience" in the online sphere. They coexist in the same space. Even though both practices share the same goal, which is to increase the number of conversions and success for the business, they have different approaches on how to reach it. This is where UX and SEO can clash. So how do we find a compromise between them? Let's take a look.
UX and its Importance
User experience focuses on the visitor. On any digital platform, every decision and every optimization is made with the user in mind and thought from the visitor's perspective. In short, UX stands for getting rid of anything that's not relevant to the consumer, prioritising what's important and mapping out the content efficiently throughout the site. Its goal is to increase conversion and sales by making the visitor's search for information pleasant, aesthetically-attractive and easy. 
The benefits of UX as a marketing tool are clear and simple: People want to find what they're looking for quickly and in a hassle-free manner. Simplified websites that load quickly and are responsive, and useful mobile apps can make a huge difference to any business with online platforms.
The Difference Between UX and SEO


The overall perception is that while UX designers do everything with the user in mind, SEO professionals are trying to figure out how to appeal to both users and search engines, by working around the latest algorithm update in order to increase website visitors. The common goal of both practices is to increase website conversion rates, however it seems that the ways to achieve it are completely opposed: Do we focus on the user (who is already looking at my homepage), or do we focus on the search-bot (to attract those users who are not looking at my website)? 
More specifically, the differences between these two practices come down to structure and content. Because search engines aren't human, we can't expect them to operate the way humans do. This is why structure and content optimized for search engines can look irrelevant, repetitive and sometimes even painful to the human eye. 
Finding a Compromise
 Between UX and SEO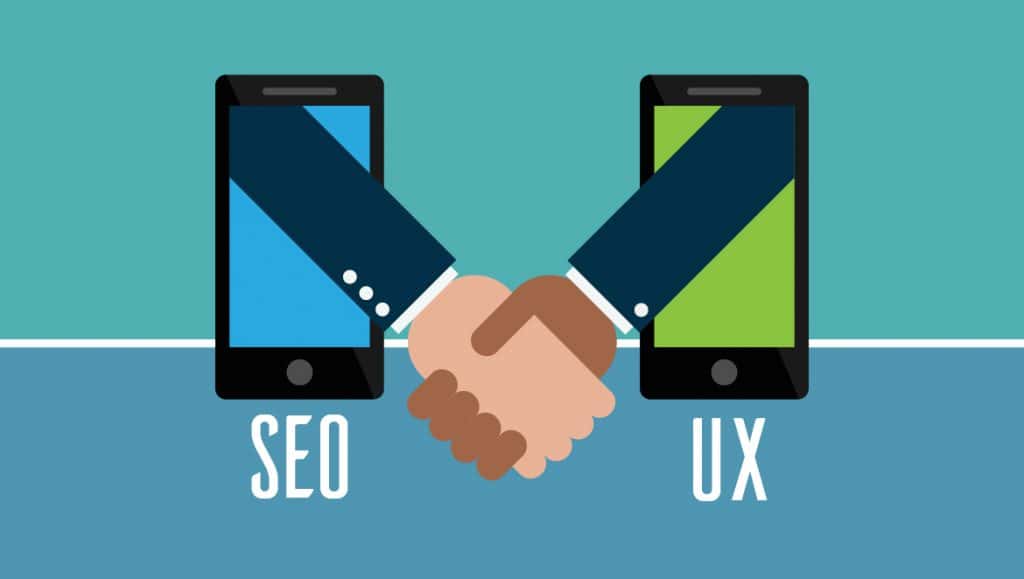 In an ideal world, Google eventually figures out how to make their search engine less robotic and more human-thought-friendly. We are not there yet. We still need to find a compromise and work with both UX and SEO in order for any website to succeed and survive long term.
Innovative and well-informed SEO professionals are going above and beyond the requirements of search engines, looking for ways to improve user experience and finding a compromise. This is mainly due to the way search engines analyse searcher behaviour: If a user bounces back to the search results after seeing your site, there's no way to know for sure why that happened. It's clear, however, that it did happen. It's also clear that it can affect negatively on your ranking. Finding answers to issues like this is when focusing on UX principles becomes important, to try and provide a better experience for the user.
At the end of the day, your potential customers need to be able to easily find you, and once you've been found, they also need to navigate your website smoothly and effectively. 
SEO / UX Best Practices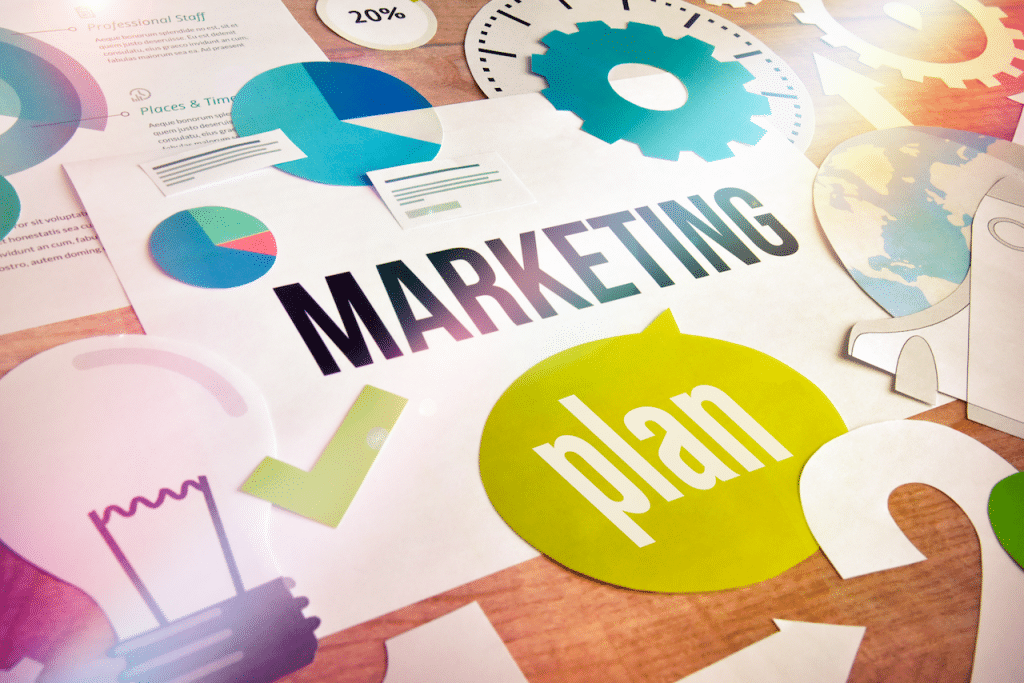 Working effectively with both UX and SEO isn't impossible. They can actually be great buddies. By focusing on the things they have in common and following both discipline's best practices, you can benefit from both UX and SEO working together. 
For example; concise, easy-to-read and informative copy that features just the right amount of content with hand-picked keywords can be useful for both UX and SEO. The same thing happens with properly structured sites: They are intuitive for both search engines and users.
More specific best practices of UX and SEO are: 
1. Title tags 
Title tags are typically the clickable link in the search result that provides the information on what the site is about. They have very limited space, only about 70 characters. It is recommended they include keywords in the copy, in order to rank better.
Some SEO professionals believe that, aside from content, title tags are crucial in order to effectively optimize your website for search engines. Title tags are a great practice in both UX and SEO because they provide essential information about the HTML/XHTML file on the search engine, but this information does not appear on the actual landing page that users see. 
2. Content vs Images 
Content, for both UX and SEO, needs to be relevant and adequate to the audience. Long gone are the days of 'tricky' SEO practices, where a copy was flooded with keywords that did more harm than good. But it's not just content that needs to be good quality: How this content is designed and structured on the website is also very important.
Nowadays, the relationship between content and images has somewhat shifted a little. While the latter can be optimized for search engines with tags and are vital to evoke the user's imagination and visual flow, they don't always improve usability. They can take forever to load (especially if they're high quality), and that's a huge no-no. As long as you have high-calibre content, images are not a necessity. In fact, images are mostly being replaced by vector art and icons. These type of designs convey a clear message and are far quicker to load. 
3. URLs 
The URL or breadcrumb of the page comes right after the title tag, which provides an extra 'notice me!' to the search engine regarding the relevance of the search result. These URLs and breadcrumbs need to be well-thought and have to match as well as add value to the content, otherwise, they may act the opposite way and hurt your ranking with the search-bots. Again, breadcrumbs shouldn't affect any visuals or structure on the landing page, hence, they are harmless to UX. 
Do take a look at this video by our CEO – Sameer Panjwani on what is the best way to structure your URLs for your website.
4. Category Menu
Both UX and SEO can benefit from a clear, categorised menu. Show your users how to swiftly navigate your site with prompts, drop-down and other navigation cues. Make it easy to figure out exactly where they want to go to from anywhere on your site.
Be mindful that too many categories can result in indecision and may overwhelm. Less is more, especially for your users. Have a clear movement path and menu on your site based on visibility, efficacy and priority. Feature easy tab titles, important destinations. 
When to Focus More on UX and When on SEO?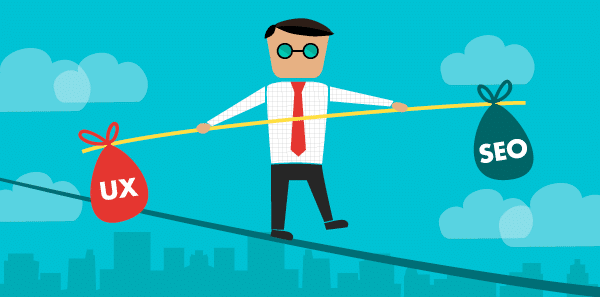 In light of what we've reviewed so far, you can't just expect to pick UX and SEO alone to focus on when developing a digital platform. The two must be balanced and must work together. That said, you can direct your efforts to good SEO practices: target keywords and topics, structure the content well and get good links from relevant sites. But always keep in mind that UX is always there, overlapping. 
Test a lot!

 
Because the digital world is a fast, ever-changing space, good practices and things that work today quickly become obsolete and irrelevant tomorrow. In addition, when something is working right, it doesn't mean it couldn't be improved. The only way to figure it out is by testing.
Test as much as you can, any small change that you make. Whether it's SEO or UX-related, testing will allow you to discover what's working and what's not and will shed light on what could be done for improvement. Using tools like Google analytics or methodologies like A/B testing can help you to quantify the effect your changes are having.
Be patient, though – sometimes changes take a while to make an impact. Leave frustrations aside and set a reasonable time frame for testing. 
Conclusions
There are many things we can take home regarding finding common ground between UX and SEO. These are: 
UX Evolution: It Can't be Linear
UX professionals can't just consider a linear journey that starts miraculously at the home page. It should be data-driven and better suited to organic search success. The reality is that about less of 50% of website visitors start browsing at the home page, and taking that approach in UX provides a less than optimal experience for the majority of the users. No or little consideration for the user experience and users that come to the site from an array of different entry points can frustrate visitors. They will simply leave the site and keep looking somewhere else.
If UX becomes more data-driven, UX and SEO integration will be easier than ever, and that's what both teams should strive for. It will, hopefully, lead to an improved search-to-landing-page-to-conversion experience.
SEO Professionals Need to Focus On Good UX and SEO Practices
When push comes to shove, what's ultimately good for the user is good for organic search performance, especially when we consider how advanced search engines are getting by the minute; they take into account search sequence, content quality and structure.
So broaden your SEO approach, and focus on well-thought content, hand-picked and effective keywords and proper structure. Forget about the old days and its practices and keep today's smart search engines in mind.
UX and SEO: Work together
Google wants to give its users relevant content that's also user-friendly. As we mentioned before, we're not there yet, but that's the goal. As search engine algorithms become more sophisticated, it's really only a matter of time before user cues play a crucial part in search rankings. So common ground between both practices becomes crystal clear. UX designers need to understand SEO practices just as much SEO professionals need to be informed of UX's. This will allow everyone to deliver better results.
The following two tabs change content below.
Jaroslaw Siekierski
Jaroslaw started his career in SEO 8 years ago and since then, has been a part of the evolving tactics required to get success online. Now focusing on Content Marketing and Link-building strategies, he always keeps in mind that quality is more effective than quantity. As a Content Marketing & SEO Specialist at
Web Profits
, Jaroslaw provides clients with custom campaigns to increase their online profile.
Latest posts by Jaroslaw Siekierski (see all)