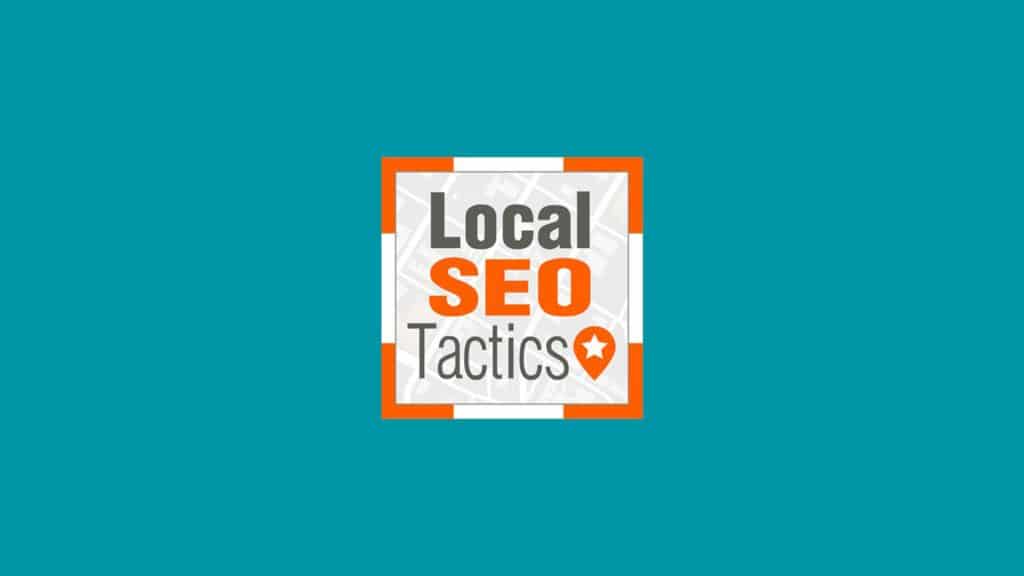 There are several local SEO tactics that need to be avoided for optimizing your business in the best way possible. However, with Google regularly changing SEO conventions, it's important to stay up with the latest trends. You might already know what to do with your local SEO campaigns. So, here's the list of the top local SEO tactics that you need to avoid while optimizing your business for the best results
#1. Limiting Name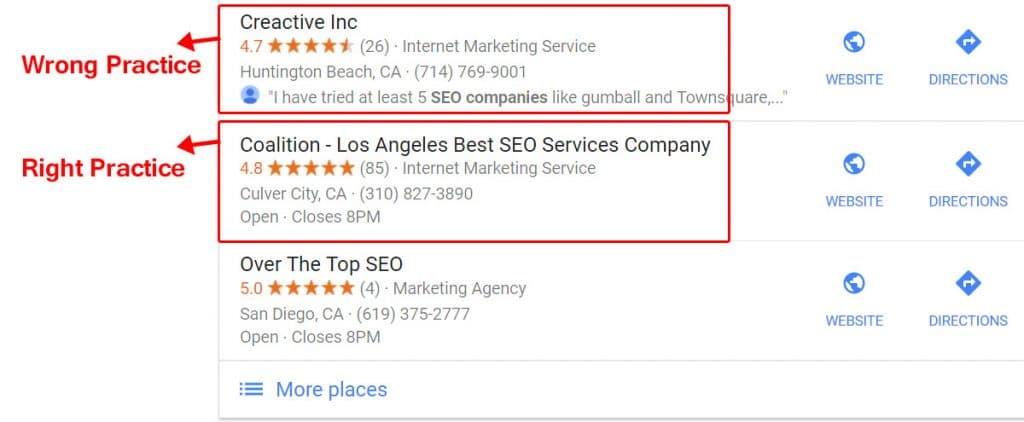 Your business name bears an immense importance in search engine optimization. Using core keywords are important but not entirely essential. So, in a way, you need to pick a name that comprehensively covers all your offerings.
Moreover, you need to have a name that doesn't restrict you from expanding services in the future. Earlier there was a convention to add your location to the organization name. You need to avoid doing so because it makes you geographically limited.
#2. Ineligible Location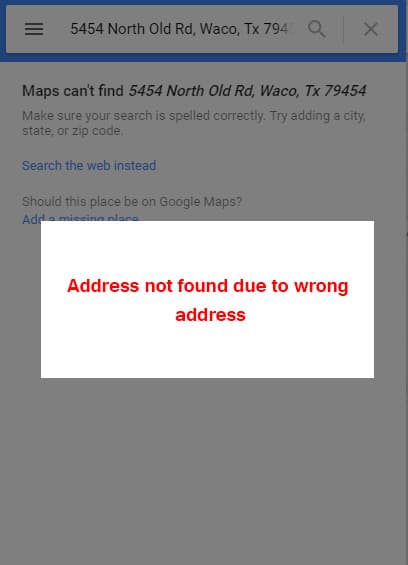 Public address added to the Google local business listings need to be a true physical place, i.e. for those of you thinking that a PO Box or unstaffed virtual office will suffice, it's not that simple. Doing so severs your business's online visibility. You can bypass the setback by using your home address as your business address. Moreover, you need to list your business only on web resources that allow for hiding addresses.
#3. Lack of Clarity
You need to communicate the value proposition of your business in a couple of words. If you can't do so, then it might create difficulties for customers and markets related to your business. You should be able to verbalize your offerings to the public. Your words should describe why the public should choose you as a valuable community resource.
#4. Limiting URL
Like the business name, your official URL also plays an essential role in local and global search engine optimization. Your official URL might cover your entire business proposal than merely leaving some facets of your business untouched. Choose your domain name with a site for the future.
#5. 
Poor Content Strategy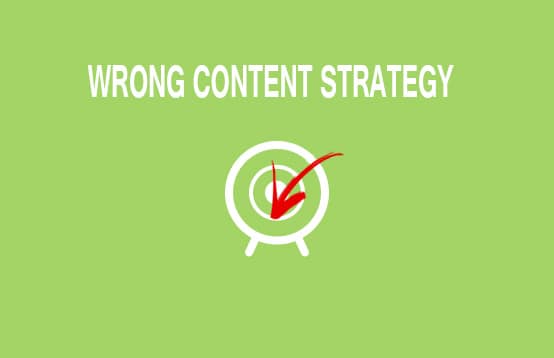 Creating content with the intention of just feeding keywords to search ending bots has become obsolete. At least, you should develop quality basic pages like home, about, contact, and testimonials, in addition to pages dedicated to defining services offered. Each webpage should contain original and thoroughly optimized content. On-site blogging and off-site social sharing are important for developing an effectual content strategy.
#6. Single-Site Approach
Building multiple websites for catering to different locations or distinct services is ineffectual for local commerce. Depending on your requirements, you need not limit yourself to a single-site-serves-all scheme. However, for local SEO, it's better to build a powerful, standalone website explaining all services in a single robust and interactive website.
#7. Link Building Shortcuts
The temptation to employ low-quantity links for gaining success in local as well as global SEO has become widespread. However, Google Search and other search engines assign link building rewards on the basis of the relevance and quality of links added to and from a website. Therefore, you need to avoid link building shortcuts and invest quality time and efforts in forging valuable link building.
#8. Neglecting Contact Info
Contact information is very important for businesses from Google Search's point of view. In addition to having a dedicated contact information page, you need to provide relevant physical address and a working phone number, in addition to your organization's registered name. Not only contact information is important for search engines to evaluate a website's worth, it is equally important for clients to make a contact with the organization.
#9. Duplicate Listings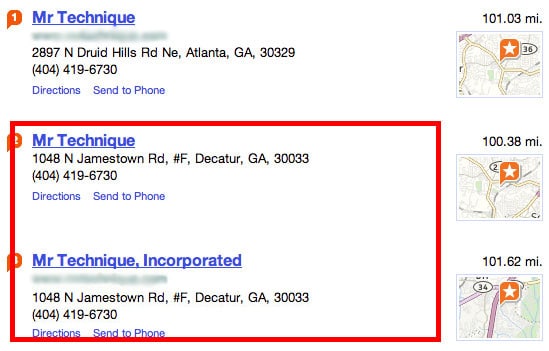 There are several reasons to avoid duplicate listings, ranging from misdirecting clients to dividing your ranking strength among multiple entities. You need to have one, and only, listings per platform for a distinct physical location. Nonetheless, finding and eliminating duplicate listings is one of the leading objectives of a local SEO campaign. There are several reasons that can yield duplicate listings, hence organizations and businesses must be on their toes to find and remove redundancies as soon as they come across them
#10. NAP Inconsistency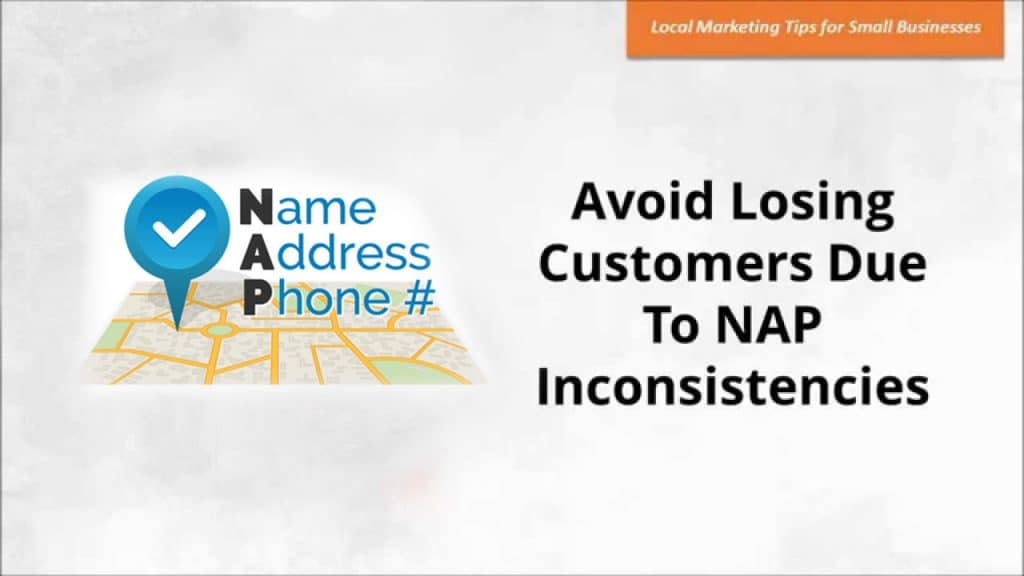 NAP stands for Name, Address, and Phone Number. NAP is very important for any organization or business. There are several different sources on the Internet where your NAP information is displayed. Hence, you need to be consistent while adding NAP information to different sources for SEO purposes. NAP inconsistency not only lowers a search engine's trust on your web resource but it also leads to misdirecting potential customers.
#11. Driving Directions Wrong
In case the map market is misplaced, it might result in feeding Google Search with wrong directions for reaching your business. Many times, you might be giving the right directions but it might appear wrongly on Google Maps. Upon experiencing this scenario, you need to report to the Google's forum ASAP to let Google fix the issue.
#12. Poor Photos
Adding photos relevant to the business is an important local SEO tactic. Adding relevant photos to the Google My Business listing offers businesses with perks of up to 35% higher clicks-to-website rate and 42% higher clicks-for-driving directions. It's better to upload only professionally photographed images to represent your business over the Internet.
#13. Too few Reviews
Reviews also play an important role in local SEO tactics. You can optimize a few reviews to your advantage but it is preferred to have a good collection of reviews to leave a mark on viewers. Many listing websites also provide business reviews section. Therefore, you need to build an appropriate review campaign for enabling users presently enjoying your services to spread the good word about your business.
#14. Review Guidelines
Each review platform has its own distinct guidelines that you need to follow for making the best use of the platform. Knowing and abiding them is a key to building a healthy online reputation, in addition to optimizing local SEO in the best way possible. Posting paid reviews is a wrong practice and needs to be avoided.
#15. Social Media Guideline Non-Compliance
Social media plays a significant role in optimizing local SEO. Different businesses offer distinct guidelines, which need to be followed in all scenarios for making the most out of a social media platform. You need to stick to do points and need to avoid don'ts mentioned in a specific social media usage guideline.
16. Neglect Social Media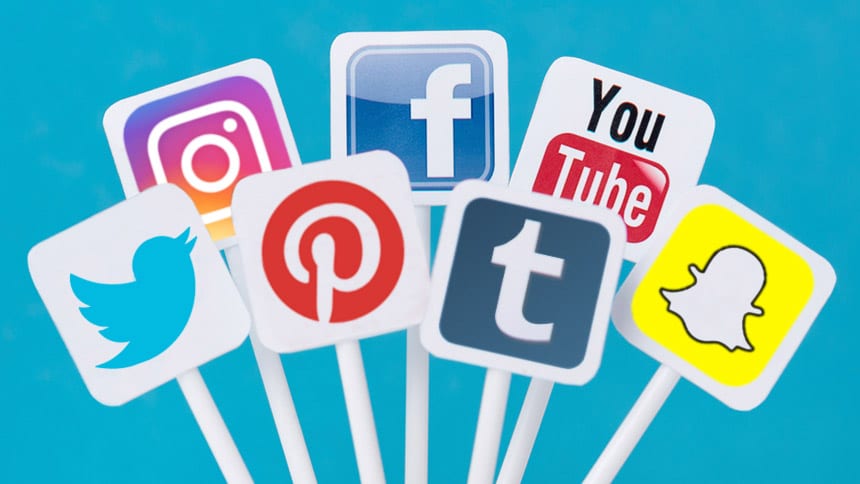 Social media platforms pave way for a smooth local SEO campaign. It is the best way to connect with the local and global audience. Creating original, quality content isn't enough; you need to share it as well. Social media channels provide the perfect way to do so. In addition to attracting new clients, social media is a great way to keep existing clients up-to-date with your business developments.
17. Monitoring
Monitoring is important to see where your present search engine optimization strategy is leading you to. You can evaluate local SEO tactics employed time and again to choose the ones that are working and the ones that need more efforts. In addition to monitoring your performance, you need to be continuously updated on the ongoing and upcoming trends. This helps you to somewhat foresee the right time to do something in the future.
18. Mixing Selling and Sharing
Selling and sharing are two separate things. While selling is that clients are actually buying or paying you for services and products, sharing is spreading the word. You need to create and share content that is relevant to your audience. The content needs to be shared on the social media platforms to attract new customers. However, sharing doesn't mean selling. 
19. Quick Research
Before you're able to figure out what things you need to target while locally optimizing search engines, ensure to do the complete homework. You need to find out all the platforms and channels that you need to work upon during your local SEO campaign.
20. Filter-Sensitive Location
Earlier, it was considered a fair practice to locate your business next to some other renowned business. However, ever since the Google Possum update rolled out in 2016, it changed. Now entering the filter-sensitive location of your organization is considered inefficient. It is called filter-sensitive information because Google Search filters out the information during search results. Now, the best practice is to base your business distant from others.
21. Unfollowing Demand
Even though exceptional service and marketing are powerful enough to generate a demand, it's all about meeting the demand when one starts. It is true for local SEO too. Businesses looking to have a robust local SEO upgrade depend only on the demand of the local market. For instance, a place where less than 1% people prefer to dine away from home, a local business providing dining services might have a difficult time in accomplishing the task.
The following two tabs change content below.
Vishal Vivek
Vishal Vivek entered the world of business at a very young age and excelled at it. He left his well-paying job at IBM to pursue his entrepreneurial ambitions and started a startup
SEO Corporation
when he was just 24. Cash-Starved at first, SEO Corporation quickly emerged as a reputed brand in Search Engine Marketing. As a COO of SEO Corporation, when not found heading business operations, Vishal is found fostering his passion for SEO, reading, and writing.
Latest posts by Vishal Vivek (see all)