We live in a world where the word 'Google' has become synonymous to 'search'. Witnessing the intense changes that technology has gone through has been a delight, but having had the opportunity to see the world's search engine giant grow at exponential speed has been an adventure.
People have long depended on Google to get answers, learn about the world, and seek in-depth knowledge on topics they're passionate about. In 2017, the news feed experience in the Google app made it easier to discover, stay connected and explore only selective and only the most relevant information. 
In this ever-evolving technological world, Google has made it yet more accessible to find your tribe, and information, merely just a click away. The Tech Giant launched a major update to hone, and make user experience paramount; with it, they birthed a new identity, with brand new features for user exploration. 
Google claimed to have furthered the exploration of interesting content, tailored to befit its user by launching Discover. Without dwelling on what subject you want to further 'discover' about, now Google would give you abundant options to choose from.
Every topic that piques your interest can now be followed, only to provide you with similar fresh content- articles, and videos that are not new to the web, but are new to you.
Google also introduced the Topic Layer, which analyses content on the internet for specific topics and develops subtopics that revolve around it. This tool is able to estimate the amount of expertise an individual has on specific topics and further provide more content around the same. For example, while planning a trip, Discover will show you articles that direct you to the best sights to see, and great food to relish.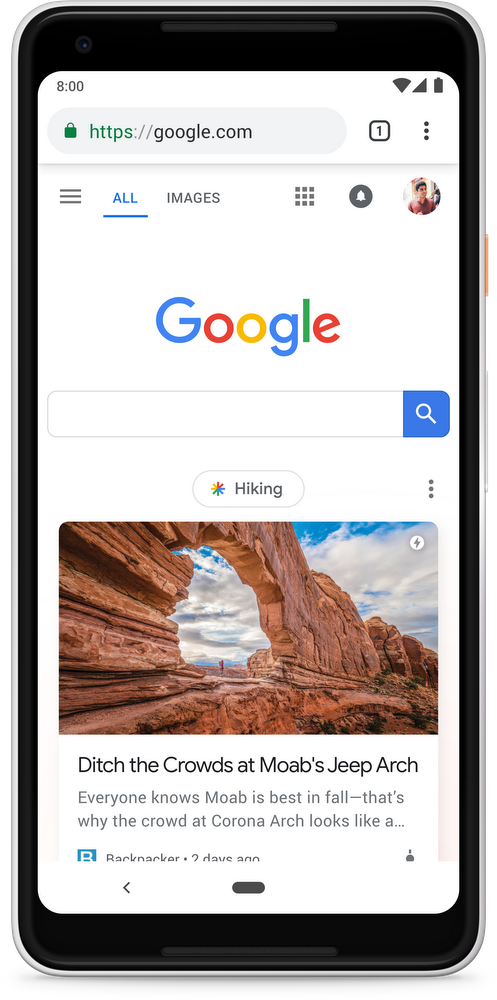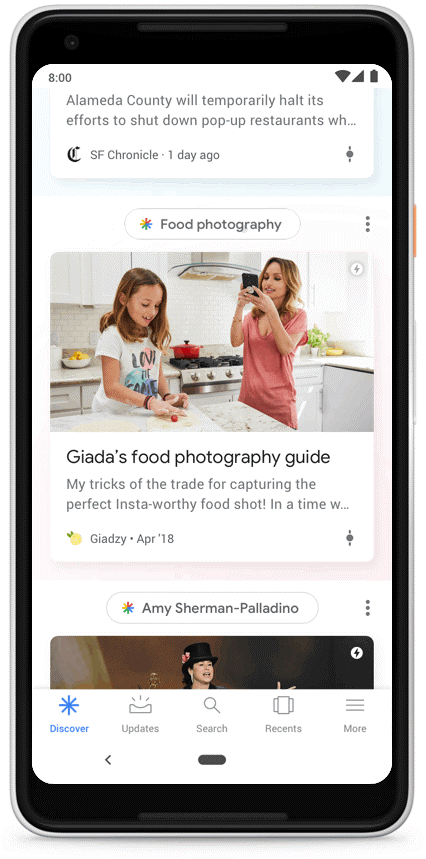 The advent of voice search has prompted a more user-friendly approach to search queries. Updates on Google Feed were obtained through one's search patterns and browsing history. Google tracks all your activities on the pretext of serving you the content that would befit you, even if you do not necessarily search for it.
Google no longer wanted to depend on your browsing pattern to fulfill your query, but present to you what you desire before you express your query. Google Discover is a highly advanced version of its prior Google Feeds Avatar. 
With the help of artificial intelligence (AI), Google wants you to stop searching and begin discovering. For people to be able to "discover" your content, you need to showcase to Google how your content is worthy. 
As this new feature was launched the digital marketing world only had one question in mind- How will this affect our SEO practices? 
Google Discover shows a major shift in how a search engine is used. As users no longer have to search queries to find relevant content, brands will have to shift to a new SEO strategy. Keyword optimization would not be enough to rank your content in Discover without search queries.
Here is what to keep in mind while creating an SEO strategy for Google Discover.
Create Engaging, Quality Content
Your content should speak for itself. Create engaging content that trumps all expectations of quality content. If your content manages to hook your audience, and build a following it will automatically be shown in Discover. Draw a comparison between social media and Discover- what your friends like on Instagram, will be recommended to you. The only difference is that Discover will only recommend you content that you have engaged in, in the past.
You should build, and work on your customer relations by engaging them, and the best way to go about it is through providing supreme content. Driving engagement can be a herculean task but employing tactics like loyalty perks, social media shout-outs, email marketing personalization could help a brand establish a prominent position online.
Images and Videos FTW!
Using more videos and images in your content increases your chance to feature in the Discover feed. High-quality images and attractive thumbnails further the process of getting reflected on someone's feed.


Revamping your content strategy to support more visually appealing content could work in your favor. People click more on videos than textual content, primarily because it is a lazy man's way out, and requires much less effort. According to video marketing stats by Forbes, 59% of the company's decision makers prefer watching the video over reading an article or blog post. 
Work that to your advantage and translate textual content into visual content, it will serve as fresh, quality content. That will further increase your chance in making it on the Discover feed and additionally open new channels and platforms. 
Serve Fresh Content
Your best bet at being pulled into the user's Discover feed would be to produce fresh content. Google claimed that its new venture would allow a user to discover new content that proves to be both newsworthy and evergreen. 
As content consumption is rising every second, the only way to keep up with it is to participate in the ongoing culture of hopping onto the bandwagon of pop culture or delving into the most trending topics.
Creating not only newsworthy content, but also evergreen content works as much effect. Through Discover, users are exposed to new types of content that they have never seen before. These content pieces might not be new on the web, but the users are seeing them for the first time. 
Therefore, to stay at par with the entire process, the best tactic would be to maintain a calendar and include room for both fresh content and evergreen hits, that can be polished and curated well. 
Become a Credible Source
On social media, the key way to stay relevant is to maintain and invest in building a trustworthy relationship with your audience. If your source is deemed as trustworthy, it will automatically get ranked on the Discover feed.
Trustworthiness has to be earned, and it can all be linked back to one thing- creating quality content. Another way to stay at par with the times would be to have backlinks to your blogs/websites on websites that are deemed high-quality and rank high in Google's eyes.
Become Multi-lingual Maestro
Google discover is extremely useful to people who are multilingual. For example, in the U.S if someone wants to read some portions of content in English and rest in Spanish, they can easily do so using Google Discover.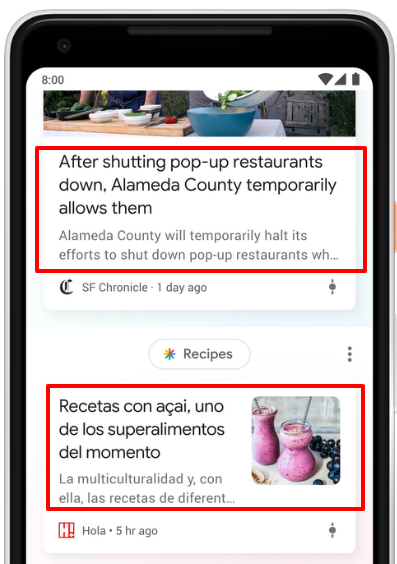 Since it is available in a number of languages, in order to have a higher chance of getting traffic on your website, you can also aim at different lingual preferences. Apps like Flipboard, BuzzFeed, etc. are all available in various vernacular languages. In countries like India, almost 60% of users from the urban regions access online content in Hindi, followed by Tamil and Marathi.
Wrapping up Google Discover
Google Discover works on the basic principle of engagement, which would drive your visibility on its feed. 
Reiterating on some of the key points for getting maximum interaction:
Run promoted content ads to increase engagement

Send email newsletters

Promote, promote, promote
In conclusion, it is a farfetched possibility for predictive technology to replace active browsing, at least not yet. Artificial Intelligence will soon be able to emulate our feeling and thoughts and provide us with suitable content, but there is always a chance of it not being completely apt.
The day active browsing does cease to exist, social media platforms will be in a rut because they thrive on the very idea of our proclivity to browse passively (infinity scrolls work for a reason!
The following two tabs change content below.
Jaity Pandey
Jaity is a senior digital marketing executive at
italics
, a marketing communications agency committed to creating compelling marketing content and strategies. She is a passionate blogger and has proficiency in search engine optimization, digital marketing trends, social media marketing and pay-per-click advertisement. She aids her readers to understand and define the scope of online marketing.
Latest posts by Jaity Pandey (see all)