Over the last few years, consumer behavior has changed. For local businesses, having a good restaurant, a cafe or a comic book shop isn't enough to attract more customers. It's important to spread the word about your business online as a business's online reputation impacts customer purchase decisions.  
One BrightLocal report says that 90% of customers use the internet to find a local business,
82% read online reviews for local businesses, and the average consumer spends around 14 minutes reading reviews before making a decision.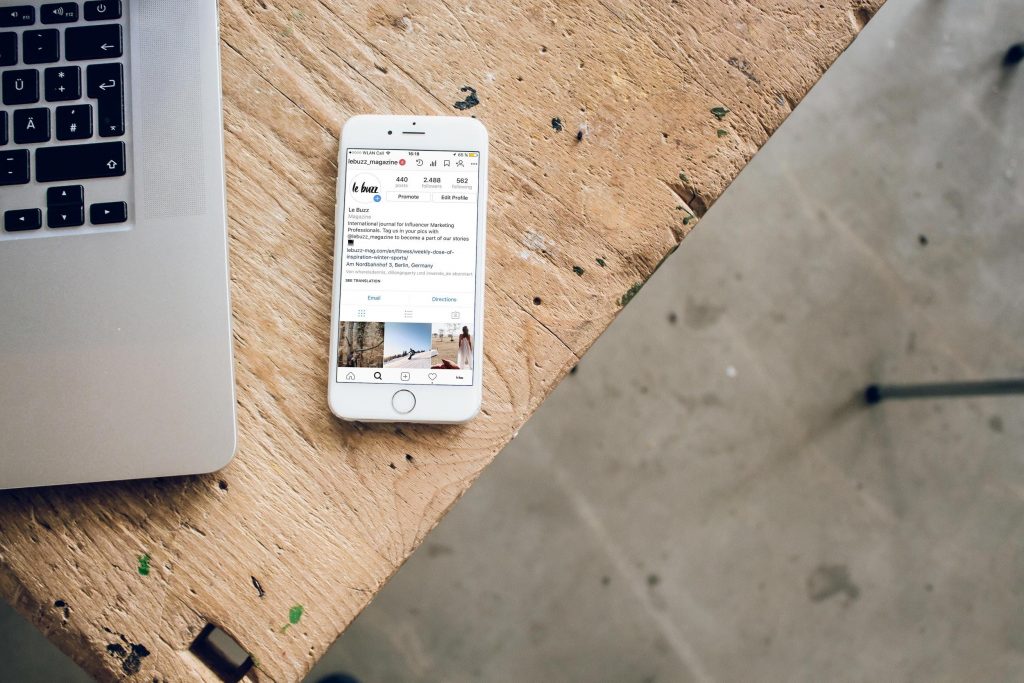 Today, over one billion people are active on Instagram every single month and 90% of them follow at least one business on the platform, so it's more likely your local customers use Instagram, too. Thus, it's no wonder that Instagram is testing the local business profile feature to help local businesses attract their customers in-app. And if you want to make the most out of Instagram, let's find out what is an Instagram business profile and how to use it for local marketing.
What is an Instagram Local Business Profile?
An Instagram local business profile is a new profile type on the platform that offers more features for local businesses than a business profile as you can add the hours of operation and the price range. Simply put, an Instagram local business profile has a lot in common with Google's Local Knowledge panels. 
Look: Practically every business wants to be found for search terms like a brand name, location or business category. An Instagram local business profile can help to attract more local customers as it appears in the search results with all relevant information about your business once an Instagram user searches for a relevant keyword in your area and category.  
Here's what a user can find: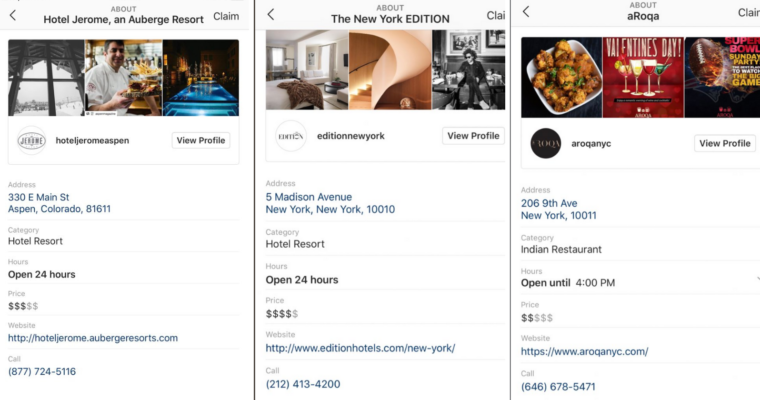 As you can see, an Instagram local business profile allows you to add the following information: 
Business category

Opening hours

Price range

Website

Contact information (address, phone number)



Why Use Instagram Local Business Profiles?
If you wonder whether you need to get ready for the official announcement of Instagram local business profile pages, here are several solid reasons to keep in mind: 
Provide visitors with relevant information:

Instagram local business profile page helps to tell more about your business as you can write not only your business category, website, and contact information, but also the opening hours and the price range.

Show off your local business:

It seems that this type of a business profile will pull your most recent three consecutive images to help potential visitors understand more about your local business before visiting your Instagram page. If you have a cohesive Instagram feed, it will help you hook the attention of your potential local customers.

Collect customer feedback:

Since local business profiles include all the relevant information about your business, local customers surf the profile to find social proof and it encourages visitors to share their customer experience with other potential guests. Not only does it help other customers make the right choice, but it also helps your business understand your target audience better.

Grow revenue:

Although it's difficult for local businesses to

sell on Instagram

, the action buttons like 'Book' and 'Reserve' make it easier for potential customers to discover your company and make an appointment or book a table if interested. Over the long haul, this means you can grow revenue on Instagram.



Now that you know how switching to an Instagram business profile can help your business, it's time to understand how to make the most out of it to attract local customers.
5 Ways to Attract More Customers with Local Business Profiles
#1.  
Tell More About Your Business
To spark interest in your local business, you need to make it easy for your Instagram visitors and followers to understand more about your company and what makes it any different from other competitors in your niche.  
Since Instagram bio is the first thing Instagrammers see when visiting your profile, you need to make the most out of it and write in brief about your business, just like Treatwell does it: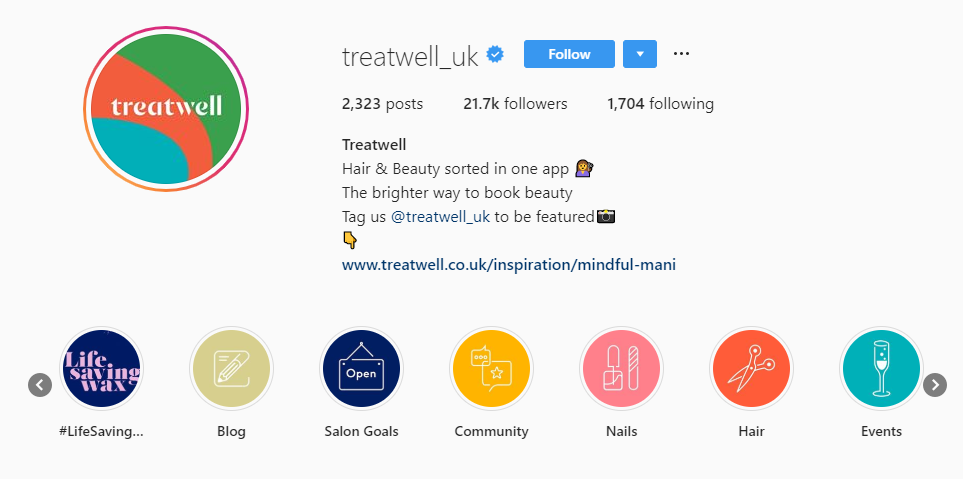 Not only does Treatwell inform visitors about the business and its services, but it also uses Instagram Stories Highlights to keep all relevant information below the bio section. All in all, it's a good example of telling more about your business in an interesting and engaging way. 
However, the company also publishes images and videos on Instagram feed to tell about the company's values and products. Treatwell also teaches how to use stock photos on social media the right way if your business doesn't have many images: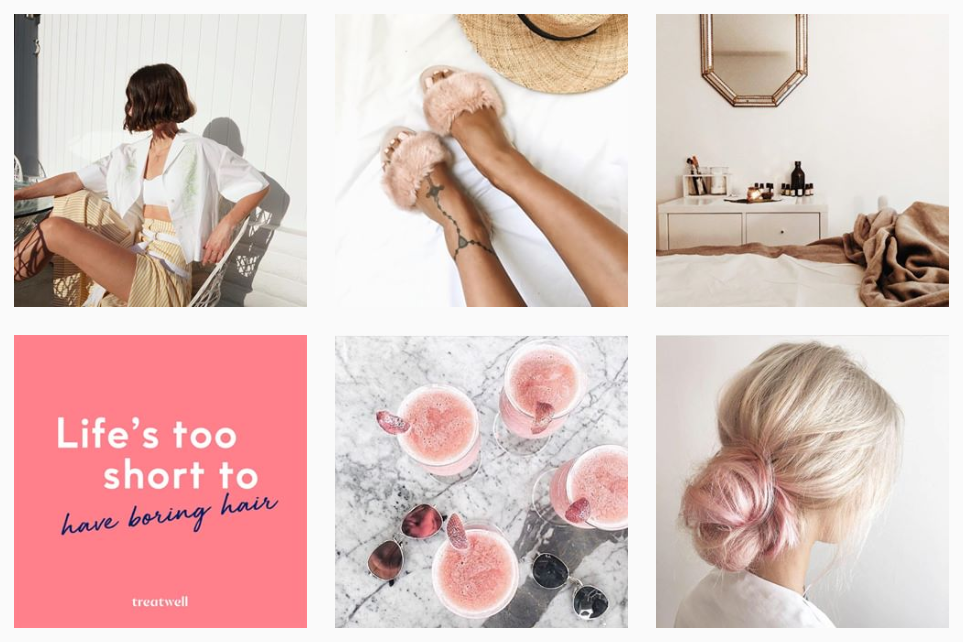 With a variety of options on the market, telling more about your business helps potential customers understand whether your company is worth giving a try. Simply put, business storytelling gives a solid reason for your followers to become your customers and convince them to buy from you.
What Can You Tell About Your Local Business?
Tell about your company's values and mission

List your services or products (for example, upload a menu)

Write information about your location

Introduce your staff team and the business owner

Feature media reviews



#2.  
Use Geotags and Hashtags
The Instagram community has grown significantly, so it doesn't take much time or effort to reach your target audience around the globe. But if you run a local business, you need to target your local community who can potentially visit your business in real life. Thus, it's important to use geotags and location hashtags to hint at where your business is. 
Let's take Sweet Green as an example. This American fast-food restaurant chain has 75 locations across the United States, so the company needs to show off its local stores to attract more customers.
The company takes a photo of its product in front of the Willis Tower, a popular skyscraper in Chicago, to make it easy for the local community to understand where the new store is. However, the company also adds a geotag of its new location and writes the address in the caption: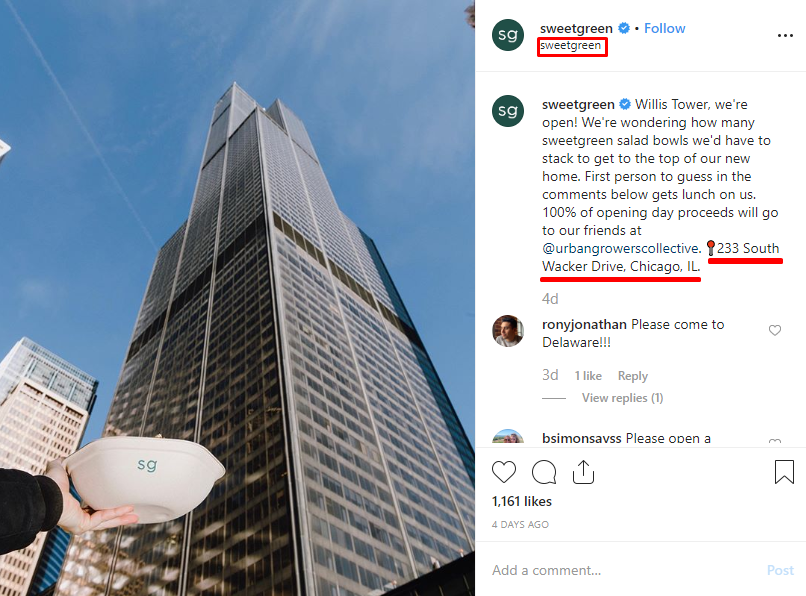 And if you want to attract more local customers, you can also use a local hashtag like #Chicago as it helps to get more visibility. When you use a geotag that shows your physical store location and add a location hashtag, not only can you tell your followers where they can find you, but you also make it easier for other customers to discover your local business when looking for a specific area. What is more, it also helps to get your content (and business) suggested when people are near your area.
#3.  
Share Customer Testimonials
If your Instagram account has grabbed the attention of your target audience, this doesn't mean that these visitors (or followers) will become your local customers. First of all, you need to convince them to choose you over other competitors, and it's no secret that modern customers seek out social proof. In fact, Local Consumer Survey Review says that 52% of customers between the ages of 18 and 54 say that they 'always' read reviews.  
If you want to attract more customers, it's important to show that other people trust your brand, so you need to share customer testimonials as it's a way to tell brand stories in an authentic way. Here's how Ohana uses Instagram Stories Highlights for featuring customer reviews: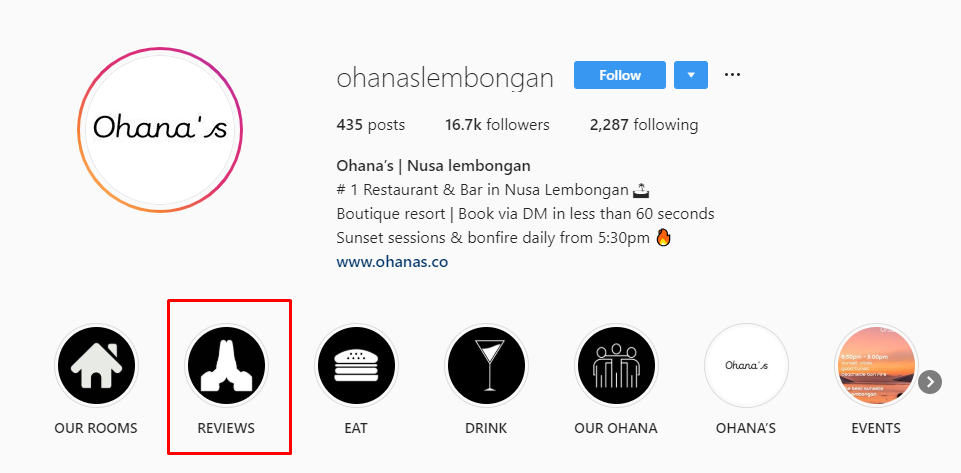 But if your customers don't hasten to share their review, think about setting up a referral program and offer referral rewards like a discount, a gift card, or a free product. Sometimes your customers need the motivation to share their feedback about your business.
What Can You Share as Customer Testimonials?
Repost customers' posts or Stories about your local business

Publish user-generated content

Share customer reviews and quotes



#4.  
Work with Local Influencers
The idea of promoting your business with the help of influencers isn't new. Today, customers pay close attention to peer recommendations and influencer endorsement, so working with local influencers is a great way to enter an already-established community and reach a wider audience. Moreover, one BigCommerce study 'The State of Influencer Marketing' claims that 89% of marketers believe that Instagram is the most important social media platform for influencer marketing. 
More often than not, local influencers have a following of a more targeted audience which helps your local business find your potential customers. What is more, people tend to trust influencers they follow, so when an opinion leader writes about your business, it sparks their interest in your company.  
Before you find the right local influencers to promote your company on Instagram, you can ask your employees to become brand ambassadors as it's more likely they have in-person connections with their followers. Check out how Michael Chernow, the co-founder of Meat Ballers, announced the charity initiative of his restaurant: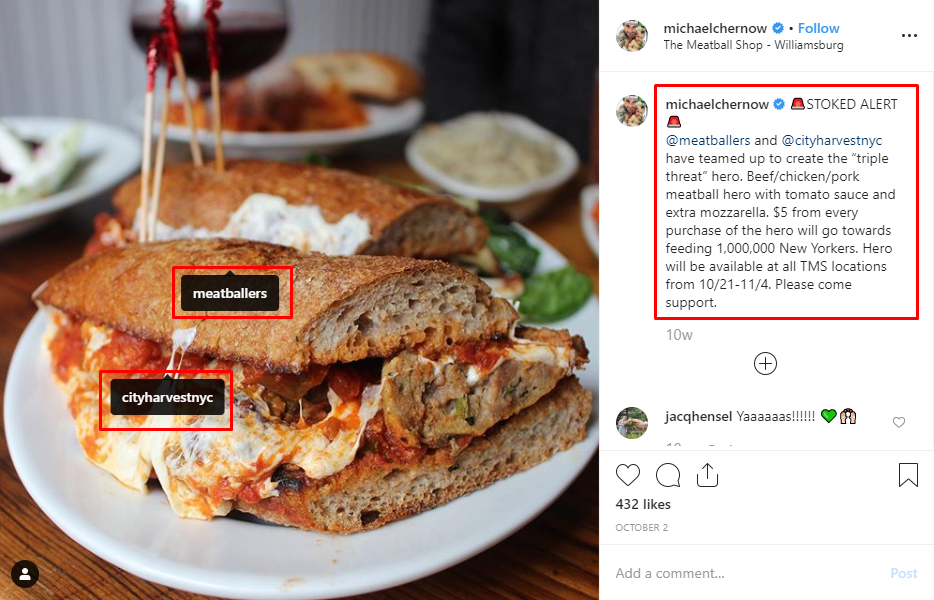 Working with local influencers is beneficial for any local business as these opinion leaders can increase your Instagram presence, build brand loyalty and trust, and produce user-generated content for your profile. All in all, influencer marketing helps to attract more customers to your local business.
#5.  
Run a Giveaway
Who else wants to grow your brand on Instagram fast? If you want to cause a buzz around your business and attract more local followers, think about running a giveaway as 'free stuff' is irresistible.  
When you give your followers an opportunity to win something for nothing, not only do you increase brand loyalty and trust, but you also allow your target audience to test your product or service which helps to turn them into customers fast. 
Believe it or not, local businesses can get even better results with Instagram giveaways when done right. Choosing your product or gift card as a prize helps you reach the right audience who is interested in your products (not just the prize). Here's this strategy in action from Fox in the Snow cafe: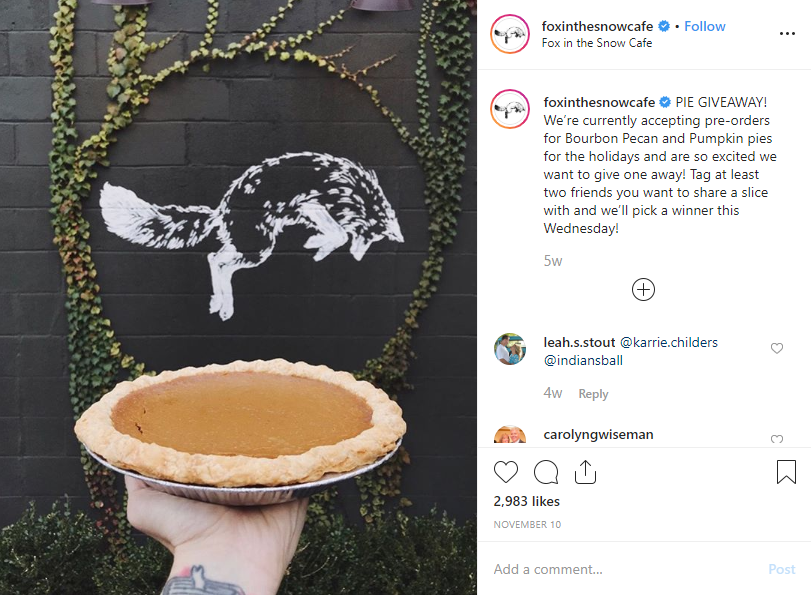 If you choose local items as a gift, it won't appeal to all Instagrammers as they won't be able to use your gift. Thus, it's more likely your local giveaway won't bring high engagement or reach. However, it's a proven way to reach the right audience of locals who can become your customers.
What Can You Offer as a Prize?
Your best-selling product or service

Gift cards

Own merchandise



The Bottom Line
Modern customers are savvy, so they read customer reviews before visiting your local business. Since more and more people hang out on Instagram, it's important to showcase your business on the platform and provide visitors and followers with relevant information that will encourage them to give your business a try. Simply put, Instagram has great potential for local businesses. Even though the platform hasn't announced the launch of its local business profiles yet, but businesses need to get ready for the update and start attracting more customers.
The following two tabs change content below.
Val Razo
Val Razo is a freelance SMM consultant with 5+ years of experience who helps small and medium businesses. She believes in the power of social media, so Val keeps up with digital trends to make the most out of campaigns. Follow her on Twitter to stay tuned for more.